The Best North Shore Oahu Hotels and Vacation Rentals
Disclosure: This post may contain affiliate links, meaning if you decide to make a purchase through my links we may earn a commission at no additional cost to you. Read about our affiliate policies here.
While many people like to visit the North Shore for the day, very few actually spend their vacation here. But the truth is the North Shore is one of the best places to stay on Oahu, especially if you like stunning scenery and a quieter atmosphere.
However, finding accommodation on this part of the island can be difficult, as there aren't as many options as there are in Waikiki or Ko Olina. But that doesn't mean there aren't places to stay! To help you plan your fabulous getaway to Hawaii, we wanted to share three North Shore Oahu hotels and three vacation rental properties that you can book if you're going to spend a few days on the North Shore.
Check out all our best planning resources:
Get everything you need to know about Oahu with our free Oahu Travel Guide
Decide if (and when) you need a rental car on Oahu
Plan the rest of your trip like a pro with our 15 essential planning details plus check out how we book our Hawaii travel for even more tips.
Check out the 5 Best Snorkel Spots on Oahu (two of them are on the north shore!)
Horseback riding on the North Shore is a popular (and memorable) experience.
North Shore Oahu FAQ
Is the North Shore of Oahu Worth Visiting?
The North Shore is one of those places you definitely need to see during your trip to Oahu. There is so much to see and do here that it's worth visiting – even just for the day!
North Shore is like the countryside of Oahu (and Honolulu is the bustling capital city). It's more relaxed, and there are some incredible waterfalls, jungles, and beaches on this side of the island. Here's a breakdown to help you decide whether to stay in Waikiki, Ko Olina, or the North Shore.
However, the beaches are only suitable for swimming in the summer. During the winter, there can be a lot of rain and very large and potentially dangerous swells. On the other hand, this makes it an excellent destination for surfing (it's home to the iconic Eddie Aikau Big Wave Invitational surfing competition).
What is There to Do on the North Shore?
If you're craving a bit of outdoor adventure, then the North Shore has plenty of things to keep you occupied! You can go cliff jumping in Waimea Bay, snorkeling in Shark's Cove, or hiking along the Ma'akua Ridge Trail.
But there are some great low-key activities to do here too. The charming surf town of Haleiwa is packed with cute art galleries and shops, not to mention some amazing food trucks as well. You can also head to one of the many beaches along the coast to watch the surfers (the waves can reach as high as 30 feet in the winter!).
And don't forget to stay for sunset. The top of 'Ehukai Pillbox Hike boasts great views over the ocean, although you can also enjoy the evening from the Blowhole nearby the Turtle Bay Resort.
If you're looking for more to do, here are some of our favorite north shore tours and activities:
Stand Up Paddleboard (SUP) Lessons on the North Shore
Surf Lessons on Oahu's North Shore
Lava Tube Signature Dive on Oahu's North Shore
Waimea Valley Waterfall Swim Self-Guide Tour
Are Vacation Rentals Legal on the North Shore?
The simple answer is yes, vacation rentals are legal on the North Shore and in Hawaii in general. However, they are strictly regulated and only allowed in certain places, like resort areas or some residential neighborhoods.
In the resort areas of Oahu (including Waikiki, Ko Olina, and the North Shore), you'll likely find that most rentals are short term (less than 30 days). This time frame is generally sufficient for more visitors who are coming here for vacation.
But outside of these allowed zones, most homeowners can only rent their properties for 30 days or more, unless they have been grandfathered in with older permit rules. It gets confusing, so we personally stick to vacation rentals in resort zones to ensure we're renting legally.
3 Best North Shore Oahu Hotels
Despite being one of the more popular areas on Oahu, there are only two hotels and one small inn on the North Shore. But each resort is wildly different from the other, so you have a few options based on your budget, style, and where you want to be based.
1. Turtle Bay
With a beachfront location on 1,300 acres of land, this beautiful resort is the ultimate getaway for a relaxing vacation. In fact, it's the only true resort on the North Shore, and its secluded location means that you and your family will have plenty of space to sprawl out and relax. And while it may tout itself as a luxury resort, it still exudes that laid-back beachy vibe that the North Shore is all about.
There are different room configurations ranging from basic guest rooms all the way up to spacious, 4-bedroom villas. Every room has some sort of ocean view, which is a huge plus, and they're relatively more spacious compared to other hotels of this caliber.
However, the best thing about staying at the Turtle Bay Resort is the abundance of fun activities. You can participate in unique Hawaiian cultural activities like lei making, ukulele playing, or hula dancing. And if you're traveling with kids, then they can take part in the Mermaid Academy or enjoy a meet-and-greet with the resident ponies!
While there are tons of ways to stay active, make sure to give yourself a few days to relax by the pools (there are seven!) or to snorkel in the nearby Kuilima Cove. Unlike the other beaches on the North Shore (which tend to be really rough), Kuilima Cove is calm and great for a beach day.
2. Courtyard by Marriott Oahu North Shore
The Courtyard by Marriott is a convenient option if you're looking for an overnight base to explore the sights and attractions of the North Shore. It's located steps away from the Polynesian Cultural Center, so it's easy to walk back after spending the day there or catching one of the live shows or luaus. It's one of the best luaus on Oahu, but check here for our other luau picks. And it's nearby the town of Laie and several beaches like Laniloa Beach, Hukilau Beach, and Pounder's Beach.
However, if you want to visit Turtle Bay or Wailua, you will need to have a car, as these areas are roughly 30 to 40 minutes away. But because it's a bit off the beaten track, the Courtyard Marriott is untouched by the crowds that you'll find on other parts of the island.
The hotel itself is clean and spacious, although it does have a bit of a corporate vibe, like a business hotel. Rooms can be booked with one King (up to three people) or two Queens (up to 4 people), and there are also 1-bedroom suites if you are craving a bit more space.
But unlike other resorts, the Courtyard by Marriott doesn't really have many on-site amenities. They have a business center, gym, and a small bistro that serves breakfast, lunch, and dinner. And there's a decent outdoor pool that has lots of lounge seating, which is great for lazy days or late afternoon dips. But don't expect any pool service – this is a "dry" hotel, so no alcohol is served or sold on the property.
3. Ke Iki Beach Bungalows
If you're looking for an intimate hotel with unbelievable ocean views, then spend a few nights at the Ke Iki Beach Bungalows. Located on a cozy 1.5-acre beachfront property, the family-run boutique has 11 private bungalows (studios, 1-bedrooms, or 2-bedrooms) available for rent.
Each bungalow has a kitchen for cooking, although there are some great restaurants and food trucks within walking distance if you prefer to dine out. And because each of the bungalows sit right on the water, you can just step outside your door to go swimming, snorkeling, or even scuba diving. We also love that they offer free yoga classes four days a week in their picturesque outdoor garden.
When it comes to location, it doesn't get much better than the Ke Iki Beach Bungalows. You're an 8-minute walk from Shark's Cove and a 15-minute walk to the infamous Banzai Pipeline surf spot. And while you're close to so many great attractions, the hotel feels like a quiet tropical oasis where you can unwind after a long day of sightseeing.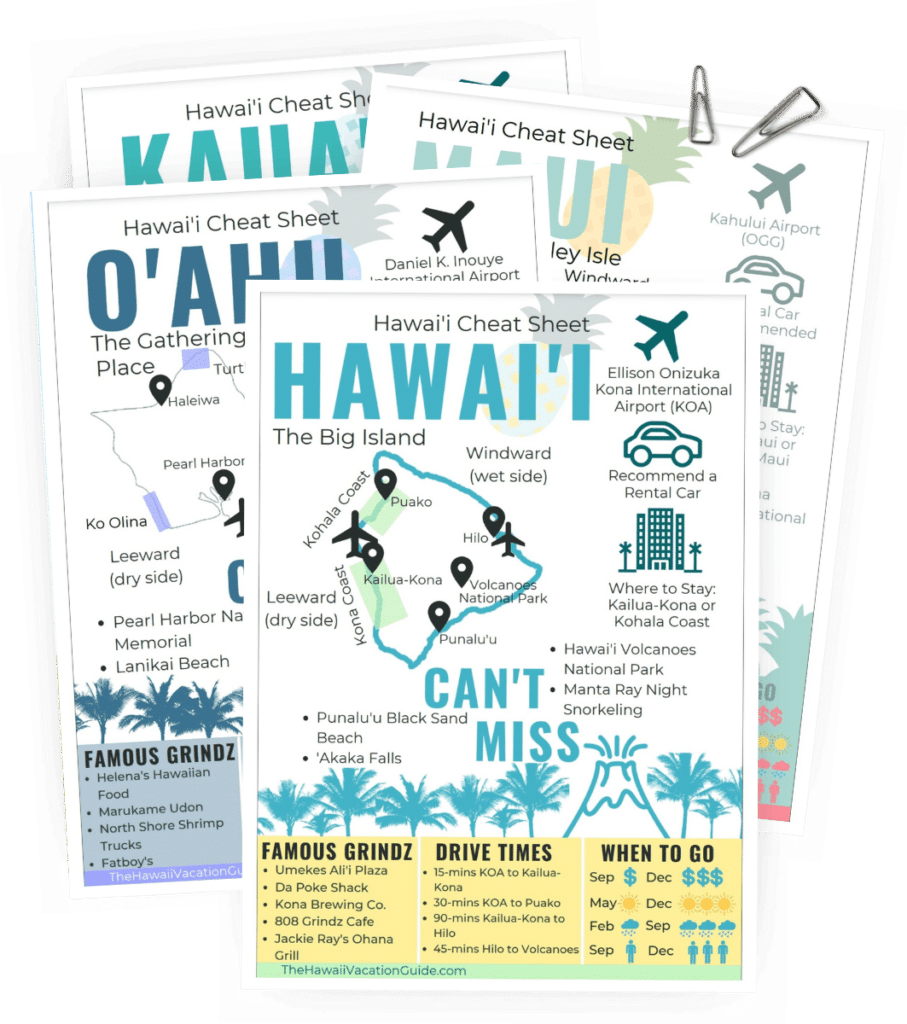 Free Download!
Hawaiian Island Cheat Sheets
Sign up & we'll send you our island cheat sheets so you can get to know the islands like the back of your hand!
We'll share 4 can't-miss activities on each island, a map with the main sights in town, & famous local grindz (eats)!
3 Best North Shore Oahu Vacation Rentals
Whether you're here for a short weekend or a long-term stay, booking a vacation rental is another option when visiting the North Shore. Although vacation rentals are hard to find in this area, there are a few that we can recommend if you want to skip the hotel.
1. Ocean Villas at Turtle Bay
For those who want the comforts of home with the prime location of Turtle Bay, the Ocean Villas might just be the best option. The villas are located right next door to the resort with direct access to Kuilima Cove, Turtle Beach, and Kaihalulu Beach.
The majority of units at Ocean Villas are 3- and 4-bedrooms, which is ideal if you're traveling with a large group or family. However, they also have a few studios, so you can still stay here even if you're a party of just one or two people. All units come with a balcony and kitchen, which is important since there are no restaurants on-site. If you don't feel like cooking, you can always pop over to the resort, as their restaurants are open to the public.
Villas are privately owned and can vary in terms of style, decor, and in-room amenities. However, Turtle Bay Resort also manages and rents out several units that you can book on its website. The only downside of going with them is that at times, the resort does charge significantly more than booking through a private owner. But on the plus side, you'll have full access to the resort's pools and activities. Otherwise, there is a small pool at Ocean Villas that you can use.
2. Kuilima Estates East
A bit further inland from the Ocean Villas and the Turtle Bay Resort sits another excellent vacation rental – Kuilima Estates East. This community consists of 162 privately owned studios, 1-, and 2-bedroom units. Like most other rental properties, each unit can vary drastically from one another, so it's crucial that you look at photos and read reviews to understand what is included.
While Kuilima Estates East may not sit directly on the beach, the ocean is still within easy walking distance. Turtle Beach and Kuilima Cove are just 10 minutes away on foot, so you can still go swimming or snorkeling whenever you please.
If you're not keen on heading to the beach, you can always spend the day at the pool, which is shared between the buildings in the complex. It's surrounded by swaying palms and lush vegetation that will make you feel like you're right by the ocean. And if you want to stay active, then there's also a tennis court and pickle ball court that you can use during your stay.
3. Kuilima Estates West
Hop across the street from Kuilima Estates East, and you'll find Kuilima Estates West. This condo complex is very similar to its big brother, with multiple privately owned vacation rentals.
Many units have been restored, although there are quite a few that some guests might consider to be outdated. When booking your stay, you'll want to look at photos of the exact unit you're renting to make sure there are no surprises. Because they are privately owned, some apartments may have older furniture or appliances.
As the complex backs up to Turtle Bay Golf, many of the rooms have a lanai that overlooks the beautiful green golf course. Although you won't wake up to the sound of crashing waves, you can spend the afternoon watching people working on their swings!
The beach is within walking distance, although there's also a small outdoor pool where you can go swimming or sunbathing. And if you're not in the mood to eat out (there are few restaurants open to the public at the Turtle Bay Resort), you can always BBQ at one of the grills or cook in your equipped kitchen.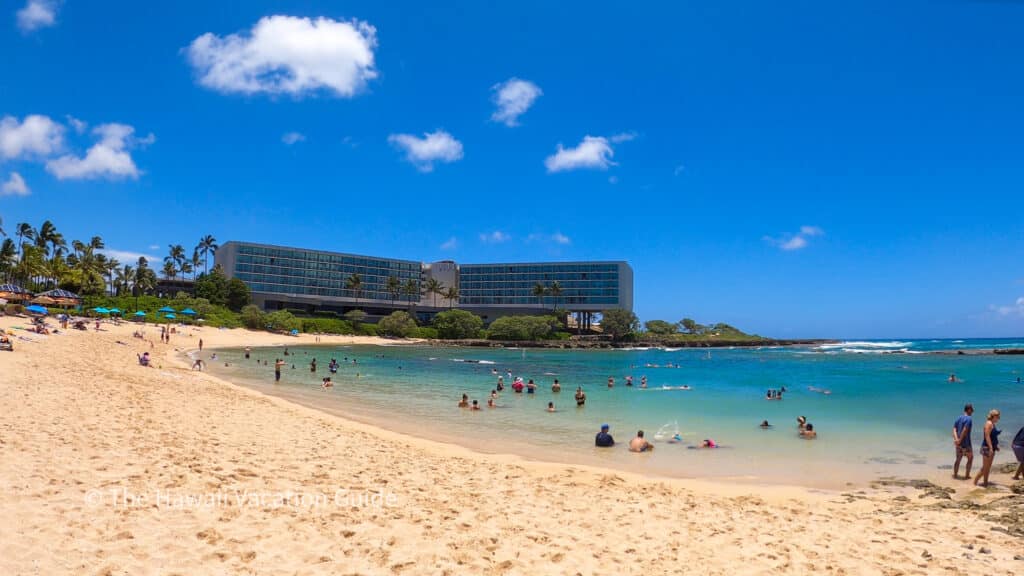 Related reads:
A Local Resident's 10 Free Things To Do on North Shore Oahu
Which Part of Oahu Should You Stay: Waikiki or Ko Olina or North Shore
21 Amazing Things to Do on the North Shore of Oahu
Where to Stay in Waikiki: The 12 Best Hotels and Vacation Rentals
Get the Best Oahu Itinerary
The North Shore of Oahu is a fantastic area to visit. Make more of your time using our Oahu Itinerary. With 7 excursion days taking you all over the island, you can nail down your vacation from start to finish without missing a thing.
Just wanted to reach out and thank you for your tips and your excellent travel guide. I recently returned from a week in Oahu and had a blast. Your videos and guide helped my trip to be super relaxing and stress free — easy to navigate the island when someone has already told you the best spots to go to! Already recommended your stuff to some friends of mine. Looking for award to my next trip to Hawaii already.

Bo G.
Get The Oahu Itinerary
The step-by-step itinerary takes you to all the best beaches, snorkeling spots, restaurants, and sights. You'll get six carefully planned excursion days to help you see the can't miss stops no matter how limited your time is.
Get all the details on our itinerary and download it for a memorable and easily planned trip to Oahu.