Which Hawaiian Island to Visit Quiz (and video!)
Disclosure: This post may contain affiliate links, meaning if you decide to make a purchase through my links we may earn a commission at no additional cost to you. Read about our affiliate policies here.
You've decided to take a trip to Hawaii and you couldn't be more excited. The beaches, waterfalls, and sunsets are calling your name. But you have a big first decision to make: what Hawaiian island should you visit?
All of the islands are beautiful, but they are very different. And what island is your favorite is a personal choice — you may love one island where your best friend truly prefers a different one. That's why the Hawaiian island quiz is helpful: it'll help you zero in on the island vacation that you will truly enjoy.
This is a big trip, and for some, a trip of a lifetime, so let's help you find the best island for your dream vacation.
Which Hawaiian Island to Visit Quiz
Did you know there are over 100 islands in Hawaii? And there are six islands that people can visit. But for this quiz, we're going to focus on the four main islands for visitors: Oahu, Maui, Kauai, and the Big Island.
These five quick questions will help you narrow down what island you'd prefer. Grab a pen and paper and markdown your answers:
Question 1:
You arrive in Hawaii at night and head straight to your hotel (or rental) to sleep. When you wake up in the morning, you open the window and are thrilled to see:
a. Lots of activity, people, crystal blue water, and a buzz of excitement.
b. Beautiful beaches everywhere, with a slightly more relaxed vibe, and plenty of sunshine.
c. Beautiful, lush green mountains that seem to rise straight up, plenty of palm trees, and unique flora and fauna you haven't seen before.
d. An amazing mix of black lava fields, white sand beaches, and barely any person in your view.
Question 2:
You get ready and head out on your ideal day. This includes:
a. Trendy restaurants, a little beach, a little shopping, and some time at a historical site.
b. A lot of time on the water, hopping from beach to beach for snorkeling and whale watching.
c. Spending the day hiking deep into the lush mountains, swimming in a waterfall, and hitting a fruit and smoothie stand on your way home.
d. Sipping some coffee locally grown up the road from where you're staying, followed by a day learning about geology and stargazing from the top of a volcano.
Question 3:
A bucket list activity for you is:
a. Spending a day immersed in history, visiting the Pearl Harbor memorial and the Iolani Palace, the only palace on US soil.
b. Taking a meandering drive to visit a black sand beach, swim in more waterfalls than you can count, and sample banana bread from every roadside stand.
c. Taking a helicopter ride over jagged mountains and a breathtaking coastal scene, inaccessible by car.
d. Night snorkeling with Manta Ray.
Question 4:
On your vacation you want to be:
a. In the middle of the action
b. At a sprawling resort
c. Immersed in nature
d. Enjoying quiet solitude
Question 5:
What photo makes you want to visit Hawaii the most:
Which Hawaiian Island to Visit Quiz Results
Ready to find out what island you should book a flight to? Read on for your results.
Mostly A's: Oahu
If you chose mostly A's, you might be ready for a trip to Oahu, the gathering place. A trip to Oahu offers you variety — from buzzing downtown Honolulu to the quieter north shore.
On a trip to Oahu, you'll have an opportunity to surf iconic Waikiki, hike up Diamond Head, attend first Friday in Chinatown, visit the Pearl Harbor memorial, and learn about Hawaiian history at Iolani Palace, the only palace on US Soil.
Want to escape the crowds? Head to the north shore for some solitude or visit Kualoa Ranch to enjoy the naturally rugged terrain.
If you are a night owl, Oahu is your place. Unlike the other islands, Oahu doesn't get quiet at night. Instead, you'll find a bustling nightlife.
There is so much to do and see, it would be difficult to be bored on Oahu.
While the island has a lot to do, you miss some of the quiet solitude that you get on the other islands. There is traffic, four-lane freeways, and high-rises, which can be polarizing for some travelers. It's the most populated island and gets the highest number of tourists, but it's also the least expensive island to visit.
Click here to plan your trip with our Oahu travel guide.
Mostly B's: Maui
If you ended up answering mostly B's, Maui is the escape you're looking for. Maui is the second most popular island for vacationers and it's easy to see why. The pace on Maui is significantly more relaxed than on Oahu, but more so than on Kauai and the Big Island.
On the Valley Isle, you'll find a huge range of activities. It's an excellent place for beginning snorkelers and surfers to hit the water. If you're feeling adventurous, you can head on a boat to snorkel Molokini or on neighboring island, Lanai (worth a day trip). Hang out on the north shore to watch world-class windsurfing and surfing. Or just relax on one of Maui's many (many, many) stunning beaches.
On dry land, you can explore the charming towns of Paia, Makawao, and Lahaina. Take a drive on the famous road to Hana (and maybe get the chance to jump in a pool under a waterfall). Head up 10,000 feet to watch the sunrise or sunset from the top of the Haleakala volcano. And enjoy the trip down into upcountry where you can swing through the trees on a zipline, feed a goat, and tour a pineapple plantation.
Maui is often an island favorite for honeymooners and anyone looking for a romantic getaway. The island boasts the most luxury resorts and even includes the only adults-only hotel in all of Hawaii.
Click here to plan your trip with our Maui travel guide.
Mostly C's: Kauai
If you answered mostly C's, pack your bags for Kauai, the Garden Isle. Kauai is the second oldest island, with jaw-dropping dramatic natural beauty. When you visit Kauai, the scenery is what you expect from tropical paradise: unique flora and fauna, lush landscapes, jagged mountain cliffs, and beautiful blue water. Driving through parts of the island, you'll feel like you've been transported to another world.
Kauai is quiet (aside from the early morning wake-up call from the roosters), with little nightlife and fewer massive resorts. But don't confuse that quiet solitude with having fewer things to do. Kauai is a nature lover's paradise.
On Kauai you can raft down rivers, easily hike to waterfalls, explore Waimea Canyon, take a helicopter ride over the stunning Napali Coast, enjoy the summertime peaceful water in Hanalei Bay, and more. You'll find fewer white tablecloth restaurants, but delicious food from more casual dining options.
Kauai truly is a natural paradise. While it does experience the most rain, that rain leaves a landscape unlike any other island.
Click here to plan your trip with our Kauai travel guide.
Mostly D's: The Big Island (Hawai'i)
If you answered mostly D's, you'll want to hop a flight to the island of Hawaii or the Big Island. Named for its size, the Big Island offers a quiet vacation. The island is large enough that even during the busiest periods, it doesn't feel too crowded.
The Big Island is well known for its active volcano, Kilauea, which is part of Volcanoes National Park. The park is an amazing place for geology enthusiasts and anyone interested in seeing volcanoes to explore. You can even spend the night right in the park, in a hotel room overlooking a volcano crater.
But there's more to the Big Island than volcanoes. Spend some time exploring the town of Hilo and the waterfalls that are just outside. Explore the black and green sand beaches. Head into coffee country and see how your favorite drink is grown. Take to the seas for excellent snorkeling as well as swimming with Manta Rays (a can't miss experience). And our favorite part of the Big Island: just sitting outside overlooking the black lava fields and watching a beautiful sunset.
Click here to plan your trip with our Big Island travel guide.
Which Hawaiian Island Should You Visit?
It can be difficult to make a complete decision just from a quick quiz. Sometimes you just need to see what each island looks like before you know what is right for your trip.
We have a video that gives you a look into each island, so you can make the best decision for your trip:
Looking for more? We have everything you need to know about planning a trip to Hawaii. Things like:
Which Hawaiian Island Has the Best Beaches?
If visiting beaches is high on your list when you come to Hawaii, know that you will find beautiful beaches on every island. That said, there are some beaches that are more stunning than others. Here are some beaches that you'll want to add to your trip list:
Waikiki Beach (Oahu)

Ala Moana Beach Park (Oahu)

Lanikai Beach (Oahu)

Waimea Bay (Oahu)

Napili Bay (Maui)

Kaanapali Beach (Maui)

Makena Beach (Maui)

Hanalei Bay (Kauai)

Poipu Beach (Kauai)

Anini Beach (Kauai)

Hapuna Beach (Big Island)

Punalu'u Beach (Big Island)
Which Hawaiian Island Gets the Most Tourists?
According to data from the Hawaii Tourism Authority, Oahu gets the most tourists each year, by far. In December 2019, nearly 1 million people arrived in Hawaii, with 58% of them visiting Oahu. Maui received the second-highest number of visitors.
Which Hawaiian Island Gets the Most Rain?
There is a reason Kauai is called the Garden Isle. It gets far more rain than any of the other islands. The data in the graph below shows just how much more rain Kauai gets than any other island in Hawaii.
But that doesn't mean you won't have sunny days. Sure, you may have more rainstorms, and you'll need to expect that you'll get a little wet. But the sun does shine and all that rain? It gives the lush jungle landscape that makes us love Kauai so much.
Take a look at our guides linked above and in the menu to take the next steps on your trip planning.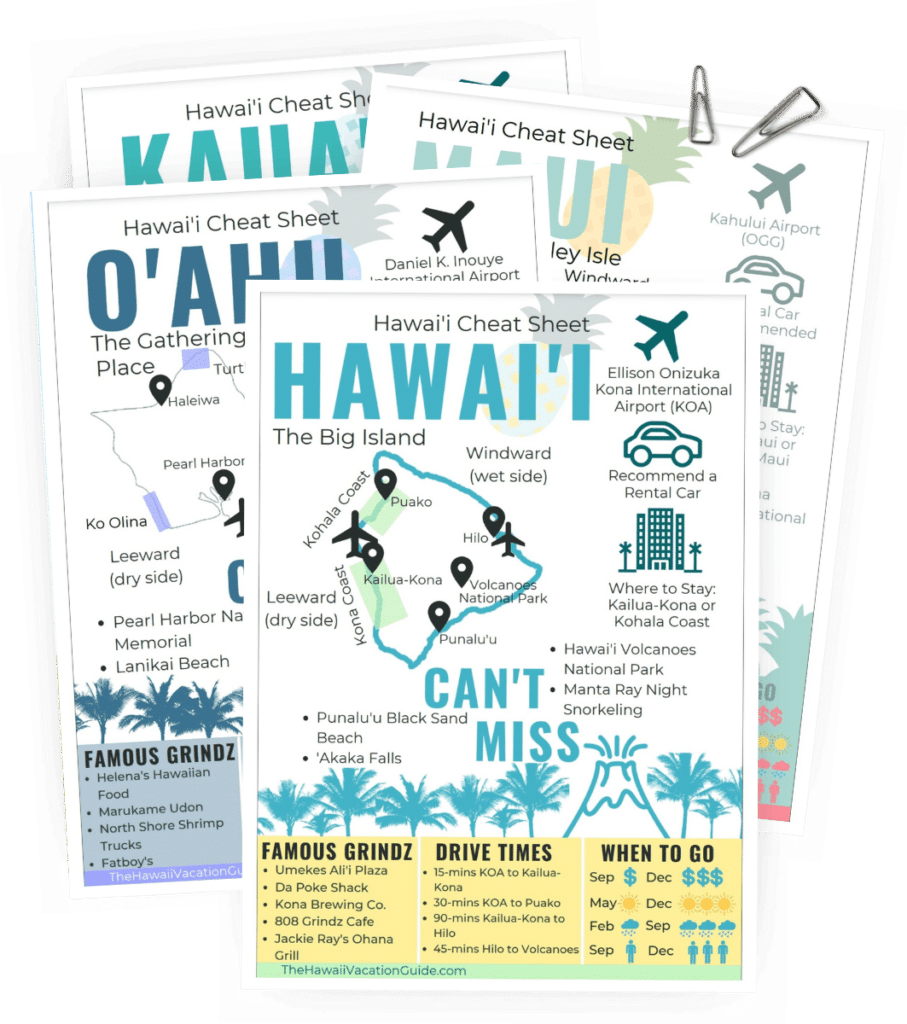 Free Download!
Hawaiian Island Cheat Sheets
Sign up & we'll send you our island cheat sheets so you can get to know the islands like the back of your hand!
We'll share 4 can't-miss activities on each island, a map with the main sights in town, & famous local grindz (eats)!