Which Part of Oahu Should You Stay: Waikiki or Ko Olina or North Shore
Disclosure: This post may contain affiliate links, meaning if you decide to make a purchase through my links we may earn a commission at no additional cost to you. Read about our affiliate policies here.
You made a good decision. Going to Oahu is a great island to visit. We recommend to all our friends to visit Oahu at least once. Now the 2nd big decision, which part of Oahu should you stay on? Waikiki or Ko Olina or the North Shore?
Waikiki offers a famous beach, nightlife, activities galore, and is a central location but it gets crowded.
Or….
Ko Olina offers 4 white-sand lagoons, stay and play resorts, a Disney resort, luaus, and sun-drenched weather but you are a little isolated on the far side of the island.
Or…
Oahu's famous North Shore with epic surfing, jungle hikes, waterfall swims, amazing restaurants and food trucks, and a chill vibe but windward weather means rain and spotty weather.
After living two years on Oahu, in fact in Ko Olina, I can lay out the facts on these Oahu destinations so you don't have to learn the hard way. Here come the pros and cons of what you can expect when staying in each of these Oahu destinations.
Which Part of Oahu Should You Stay On?
Waikiki, Ko Olina, and North Shore are the best places to stay on Oahu. They each offer a different Oahu vacation so it is good to understand the personalities of the places before you book your hotel.
The three are very different in look, location, taste, and vibe.
Waikiki and Ko Olina offer a selection of family-friendly and luxury resorts all within 1.5-square-miles with beach access. The nice selection of places to stay plus abundant activities, make these stay and play resort areas.
North Shore is a whole different experience. A preeminent Hawaii destination for outdoor fun. Explore the great tropical outdoors with jungle walks, hikes to pillboxes for sunrise, or watch a surf competition. A North Shore vacation is more about experiencing Hawaii like a local.
There are other places to stay in Oahu, like Kailua, Kaneohe, Ewa, and Kapolei. But these towns lack resorts and hotels are few and far between. There are great vacation rentals and I would recommend these if you wanted to stay in those parts of Oahu.
A vacation destination you will want to come back to again is our goal. These unbiased pros and cons put the facts and the ambiance on the table so you can pick the right part of Oahu to stay on for your itinerary and personality.
Related articles:
Waikiki is the Hot Spot to Stay
Waikiki is a neighborhood in Honolulu, the capital of Oahu and Hawaii. It is a small neighborhood. At only 1.5-square-miles, it packs a punch for the Hawaii tourism industry.
Within this small enclave of a city, the area generates $2 billion in tourism revenue every year. That is 42% of all tourist dollars spent in Hawaii.
People from all over the world flock to Waikiki. It is a popular place and for good reason.
Who Would Like Waikiki
Waikiki is the Vegas of Hawaii, without the gambling. Waikiki offers something for anyone of any age to enjoy.
Honeymooners, singles, LGBTQ, couples, seniors, and families of all ages will have a ball in Waikiki. There are family-friendly resorts like the Hawaiian Hilton Village that offers a man-made lagoon and a Friday fireworks show. Couples can enjoy happy hours in dive bars to oceanfront sunsets. Singles will find an active club scene or a pool to relax to their heart's content.
Waikiki is built to make all of its 71,000 daily visitors happy.
Waikiki's Location on Oahu
Waikiki is a 20-minutes drive (8.5 miles) from Daniel K. Inouye (Honolulu) International Airport. UberX is a $24 ride to Waikiki.
Located on the southeast shore of Oahu and the east side of Honolulu, the neighborhood provides a perfect launching pad to explore many of the sites in south Oahu.
Waikiki starts at Honolulu Harbor on the westside and ends at Kapahulu Avenue on the eastside. From the shoreline to Ala Wai Canal, Waikiki is only 2 to 3-blocks deep.
A lot of action is packed in those 2-blocks.
Pros for Staying in Waikiki
✅ Activities Galore: You won't get bored in Waikiki. Beach activities include surf lessons, standup paddleboarding, scuba diving, parasailing, body boarding, sailboat cruises, and snorkeling to name a few.
✅ Local Attractions: Within walking distance of central Waikiki is the 500-acre Kapiolani Park, the Waikiki Aquarium, and the Honolulu Zoo.
✅ Central Location: Waikiki is within a half-hour of a variety of Oahu attractions. Drive or take the bus to Pearl Harbor, Iolani Palace, hike Diamond Head, the Nuuanu Pali Lookout and Hanauma Bay Nature Preserve for epic snorkeling (but crowded so go early).
✅ Easy and Cheap Local Transport: If you don't want to walk, hop on the local bus or the many Waikiki free shuttles that buzz up and down the main streets of Kuhio Avenue and Kalakaua Avenue.
✅ Waikiki Beach is composed of 8 beaches, all with their specialties. Some offer beach volleyball (Fort DeRussy), some offer the best surfing (Queen's), and some are great for kids due to the break walls (Kuhio Beach, shown below).
✅ Waikiki is Cozy: After a few days, you will be comfortable and confident navigating the 1.5-square mile neighborhood.
✅ Restaurants: Pacific Island to authentic Japanese sushi to Regional Hawaiian cuisine to Chuck's Steakhouse. You will not go hungry. Of course, you can still find Subway, Outback, Red Lobster, McDonald's, and all the big brand restaurants in the area too.
✅ Waikiki Shopping: There is high-end shopping by the likes of Louis Vuitton and Chanel to lower-priced options like local t-shirt salesmen. You can find what you are looking for at the right price. Start with The International Marketplace in the heart of Waikiki and then work towards Kuhio Avenue for the lower-cost shops if that is more your fancy. The Royal Hawaiian Center mall in front of the Royal Hawaiian stretches for 3-blocks. Ala Moana Shopping Center is just over the Ala Wai Canal on the west side of Waikiki.
✅ Places to Stay: You have your pick of hotels, resorts, Airbnb, Vrbo, and private condos to stay in Waikiki.
✅ Shows and Luaus: Oahu entertainment is in Waikiki. You have your pick of luaus and shows like Blue Note at the Outrigger Waikiki Beach Resort.
✅ Hawaii Culture: First, go to the Iolani Palace and have a local give you a tour like Kyle Kajihiro or Terrilee Keko'olani. Then for some more culture, go to the Historical China District and the Bishop Museum. Waikiki has culture also with the free Kuhio Beach Hula Show. It opens with torch lighting and the traditional blowing of the conch shell every Tues-Thurs-Sat, 6:30-7:30 pm.
✅ Local Honolulu Neighborhoods: My favorite part of Waikiki are the close neighborhoods of Kapahulu and historic Chinatown. If you want local food, neighborhood festivals, Honolulu history, and the best bars on the island then check out these local hoods.
Cons for Staying in Waikiki
❌ Crowded: 71,000 visitors a day spending $2 billion a year means the small neighborhood can get packed. The beach is big though but arrive early for a spot.
❌ Restaurants like Duke's, Hula Grill, Cheesecake Factory, La Mer, etc. fill up fast. Make a reservation a day or two in advance to get a table. Don't show up at 5:00 pm with a toddler and expect a seat without a 1 and a half hour wait. We made that mistake.
❌ Not Great for Young Kids: The busy streets, crowded sidewalks, and lack of green space is not ideal for toddlers and young kids. It is a safe place to be but the busy roads and sidewalks can get stressful for parents.
❌ Parking Fees: Resorts will charge an average of $40 a night for parking. Ouch. Day parking at malls and parking garages will run you $6 to $20 a day
❌ Luxury Shopping: It felt like there was only luxury shopping in Waikiki to me. Stores like Hermes, Louise Vuitton, Coach, Chanel, etc. are everywhere. That may be a value-add for some, but for me, there were more luxury options than not. H&M, Zara, and the like can be found also.
❌ Ambiance: Waikiki can feel a bit like a theme park, a little fake, and very hectic. Once you leave your resort, the weather is still amazing but it can be loud and chaotic on the streets. Waikiki might not be the relaxing Hawaiian vacation you were craving.
❌ Overpriced Food and Syrupy Drinks: You may feel trapped in Waikiki with the limited option of inexpensive, quality food. The food is expensive, the happy hour deals are not great, and those $25 lava flows are more syrup than rum.
❌ Traffic: Waikiki is surrounded on 3-sides by water making it hard to get in and out of. Avoid the rush hour times (see below) and have a good navigator. Oneway streets and a few freeway onramps make it tricky and time-consuming to get in and out of paradise.
Conclusion on Staying in Waikiki
Waikiki is not ideal for those who want a quiet vacation on the beach or want to be surrounded by nature 24/7.
If it is your first trip to Hawaii, I can't help but recommend staying in Waikiki for a few days. The central location on Oahu, the beach activities, local attractions, and the history of Waikiki makes it a memorable and fun start to your vacation. Stay in a hotel on Waikiki Beach for the full experience.
Staying in the Ko Olina Resorts
Ko Olina is a resort community set on four man-made lagoons. A well-filtered drone shot of Ko Olina is all you need to see to understand why this place has become a hot tourist destination.
Ko Olina offers a Disney resort, a Four Seasons, a Marriott, a golf club home to the LPGA Lotte Championships, a shopping center, restaurants, resort bars, wedding chapels, a marina, and those lagoons.
White-sand beaches, turquoise waters, no break, warm water, empty beaches… yes, those lagoons.
Who Would Like Ko Olina
If you are a fan of Disney then you already know about Ko Olina. Home to the Aulani, a Disney Resort. See Mickey and all his friends in Aloha Shirts. Disney made Ko Olina famous when it opened Aulani in 2009
For everyone else, the question is Ko Olina or Waikiki? That will be a hard decision for most people. Ko Olina has a lot to offer for families of all ages, couples, honeymooners, wedding parties, and anyone else who likes resorts and beaches and warm weather.
Ko Olina has a lot to offer inside its gates with the lagoons, sports activities, expansive grassy lawns, luaus, and places to eat but it lacks nightlife. Ko Olina is for those who want a quiet, resort vacation in Hawaii compared to Waikiki.
Erica and I lived in Ko Olina for two years. We loved it. The condo community had swaying palms, friendly neighbors, and we had the lagoons in our backyard. Compared to other towns on Oahu, Ko Olina was a fun place to live. Then Disney moved in. The place is still beautiful, albeit a little more crowded.
Ko Olina's Location on Oahu
Ko Olina is located 25-minutes (19.5-miles) from Daniel K. Inouye (Honolulu) International Airport. Ko Olina is 35-minutes from Waikiki. Kapolei is the closest Oahu town, located 10-minutes down the road.
Located on the sun-drenched, leeward side of Oahu, Ko Olina gets no rain. You may get some wind during the winter months but rain will be hard to find.
Pros for Staying in Ko Olina
✅ 4 Lagoons: Have I mentioned the lagoons? The expansive beach and serenity of the turquoise waters make staying here feel luxurious. There is a beach boardwalk that links the lagoons making a morning run or sunset stroll a daily requirement.
✅ Ko Olina Restaurants: You have fine dining at the likes of Roy's, AMA AMA, and Mina's Fishhouse and lower-cost options like beachside cafes and coffee shops. The best bang for your buck is at Island Country Market in Ko Olina Station. The market has a hot deli, large beer and wine selections, and is a respite from the resort prices.
✅ Resort Activities: The resorts will keep you busy with their waterslide pools, tennis, fitness centers, sunset cruises, golfing, and everything else you can imagine doing at a Hawaiian resort. Enjoy it all while you are there.
✅ Family Friendly: Ko Olina is home to Aulani, a very family-friendly resort. But it has always been family-friendly. The Four Seasons and the Marriott's Ko Olina Beach Club cater to families with kids' activities, kid clubs, swimming pools that make adults giddy, and the lagoons and lawns of Ko Olina make the place super family-friendly.
✅ Places to Stay: Three resorts plus Marriott's timeshare villas plus three residential communities provide a host of places to stay. Ideal for couples and honeymooners is the Four Seasons, the height of luxury in Ko Olina. Disney's Aulani and Marriott's Ko Olina Beach Club is geared more for families but all the resorts offer amenities and an ambiance that everyone would like.
Fun Fact: When the NFL Pro Bowl was played in Hawaii, all the players would stay in Ko Olina at what is now the Four Seasons. The privacy of Ko Olina (NFL put the entire resort on lockdown), seclusion on the far end of the island, and the 5-star resort were ideal for NFL players and their families.
✅ Weather: Weather is ideal. The leeward side hardly gets any rain. If you are fleeing a midwest winter, then head to Ko Olina to soak up the rays.
✅ Getting Around Ko Olina: There is a free shuttle service to transport you between lagoons, resorts, the golf course, marina, and other locations. There is also a bike-share service.
✅ Not Crowded: While you may need to reserve your pool chair by 8:00 am, the beaches are not crowded. The resorts also never feel crowded due to their size. Compared to Waikiki, you and your family will feel like the only ones on the island.
✅ Sunsets: Ko Olina sunsets make one want to write poetry for a living. The resorts are situated to provide spectacular views of the sunset. Grab a drink and watch the sun dip into the Pacific.
Cons for Staying in Ko Olina
❌ Ambiance: Similar to Waikiki, the place can feel overdone. Too much like a resort than a tropical Hawaii vacation. While Disney's Aulani is built with a purpose to feel like a theme park, the other resorts can also feel tacky at times.
❌ Expensive Resorts: We stayed in Waikiki and the North Shore during our last trip to Oahu from Maui. We opted out of Ko Olina due to the high hotel rates. Ko Olina warrants a premium. Expect good service because you will be paying for it.
❌ Isolated on the West Side: Ko Olina is a drive from Honolulu and many Oahu tourist destinations. Ko Olina is not centrally located like Waikiki so get ready to drive to see other parts of the island. Make sure you avoid rush hours (see below).
❌ Airplanes Overhead: Ko Olina is located on the Honolulu International Airport flight path. Depending on the wind direction, you may get planes flying overhead every few minutes.
Conclusion on Ko Olina
Ko Olina is safe and secure as even the ocean was tamed with man-made, seawall-protected lagoons. But, I like the outdoors, adventure, and the wild side of Hawaii.
I was surprised how much I enjoyed Ko Olina when I lived there for two years. It offers something for everyone.
Ko Olina has so much to offer in the way of beaches, restaurants, and an overall happy vibe. One can't help smiling as you enjoy the grounds and the many activities. One won't get bored if they know they are on a stay-and-play Hawaii vacation.
Related article:
Destination North Shore
Town or Country, that is the decision. Honolulu is known as the town while the North Shore is the country. And locals want to keep the country country.
That means the North Shore is not a resort area. Turtle Bay is the only resort and the only name-brand hotel is a Courtyard by Marriott. That doesn't mean you shouldn't stay on the North Shore.
Oahu's North Shore is where legends are made. The surfling is iconic. The hiking is unforgettable. If you want to swim in a waterfall, head to the windward side of the island. Welcome to the North Shore.
Who Would Like Staying in the North Shore
North Shore is where you go to get your hands dirty on a Hawaii vacation. Folks who like to hike, surf, snorkel, eat at food trucks, stop at fresh-fruit stands, and explore small towns will enjoy the North Shore.
Families will be able to keep their children entertained with shave ice, beaches, bodyboarding, cliff jumping, horseback riding, sea turtles on beaches, and waterfall hikes. Older children will enjoy the activities more.
North Shore's Location on Oahu
Haleiwa, the main town on the North Shore, is located 40-minutes (26-miles) from Daniel K. Inouye (Honolulu) International Airport. Haleiwa is 50-minutes from Waikiki.
Turtle Bay is an additional 25-minutes (12-miles) north from Haleiwa. Turtle Bay is located 1 hour and 10 minutes (41-miles) from Honolulu Airport.
The North Shore is the windward side of the island. The tradewinds and the mountains cause the rain to fall on the windward side of the island compared to the dryer leeward side. Northshore beaches also face the sunset.
Pros for Staying on the North Shore
✅ Quieter: If you dig the peace and quiet when on vacation, the North Shore has your back. You can find a chill environment with sleepy towns and low-key bars.
✅ Turtles and More Turtles: Hawaiian Green Sea Turtles love the North Shore. Beaches you can find them relaxing on the sand are Laniakea Beach (park off the main road) and the little hidden gem of Papa'iloa Beach (Lost was filmed here). Both are a few miles north of Haleiwa.
✅ More Authentic Hawaii: Locals are proud to call the North Shore home. Of late, it is becoming more vacation rentals but the local vibe is strong in the North Shore. Walking the streets will be families, surfers, yogis, artists, and resident crazies who call Oahu their home year-round.
✅ A Ton of Things to Do: North Shore is full of adventure activities like ziplining, hiking, waterfall swims, snorkeling, SUP, and surfing. The Polynesian Culture Center and Kualoa Ranch, where Jurassic Park was filmed, are down the road from Turtle Bay also.
✅ Charming Surfer Town: Haleiwa Town is the cutest town in Oahu. Oahu has done a poor job of preserving their historical towns, Haleiwa escaped with its charm. The ton gets busy during the weekends with tourists but it is still a place to go for local shopping, art galleries, and surfing or SUP.
✅ Better Snorkeling: North Shore has great snorkeling beaches off the main road. Shark's Cove, Waimea Bay, Malaekahana Beach, Turtle Bay, etc. are all great places to snorkel. Except in the winter when the big waves start pounding the beach.
✅ Famous Shrimp Trucks: The most famous truck is Giovanni's in Haleiwa. There are other shrimp trucks in Halewai also. We stop at one every time we are in town for lunch. The garlic coconut shrimp is worth the wait but get there early. Less of a line and a place locals would argue to be better is Romy's Kahuku Prawns Shrimp Hut. They serve up locally farmed, never frozen, fresh-water shrimp.
✅ Surf Competitions: Want to watch surfers surf 50-foot waves? This is what put big wave surfing on the map, Oahu's North Shore. If you are lucky to be on the island when they call it, check out the Vans Triple Crown of Surfing that takes place at Sunset, Bonzai Pipeline and Alii Beaches (all in a row along Kamehameha Highway). Also, The Eddie takes place in Waimea Bay. You will see people wearing "Eddie would go" shirts on Oahu. I recommend you read about the legendary lifeguard who saved 500 lives over his career.
Cons for Staying on the North Shore
❌ Traffic Jams: The weekend visitors clog the North Shore roads. The main drag is Kamehameha Highway and it can become bumper-to-bumper. You have to drive it to get anywhere so avoid the weekend. Also, the frequent storms cause down trees and other issues that can slow your travel.
❌ Fewer Places to Stay: For resorts, the Turtle Bay Resort is your only option. It is a good option but that is the only resort on the North Shore. You can stay at boutique hotels or vacation rentals.
❌ It's a Long Drive: If you are coming for a day-trip from Waikiki then it is a long drive there and back. That is why staying on the North Shore is your best option. The North Shore is a long way from Honolulu and other parts of the island so you may feel isolated or cut-off from exploring more of Oahu.
❌ Winter White Water: During the winter you get big waves (surfing competitions) so snorkeling visibility is low and dangerous. You might not have many ocean spots where it's safe to get in the water.
❌ Weather is Dicey: As the North Shore is on the windward side of the island, the weather is less predictable. It may rain all day or just a few showers. The summer is the best time to stay on the North Shore in regard to weather.
❌ Shuts Down at Night: The North Shore is not a party place. Watch the sunset, unwind at dinner, and then go to bed. A good reason to wake up early to enjoy the activities during the day. Don't expect to find clubs or late-night bars.
Conclusion on the North Shore
Erica and I love the North Shore. We like outdoor activities, the laid-back local scene, and the food. The food is amazing. Food trucks, cafes, and beachfront restaurants are delicious.
We also like staying at Turtle Bay Resort. It is the only resort in the area but it carries itself well compared to Waikiki and Ko Olina resorts.
If you are looking for a relaxed, secluded vacation with your partner or family, then the North Shore would be your best bet for staying on Oahu.
Oahu Traffic
With any location you choose, Waikiki or Ko Olina or North Shore, you are not trapped. You can always hop in your rental car, take the efficient Oahu bus system, or an Uber to explore the island.
Travel Tip: Beware of Oahu traffic.
Oahu traffic is some of the worst in the country so avoid the weekday rush hours.
The normal weekday rush hour in Honolulu is 5:00 am to 8:00 am going inbound and 3:00 pm to 6:30 pm going outbound.
One can expect heavy traffic on Interstates H-1 and H-2, Nimitz Highway, Ala Moana Boulevard, and the surface streets in downtown Honolulu and Waikiki.
Decision Time: Waikiki or Ko Olina or North Shore?
All the cards are on the table, where are you going to stay on Oahu? Ko Olina or Waikiki or North Shore?
Our Recommendation: Waikiki and North Shore
Why choose only one Oahu destination? Packing up to move hotels during a short vacation sounds painful, but it is a must to fully experience everything Oahu has to offer. You deserve a full taste of Hawaii.
Start your trip by staying in Waikiki and then head to the North Shore. If you think your family would enjoy the lagoons and golf at Ko Olina, then swap out Waikiki for Ko Olina. As Ko Olina is on the south shore of Oahu, you can still do a lot of sightseeing before you head to the more isolated North Shore.
See our best Oahu itinerary for your grab and go guide:
Get The Oahu Itinerary
The step-by-step itinerary takes you to all the best beaches, snorkeling spots, restaurants, and sights. You'll get six carefully planned excursion days to help you see the can't miss stops no matter how limited your time is.
Get all the details on our itinerary and download it for a memorable and easily planned trip to Oahu.
OH MY GOODNESS!!! The itinerary is priceless! I have been doing a lot of research, and it definitely gets overwhelming. To see so much information, so beautifully organized and user-friendly is worth so much."

Alan and DeeAine
Starting to plan your trip to Oahu? Download our free Hawaiian island cheat sheets which give you a quick overview on the need to know facts for each island: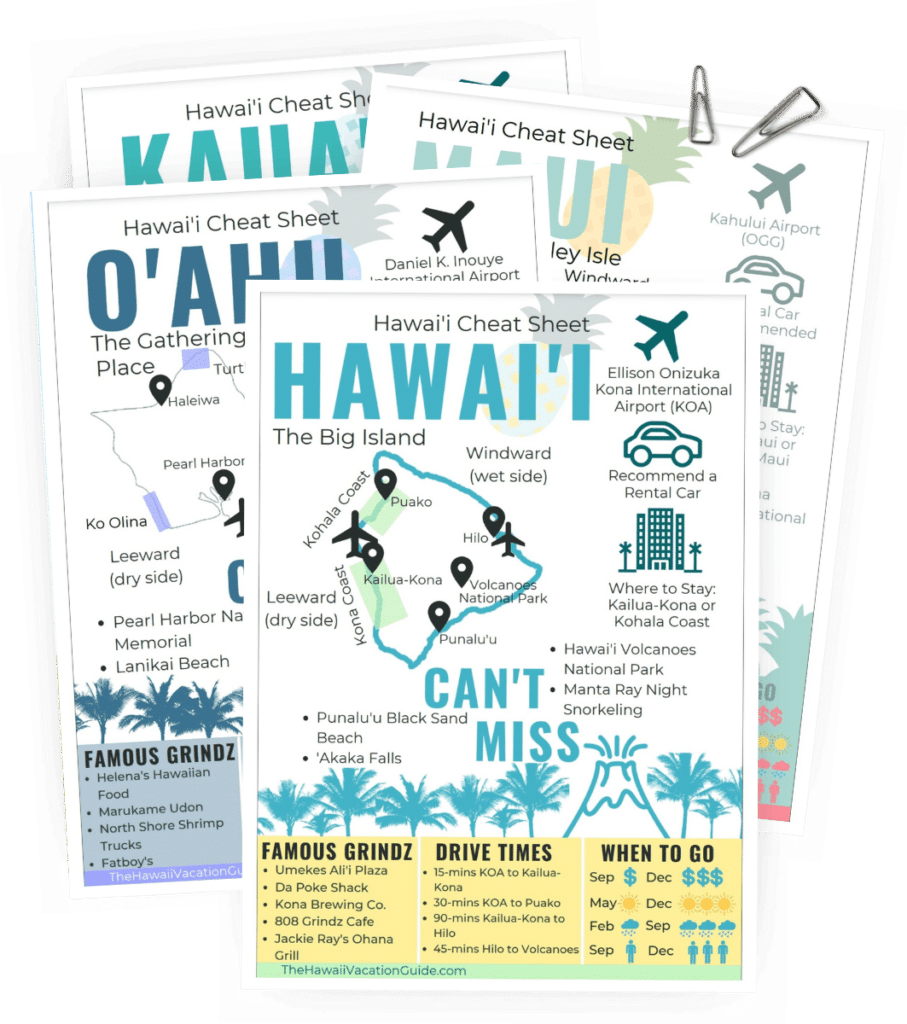 Free Download!
Hawaiian Island Cheat Sheets
Sign up & we'll send you our island cheat sheets so you can get to know the islands like the back of your hand!
We'll share 4 can't-miss activities on each island, a map with the main sights in town, & famous local grindz (eats)!