21 Amazing Things to Do on Oahu's North Shore
Disclosure: This post may contain affiliate links, meaning if you decide to make a purchase through my links we may earn a commission at no additional cost to you. Read about our affiliate policies here.
The North Shore of Oahu is easily one of the coolest places on the island. Famous for its sandy beaches, charming surf towns, and laid-back vibe, the North Shore has an entirely different feel from the bustle of Honolulu and Waikiki.
For many people, the North Shore is the highlight of their Hawaii trip. And while it's not far from Waikiki, there are so many incredible things to see and do that it's worth spending a few nights or days to see everything it has to offer. So, if you're planning a trip to the North Shore, check out our favorite things to do on Oahu's North Shore.
Planning a trip to Oahu?
These are our favorite paid things to do on Oahu's North Shore. You can find all our favorite activities and tours here.
1. Stand-Up Paddleboard (SUP) Lessons
2. Surf Lessons
3. Lava Tube Signature Dive
4. Waimea Valley Waterfall Swim Self-Guide Tour
If you're looking for a luau, North Shore has two of the best. Check out the Toa Luau at Waimea Valley and the luau at the Polynesian Cultural Center.
21 Amazing Things to Do on Oahu's North Shore
1. Stop at Green World Coffee Farm
To help keep you energized on your way up north, make sure to stop by the Green World Coffee Farm. Although it's not technically on the North Shore (it's located outside of Wahiawa), it's worth a stopover for a quick espresso or slice of banana bread.
The farm is situated on seven acres of land comprised of more than 3,000 Arabica coffee trees. All the beans are roasted right there in-house, so your coffee literally cannot get any fresher!
Employees are also more than happy to give you a free tour of the farm, as well as free coffee samples. If you want to pick up some bags to take back home with you then that is a wise decision. They also have delicious baked goods.
2. Visit the Waialua Sugar Mill
The historic Waialua Sugar Mill first opened in 1865 and was one of the island's most successful plantations and mills for more than 140 years. It was the last operating sugar mill on Oahu, although it, unfortunately, had to close in 1996 due to profit losses.
However, the Waialua Sugar Mill is now an industrial complex with different shops and businesses, most notably the Old Sugar Mill Brand Coffee Shop and the North Shore Soap Factory. There's also a tiny playground if you're traveling with kids and desperately need a place to stretch your legs.
Despite the transformation, the buildings of the sugar mill have been well-preserved, which makes this an excellent stop for shoppers as well as history lovers.
3. Eat and Tour Kahuku Farms
Kahuku Farms is one of the best places to eat for farm-to-table cuisine. The food is outstanding, and almost every ingredient comes directly from the farm (or sourced from neighboring farms on Oahu).
They have wraps, salads, pizza, and an impressive smoothie menu made only with fruit picked right from the trees behind you! If you're not hungry for a full meal, you can always pick up some fruits and veggies from their farm stand instead.
But if you have the time, it's 100% worth it to join the farm tour. You'll be driven through the farm on a tractor-pulled wagon to learn about the farming and production process. And afterward, you'll get to sample fresh fruit and even chocolate made with the farm's cacao beans!
4. Visit Malaekahana Beach
A hidden gem on the tippy top of Oahu, Malaekahana Beach is one of our favorite places to go snorkeling. It's a bit off the beaten path for most tourists, so you'll truly get that laid-back local feel when you visit. The waters are generally calm and shallow (although it is essential to check the weather because it can get rough some months during the year), so it's easy to see the abundance of fish and wildlife without straying too far from shore.
Visit Hawaii Ocean Safety to get lifeguard reports on Oahu's major beaches.
If you can't get enough of the beach, you're also more than welcome to spend the night at the Malaekahana Beach Campground. They have over 70 campsites as well as a couple of cute plantation-style huts. Best of all, the beach is just steps away, so you can fall asleep and wake up to the sound of the crashing ocean waves!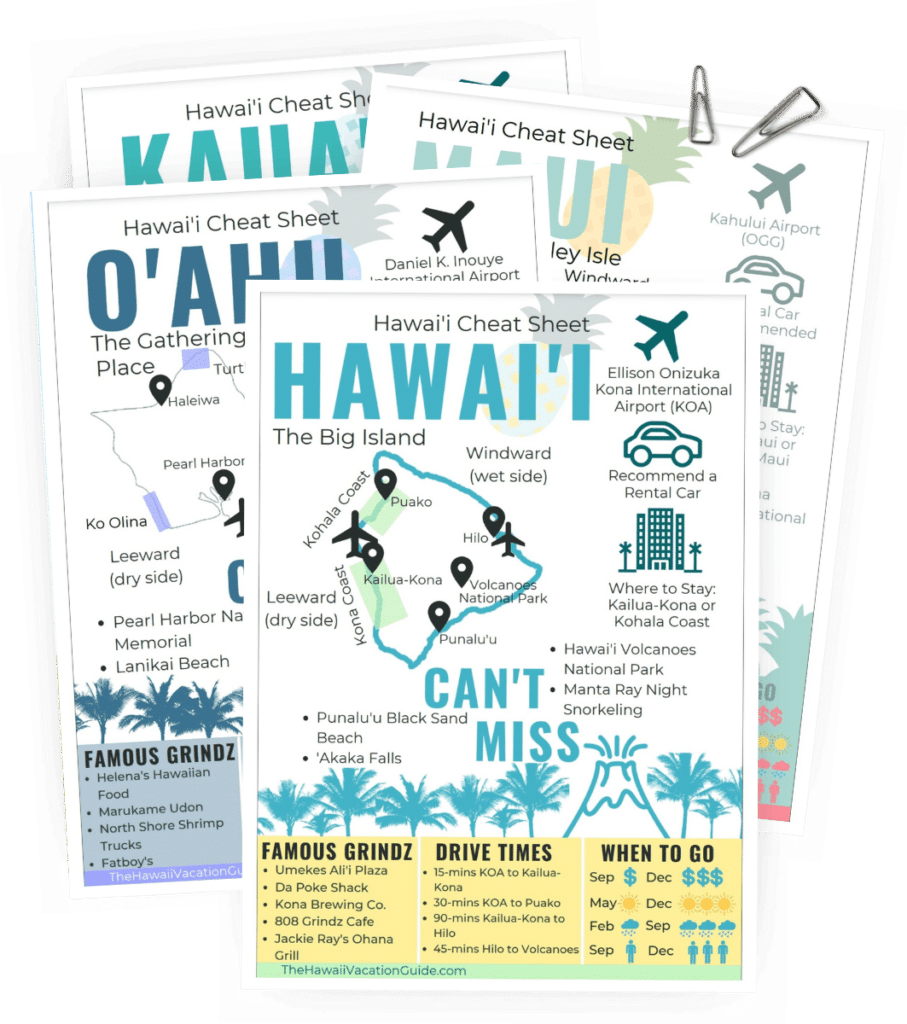 Free Download!
Hawaiian Island Cheat Sheets
Sign up & we'll send you our island cheat sheets so you can get to know the islands like the back of your hand!
We'll share 4 can't-miss activities on each island, a map with the main sights in town, & famous local grindz (eats)!

If you're looking for more beach action on Oahu check out the 10 Best Beaches on Oahu: Secluded, White Sand, Find It All and the 5 Best Snorkeling Spots on Oahu.
5. Feast at the Kahuku Food Trucks
With so many delicious food trucks in Kahuku, it's impossible to go hungry when you're here. Most of them are located right on the side of the Kamehameha Highway, so it's easy to pull over and grab a bite to eat if you're just passing through. And because this area isn't on the main tourist route, you won't have to wait in line with the crowds like you would in Haleiwa.
One of the most popular trucks in Kahuka is Giovanni's Shrimp Truck. You can't go wrong with anything on the menu, although the garlic and butter scampi is a star seller. Other happening trucks include Mike's Huli Huli Chicken, Ry's Poke Shack, and Papis Tacos.
6. Snorkel at Pupukea Beach
Located next to Pupukea Beach Park is one of the coolest places to go snorkeling – Shark's Cove! This protected tide pool is home to various fish and sea creatures (but thankfully, no sharks!). They also have full facilities like showers and restrooms, but try to come early if you want to nab a parking spot close by.
The waters in the summer are relatively calm and shallow, so it's suitable for your little ones. However, we don't recommend coming here in winter or leaving the protected cove. The waves can be quite powerful during the winter, which is ideal for surfers but not so great for snorkeling or swimming.
After an afternoon in the water, you can head across the street to the Pupukea Food Truck Park. Grab some food to go and enjoy it on the beach if you want to soak in those pristine ocean views.
7. View Hawaiian Green Sea Turtles
If you want to see Hawaii's famous green sea turtles, you have several options on the North Shore. Laniakea Beach is one of the more popular turtle-sighting areas located off a residential street. However, it can be very busy, so expect some level of traffic or difficulty parking if you choose to come here.
While many people like Laniakea Beach, we prefer to head a bit further down the coast to Papa'iloa Beach. It's far less crowded and touristy, so you shouldn't have a problem parking or finding a spot to lay out your towel.
Turtle season typically lasts from May to September on the North Shore. During this time, you can spot these adorable creatures swimming in the water or resting on the beach. Although they may seem safe to approach, it's crucial that you stay at least 10 feet back from the turtles at all times. Disturbing them isn't just dangerous – it's illegal!
8. Go Kayaking or Stand-Up Paddleboarding (SUP)
Watersports are extremely popular all over the island, and there's no better place to get out on the open water than on the North Shore! There are so many places here to rent kayaks and stand-up paddleboards. We booked with Surf N Sea, which is one of the oldest and highest-rated rental shops in the area (they also offer surf lessons, shark cave diving, and scuba diving).
If you're a thrill-seeker, taking your kayak or board out into the ocean can be a fun experience, especially if there are lots of waves! On the other hand, beginner kayakers or paddleboarders may want to stick to Waialua Bay or the Anahulu River, which is much calmer and easier to navigate.
We highly recommend these SUP lessons that we have also done! We chose to go upstream in hopes of finding turtles (we had no such luck, but they are often found swimming in the river from time to time!).
9. Try the Haleiwa Shrimp and Food Trucks
If you're looking for a delicious meal in Haleiwa, then head to the Food Truck Park. There are quite a few different trucks that set up shop in this parking lot, including the famous Giovanni's Shrimp Truck. Yes, the same company that's also located in Kahuku! As one of the more popular dining options, it can get very busy during lunchtime (so try to come early if you don't want to wait in line!)
There are also some other cute cafes, surf shops, and art galleries nearby, so give yourself some time to walk around the Haleiwa area.
10. Enjoy a Hawaiian Shave Ice
On a hot day, there's no better treat than Hawaiian shave ice. This refreshing dessert is essentially a giant block of shaved ice (not crushed ice!) that's flavored with syrup and other sweet toppings. You can get Hawaiian shave ice almost everywhere, although there are two shops that we like to visit on the North Shore – Kaimana Shave Ice and Matsumoto Shave Ice.
Kaimana Shave Ice is located across the river from the Haleiwa Food Trucks, so it's easy to reach if you're craving a post-lunch treat. All their flavors are natural and made in-house, and their sweet cream, azuki bean, or mochi ball toppings are simply suburb!
If you mention The Hawaii Vacation Guide at Kaimana Shave Ice, you will receive 10% off your order! Explore all of our Hawaii Vacation Guide Coupon Codes, including 5% off Honolulu Helicopters.
Matsumoto Shave Ice is a bit further up the highway and is considered by many to be the best on Oahu. The portion sizes are enormous, and the menu of syrup flavors is quite impressive. They even have exotic flavors like white cake, Japanese plum, and pickled mango.
11. Stop by Haleiwa Bowls for Breakfast
There are so many delicious food trucks in Haleiwa, but if you're on the hunt for a good breakfast, you can't top Haleiwa Bowls. They have fantastic acai bowls that come loaded with fresh fruit and toppings like granola, bee pollen, and raw honey. You can also try one of their other refreshing bowls, like banana, peanut butter, and dates or matcha chia pudding and coconut milk.
The drink menu is almost as extensive as the bowl menu! You can order a fruit smoothie, golden milk elixir, kombucha, or iced matcha. But if you're absolutely in need of that morning caffeine, they also have organic cold brew coffee.
12. Watch the Surfers at Banzai Pipeline
More than half way through these 21 things to do on Oahu's North Shore!
The Bonzai Pipeline is one of Hawaii's most famous surf breaks. On average, it has a swell of about nine feet in height, although, during big wave surf season, the barreling waves can reach as high as 20 feet. For this reason, the Banzai Pipeline should only be attempted by experienced professional surfers.
Depending on when you come, you might be able to catch one of the many surfing competitions that are held on the beach. This includes Pipe Masters, the Volcom Pipe Pro, the IBA Pipeline Pro, and the Pipeline Bodysurfing Classic. But even during non-event days, this beach is still a great place to come and enjoy an afternoon of sunbathing.
13. Hike to Pillbox
Known as the 'Ehukai Pillbox Hike, it's renowned for one of the best sunset views on the island at the top of the Pillbox. We did the Ehukai Pillbox hike recently in the morning as we were up with jet lag. It was absolutely beautiful.
Other sites claim it is an easy-to-moderate trail, but to us, it sits squarely in the moderate category due to the muddy hike to the top. It is just 1 mile in length, but it's steep and can be slippery for the first 2/3rds of the hike.
We went up to the first Pillbox with our 2- and 5-year-olds so it's still an awesome trip for families, and the views from the top are well worth the effort and sore legs.
At the top of the lookout, you'll be able to see the Banzai Pipeline, which is formally known as 'Ehukai Beach, as well as a large stretch of the North Shore coastline.
14. Swim in Waimea Bay
Situated at the mouth of the Waimea River, the sparkling blue Waimea Bay is one of the prettiest beaches in the area. There's plenty of room to sprawl out, even if there is tough competition in the parking lot.
The water is crystal clear and calm, and if you're lucky, teeming with colorful marine life. It's even possible to see sea turtles, so make sure to bring your snorkeling mask with you. There's also a large rock that jets out into the water in case you want to go cliff jumping.
As with all the other beaches on the North Shore, the waters at Waimea Bay are only safe for swimming or snorkeling in the summer. During the winter, the waves are incredibly high and very dangerous.
15. Stroll through Haleiwa Town
If you need a break from the beach, head into Haleiwa Town. The main street (Kamehameha Highway) is lined with tons of cute shops, cafes, restaurants, surf shops, and art galleries. This is also where you'll find some of our favorite haunts, including Matsumoto Shave Ice, the Haleiwa Food Truck Park, and Haleiwa Bowls.
The start of town is not a far walk from Haleiwa Beach Park, although we recommend having a car if you want to go further into town. We have you covered if you're looking for even more free things to do on the north shore.
16. Enjoy a Farm to Table Meal at Farm to Barn
This adorable cafe is easily one of our favorite places to eat on the North Shore. The food is exceptionally fresh, colorful, and packed with healthy ingredients that you can feel good eating. After all, they source most of their produce from local organic farms!
Farm to Barn is open for breakfast and lunch, and we highly recommend coming both meal times to sample a variety of their dishes. They have bruschetta avocado toast, veggie burritos, and breadfruit waffles. The lunch menu is also guaranteed to make your mouth water. Think brown rice bowls with veggies, stuffed mozzarella burgers, and smoked salmon bagels.
One of the coolest things about eating here is the outdoor space, which is a beautiful grassy lawn and lush tropical views. They also have live music on the weekends and open-air yoga throughout the week.
17. Head into Waimea Valley
Waimea Valley is a stunning nature preserve situated next to Waimea Bay. The entire 1,875-acre property is owned and protected by Hi'ipaka LLC, a Hawaiian non-profit whose primary goal is to preserve the land and educate visitors on Hawaiian culture. As you walk through the garden, you'll pass by thousands of flowers, trees, and even cultural sites.
Keep your eyes peeled for the 15th-century Hale o Lono worship house, the stone Ku'ula Shrine, and the traditional Hawaiian huts. You can also book a spot on the free botanical tour, where you'll learn more about the structures and rare plants with a guide.
Book your Waimea Valley tickets before you arrive!
The main botanical path is just 1/3 of a mile long and drops you off at Wailele Falls. This 40-foot waterfall is the highlight of Waimea Valley. It's also one of the safest waterfalls for swimming, so don't forget to bring your bathing suit. There's also a shuttle available for guests who prefer to be driven to the falls.
18. Snorkel at Turtle Bay (Kuilima Cove)
There are so many amazing things to see underwater at Turtle Bay. Our favorite snorkeling spot here is Kuilima Cove, a sheltered and shallow spot located right in front of the Turtle Bay Resort. The white sand beach is absolutely pristine, although it's the marine life that lives beneath the surface that makes visiting here an absolute must.
It's common to see unicorn fish, butterfly fish, parrot fish, perch, Moorish idols, and so much more. Sea turtles are rare, but not impossible to see swimming here! Kuilima Cove made our top 5 Oahu Snorkeling Spots list.
19. Scuba Dive the Hawaii Lava Tubes
The North Shore is a great destination for snorkeling and surfing, but it's also home to one of the most extraordinary scuba dive sites in Hawaii as well! The Pupukea Marine Life Preserve protects roughly 100 acres of the North Shore coastline and is a thriving habitat for sea turtles, rays, monk seals, octopuses, and fish.
However, there's something extra special to see here besides marine life. You can even do a lava tube scuba dive. Lava tubes are essentially formations that have been created by hardened molten lava. There are caves, tunnels, and arches that you can dive around, creating a unique landscape that only exists in certain parts of the world.
There are multiple lava tube diving spots located along the coast (where you go will largely depend on the weather and water conditions on the day you visit). However, some of the most visited locations include Atlantis, Waimea Wall, Three Tables, and Sharks Cove.
20. Go to a Luau
Sure, they may be a bit touristy, but going to a Hawaiian Luau is a unique experience you have to do when you're on the North Shore! Festivities usually take place outdoors and include live music, hula dancing, and, most importantly, tons of delicious Hawaiian food like Kalua pork, Hawaiian poi, and Lomilomi salmon.
Of the 4 best luaus on Oahu, we highly recommend two different luaus on the North Shore – Toa Luau and the Polynesian Cultural Center Luau.
The Toa Luau is located in Waimea Valley (entrance to the nature reserve is included with your ticket) and is one of the newest offerings on Ohau. Before the ceremony starts, you can participate in cultural Hawaiian activities like coconut husking and palm leaf headband making. In addition to their evening show, they also have an afternoon performance, which is great if you're planning to travel back to Waikiki afterward.
The luau at the Polynesian Cultural Center isn't just dinner and a show. It's an entire full-day experience where you can immerse yourself in Polynesian culture. The beautiful 42-acre property is divided into six different villages commemorating Hawaii, Fiji, Tahiti, Tonga, Samoa, and Aotearoa. After an action-packed day of games and activities, you can enjoy a delicious dinner and luau as well as a separate evening show with over 100 performers.
You can book tickets for the villages, the Alii Luau, and/or the Gateway Buffett. See our Ali'i Luau vs Gateway Buffet to see how to decide.
21. Surf on the North Shore
If there were two words to describe the North Shore, it would be sun and surf! This coastline is home to some of the best surfing spots not just in Hawaii but in the entire country. And while the winter waves are best reserved for experienced surfers, the North Shore is still a great place for beginners and newbies.
You don't have to look hard to find a surf shop. North Shore Surf Girls is one of our favorite schools (they are female-owned and teach men, women, and children). They offer group, private, and semi-private lessons.
Some of the best surfing can be found on the Seven Mile Miracle, a seven-mile stretch of coastline where you'll find iconic swells like the Left Overs, the Log Cabins, and the Banzai Pipeline. But if it's your first time on a board, stick to places around Haleiwa Bay or Kawela Bay for calmer waters.
Things to Do on Oahu's North Shore FAQs:
I'm sure these 21 things to do on Oahu's North Shore didn't overwhelm you. You can fit half of them in a day-long trip so find the ones that work best for you. If you can stay overnight on the North Shore, then do it! Here are some common FAQs we get on visiting Oahu's North Shore.
Is it worth visiting the North Shore of Oahu?
Most travelers and first-time visitors choose to base themselves in Honolulu (specifically Waikiki). And while the city has so much to offer, the North Shore is equally, if not more, stunning. Not only is it less crowded, but it's also a great place to experience that authentic island vibe.
Even if you don't plan on spending the night on the North Shore, you can still visit on a day trip, as it's just a 45-minute drive from Waikiki.
Read more on staying in different areas of Oahu.
What is the North Shore of Oahu known for?
First and foremost, the North Shore of Oahu is known for its spectacular beaches. There are so many wonderful spots where you can go swimming, snorkeling, kayaking, and, most notably – surfing!
The North Shore is arguably the most famous surf spot in all of Hawaii, thanks to its powerful and consistent swells. From November to February, the waves can be 30 feet or higher, attracting professional big-wave surfers from around the world. Many of them gather for the Eddie Aikau Big Wave Invitational, one of Hawaii's most prestigious surfing competitions.
Can you swim on the North Shore of Oahu?
Although there are so many great beaches on the North Shore, it's not a year-round swimming destination. The waves along this side of the coast are notoriously rough in the winter (from November to April), which can be extremely dangerous for swimmers and snorkelers. However, the summer months are calmer and better suited for beach days.
This isn't a set rule, as there are many days in the winter that are perfectly safe for swimming. Before you jump into the water, check the ocean conditions to see how large the waves are. If you're still unsure, play it safe, when in doubt don't go out.
What's the best time of year to visit the north shore?
In all honesty, the North Shore is beautiful no matter what time of year you visit Oahu. But if you're here to hit up the beaches, we recommend that you come in the summer between the months of May and October (Hawaii only has two seasons). During this time, the temperature will be in the 80-to-90-degree range, and the waters will be calm and suitable for swimming for snorkeling.
Winter is a tad cooler (in the 70s to low-80s), which can be more bearable if you're having a beach day. However, the ocean can be extremely dangerous, with massive waves anywhere from 20 to 30 feet high!
We also cover the best time to visit Hawaii and the worst time to visit Hawaii with a full breakdown of cost, clouds, and crowds.
Where can you stay on the North Shore?
Although there aren't as many hotels and resorts on the North Shore as there are in Waikiki, you can still find some excellent accommodation options. If you're looking for a luxury resort, the Turtle Bay Resort is your best bet (the property grounds and ocean view rooms are absolutely breathtaking). You can also stay at the Courtyard by Marriott, which also has beach and pool access.
Besides hotels, it's also possible to stay in a vacation rental. Two of our favorites are Ocean Villas and Kuilima Estates, both of which are located near Turtle Bay. We cover even more North Shore accommodations in this article: The Best North Shore Oahu Hotels and Vacation Rentals.
Related articles:
Shortcut Your Vacation Planning with the Best Oahu Itinerary
It's not a guide, it's not a cheat sheet, it's a comprehensive solution to all of your planning woes. Our Oahu Itinerary is complete with interactive island-specific advice on rental cars, where to stay, excursion days, what to bring, maps, what to do, and the best way to do it.
I can attest to how helpful your guides are. There was sooooo much information in there but it didn't feel overwhelming. There are great alternatives if you don't want to do a certain thing on that day. It was awesome!! Helped us get so much more out of our vacation

Priscilla
Get The Oahu Itinerary
The step-by-step itinerary takes you to all the best beaches, snorkeling spots, restaurants, and sights. You'll get six carefully planned excursion days to help you see the can't miss stops no matter how limited your time is.
Get all the details on our itinerary and download it for a memorable and easily planned trip to Oahu.