Best 5 Day Oahu Itinerary
Disclosure: This post may contain affiliate links, meaning if you decide to make a purchase through my links we may earn a commission at no additional cost to you. Read about our affiliate policies here.
Whether it's your first time to Oahu or your tenth, visiting this Hawaiian island is special. We know, we've vacationed there and lived there, and love going back time and again.
After living on Oahu for two years, we developed the perfect itinerary for our friends and family who would come out to visit. It mixes adventure, culture, and just the right amount of downtime.
Plus, there are plenty of swaps that you can make if you just need a little more time at the beach or the pool.
Here's the best five-day itinerary for your Oahu vacation:
Day 1: Welcome to Waikiki

Day 2: Morning Hike and Town (South Side)

Day 3: History and the Windward Side

Day 4: Exploring North Shore

Day 5: Stand Up Paddle, Haleiwa, and a Perfect Sunset
We recently tested this five-day itinerary with our 22-month-old son in tow. We all loved it!
Want a trip to Oahu with everything carefully planned so you see the best sights, visit the best beaches, head out on the best activities, and eat at the best restaurants? We've got you covered with our full Oahu itinerary.
Get The Oahu Itinerary
The step-by-step itinerary takes you to all the best beaches, snorkeling spots, restaurants, and sights. You'll get six carefully planned excursion days to help you see the can't miss stops no matter how limited your time is.
Get all the details on our itinerary and download it for a memorable and easily planned trip to Oahu.
Day 1: Welcome to Waikiki
Aloha! Welcome to Oahu. By now you've stepped off the plane into the open-air airport and you're smelling the flowers that fill the air.
But before you hit vacation mode, you have a little more to do. For this itinerary, you'll want a car. So head over to the rental car counter to pick up your car. And have patience, you're on island time now. Those lines move a lot slower than they do on the mainland.
Pro-tip: Have a lot of luggage or kids that you don't want to put on a rental car shuttle? Book with Advantage, Avis, Enterprise, Hertz, or National. These rental car agencies have a desk right at the airport. And by using Discount Hawaii Car Rental you can get the best price on the island.
Seriously, using Discount Hawaii Car Rental saved us over $300 on our trip to the Big Island and $60 on our trip to Oahu. That's a lot of Mai Tais.
Now that you have your car, head southeast to Waikiki. Depending on the time of day you may hit some traffic, but once you drop off your car at the hotel, you won't be using it for the rest of the day.
Related article:
Once you're settled in, it's time to take in the sights of Waikiki. Take a walk from your hotel and explore Waikiki by foot. It's only 1.5 miles long and two to three-blocks deep, so you can see everything you need to without a car. If you're tired, don't worry, there is a trolley or hop on hop off bus tour you can take.
Before you set out on your walk, read this article about why Waikiki is famous. It'll give you the background to appreciate everything that you see; from the Duke Kahanamoku statue to the eight beautiful Waikiki beaches.
After a day of travel, we recommend unwinding with drinks and music at the Moana Surfrider Hotel — the first hotel in Waikiki that was opened in 1901. It'll put you in the right Hawaiian spirit and it can almost make you feel like you're back in 1960's Hawaii, when the Moana was the choice location for celebrities.
Most restaurants in Waikiki require a reservation (or you have to endure a long wait). If you don't have anything booked for the evening and you don't feel like waiting, head to The Street Food Hall by Michael Mina at the International Marketplace. You'll find great food at a good price in a relaxed atmosphere. It's a great way to end a long day of travel.
Day 2: Morning Hike and Southeast Road Trip
Odds are you're going to wake up very early this morning thanks to jet-lag, so let's make the most of it.
Grab a coffee and light breakfast from Honolulu Coffee Company at the Moana Surfrider Hotel. You'll need a bite to eat since your morning is going to start with a hike up a 300,000-year-old volcanic crater.
Hop in your car and head to Diamond Head, Hawaii's most popular state park.
If you get there early enough, you'll be able to find a spot in the parking lot. Bring cash: it's $5 per car to park or $1 per person to walk in. The hike is 1.6-miles and fairly steep, taking you up the side of the crater so you can get some fantastic views.
Want to see it all without endless internet research? Our Oahu itinerary and guide gives you everything you need to know to plan your dream vacation with just one click. Check it out here.
Once you've taken in the beautiful views and you're done with your hike, you have two options.
You can head back to Waikiki and spend the rest of the day on the beach

You can hop in your car and head south.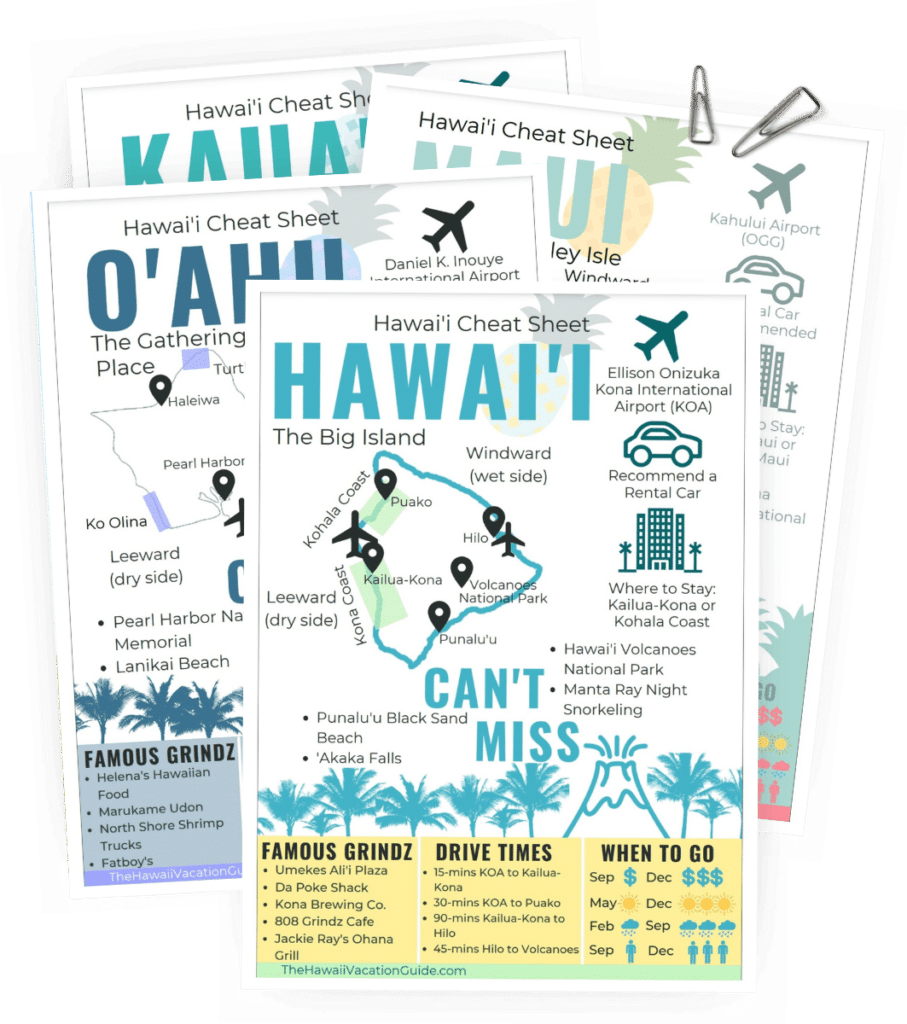 Free Download!
Hawaiian Island Cheat Sheets
Sign up & we'll send you our island cheat sheets so you can get to know the islands like the back of your hand!
We'll share 4 can't-miss activities on each island, a map with the main sights in town, & famous local grindz (eats)!
1. Back to Waikiki
If you decide to head back to Waikiki, grab a plate lunch at the local spot Rainbow Drive-In first.
Once you're back in Waikiki there are plenty of activities to do if you don't want to lay around the pool or beach. Head to the Duke Paoa Kahanamoku Statue and check out the stand-up paddle, kayak or surfboard rental options.
2. Venturing Further South
If you decide to take a driving tour of the southeast coast of Oahu, you'll follow these stops:
Lanai Lookout: Enjoy the beautiful, crashing waves and try to catch a glimpse of the Hawaiian island of Lanai from this spot on a clear day. There's plenty of parking, which makes this an easy first stop after your hike.
Halona Blowhole and Halona Cove (Cockroach Beach)

: If you have yet to see a blowhole, this is worth a stop. It's a short trip from Lanai Lookout. After the blowhole, you can also visit the beach in Halona Cove, with it's turquoise blue waters.

Sandy Beach:

If you skipped Halona Cove and you want to admire (but not swim) a beautiful beach, make a stop at Sandy Beach. The beach is at the base of Koko crater and is beautiful. But stay out of the water — the

dangerous shore break

makes it a place you won't want to swim. This is a famous bodyboarding beach so check out the action.

Makapu'u Point Lighthouse Trail:

I know, another hike. But this one is a 2-mile round trip walk on a paved path and we like this hike even more than Diamond Head. The views from the path are outstanding. And during whale season you'll often see whales from the trail. If you're in the area, walking this trail is a must.

Waimanalo Beach:

The last stop for the day is Waimanalo beach. Cool off with a swim here after your Makapu'u Point walk. The beach is large, crescent-shaped, and less crowded than Waikiki or Lanikai (which you'll visit tomorrow).
If you are hungry before hitting the beach, head to the Hawaiian Island Cafe. This small, reasonably priced cafe has something for almost everyone: pizza, acai bowls, and sandwiches. Don't let it's laid back decor fool you, this may be one of the best meals we've had on the island.
After the drive, you can head back to Waikiki either by retracing your path or by taking the stunning Pali highway back through the mountains.
Once you arrive back in Waikiki, head to a restaurant on the beach for the beautiful colors at sunset. Try to make a reservation at Duke's, Hula Grill, House Without a Key, Barefoot Bar.
Day 3: Historical Sites and the Windward Side
When we lived on Oahu this was my favorite day trip to send people on. Not too much driving, a little culture, and a lot of beautiful beach.
Your morning starts out with another drive. Grab a quick coffee if you need it and hit the road on the Pali highway. If you're driving on a weekday, you'll be happy to see that you're going in the opposite direction of the commute traffic. You'll wind your way through the mountains and tunnels before you make your way to the Nu'uanu Pali lookout.
Here, you'll be greeted with panoramic views from the windward side, which are even more beautiful in the early morning hours. Take in the view (and take some pictures) before you hop back in the car and make your way to Kailua town.
By now you're probably ready for breakfast, and Kailua has plenty of options. Our favorites are:
🍍 Boots & Kimo's Homestyle Kitchen
🍍 Moke's Bread and Breakfast
🍍 Over Easy
Or, if you're not too hungry yet, grab a snack and a coffee at Kalapawai Market.
From here you'll head to beautiful Lanikai Beach, one of the most beautiful beaches (and possibly most instagrammed beaches) on Oahu. You can choose to either spend your time laying on the beach or rent Kayaks and head out to the Mokulua islands. If you want to rent a kayak, you'll do that in Kailua (near Kailua Beach) and paddle out to Lanikai Beach and Mokulua Islands.
Once you've gotten your fill of the beach, head back into town for a quick lunch from Kalapawai Market for sandwiches, wraps, salads, or poke bowls.
With the afternoon upon you, it's time to drive back to the other side of the island and make a stop at the historical site of your choice: Pearl Harbor or Iolani Palace. Both are excellent and we highly recommend taking the time to visit at least one.
Iolani Palace, located in downtown Honolulu, was the royal residence of the Hawaiian monarchy. It's the only palace in the US and offers an incredible opportunity to learn about Hawaiian culture and history.
Pearl Harbor is located just north of downtown Honolulu, and holds a number of museums and memorials that you can visit, including the memorial of the submerged USS Arizona. The museums and memorials are extremely well done.
A note about Pearl Harbor tickets: tickets to the visitor center and USS Arizona memorial are free on a first-come, first-serve basis. If you're traveling during a peak time and want a free ticket, you should flip the itinerary for the day and visit Pearl Harbor first, before heading to the windward side. Tickets are also available to reserve. You can find more information on the National Park Service website.
Once your tour is done, you can head back to your hotel in Waikiki for a well-deserved cocktail and relaxing evening. Try one of the spots for dinner that you didn't make it to from the Day 2 list.
Day 4: Exploring the North Shore
This may sound crazy, but on day 4 we're packing up your bags and heading to the north shore of Oahu for the night. Ok yes, it is crazy but here's why we suggest this: there is so much to do on the north shore that missing it would be a shame. And the drive from Waikiki is long, so a day trip can take away from the whole vacation vibe feeling.
Once your bags are packed and you're ready to hit the road, set out on your overnight adventure. If you can wait, we recommend stopping for breakfast (or brunch) along the way at Green World Coffee Farm in Wahiawa. The coffee farm is 30-40 minutes from Waikiki. Here, you can stop for food, coffee, and even a coffee roasting tour.
If you are traveling with kids (or you're a kid at heart), make a stop just up the road at the Dole Plantation. Take a tour of the plantation to see how pineapples are grown, get lost in the pineapple maze, and sample Dole Whip.
Continue up to the North Shore and drop your bags at Turtle Bay Resort — our favorite hotel on the North Shore. Once you're ready, grab the complimentary snorkel gear and head to a beach. You can stay and snorkel at Turtle Bay, but we also recommend either Shark's Cove or Waimea Bay, depending on the water conditions.
Waimea Bay is beautiful and has a rock that juts out into the bay, perfect for jumping.
Note: if you're visiting in the winter, the waves at Waimea Bay can be huge and dangerous. Skip snorkeling and just enjoy the view from the beach. Or try snorkeling at Turtle Bay where the water can be quite a bit calmer.
Grab a quick lunch at one of the many food trucks that dot the north shore, like the Pupukea Grill.
Once you're done with the beach and lunch, head to do a short hike up the Waimea Valley trail to a waterfall. There are a number of waterfalls on the North Shore, but we recommend stopping at this private park — it's worth the entrance fee if you really want to do a waterfall swim. 
Once you're done, head back to Turtle Bay for some downtime. You can enjoy the pool and join the other guests as they view the sunset from the point. For dinner, there are plenty of options onsite, like Roy's Beach House (expensive but delicious) and Lei Lei's (reasonable and kid-friendly).
Or drive a little further for some famed North Shore shrimp at Romy's Kahuku Prawns Shrimp Hut or Fumi's Kahuku Shrimp.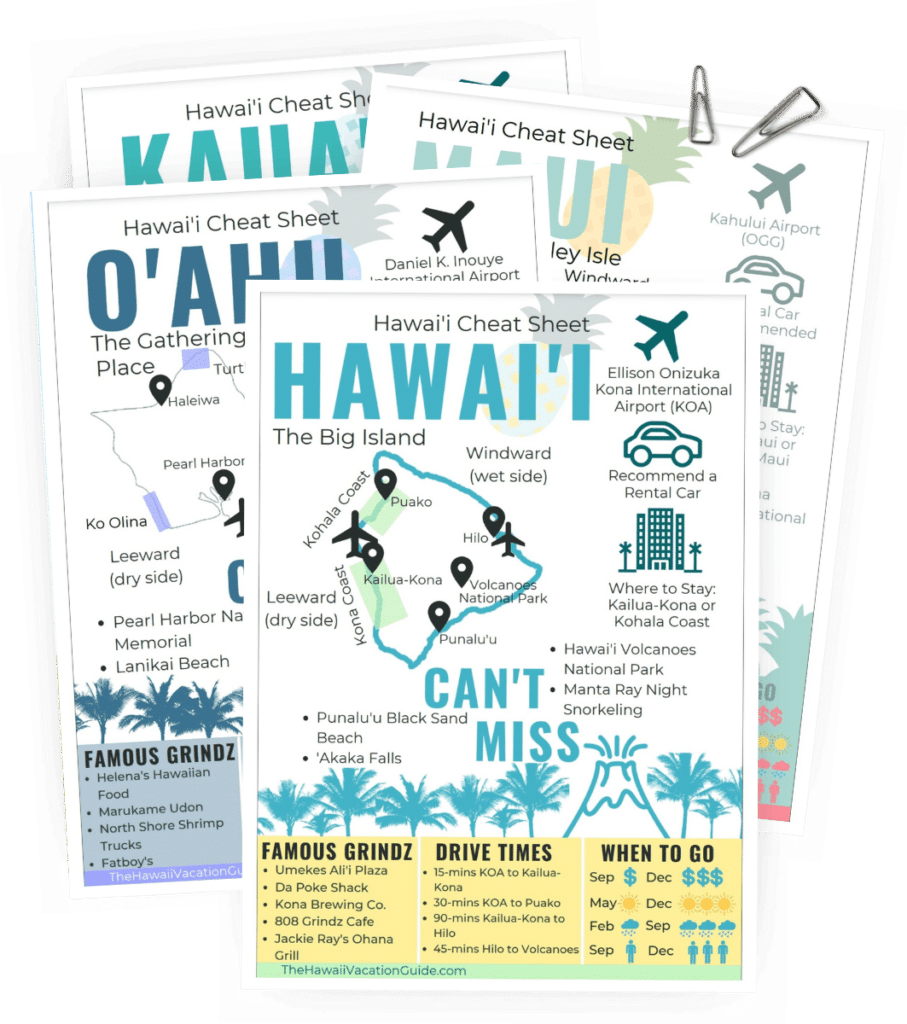 Free Download!
Hawaiian Island Cheat Sheets
Sign up & we'll send you our island cheat sheets so you can get to know the islands like the back of your hand!
We'll share 4 can't-miss activities on each island, a map with the main sights in town, & famous local grindz (eats)!
Day 5: Stand Up Paddle, Haleiwa, and a Perfect Sunset
It's time to start your last day on Oahu on the beautiful North Shore (lucky you). Waking up here before things get busy will help you appreciate the stark difference between Waikiki and the North Shore. It's a completely different experience up here.
Today you're going to spend most of the day in and around Haleiwa Town. There aren't many cute downtown areas in Hawaii, but this is one of the few. Start your drive down to Haleiwa town in time for breakfast because you have a few stand-out choices for food.
10 minutes from the Turtle Bay resort is Ted's Bakery, a great place to stop for breakfast if you're in the mood for pancakes or bakery items (or come back for some cake later). Prefer a breakfast burrito? Head to Kono's. Or if you're looking for something for everyone, try Cafe Haleiwa or Waialua Bakery.
(Can you tell we love the food on the North Shore?)
After breakfast, you're ready to start your day. It's time to grab a board and get in the water to try either a surf lesson or try your hand at SUP. Or, skip the lesson and rent a SUP board and paddle up the river. The North Shore is famous for surfing so if you're going to get in the water anywhere, this is the spot.
Once your lesson is done, head back to Haleiwa town to explore. The little town is full of boutique shops and restaurants, and you could easily spend a couple of hours exploring all that is there.
If you're hungry again, check out the famous Giovanni's shrimp truck located right in town. But be prepared to wait — we showed up at 11:10 am (they open at 11) and there were already at least 30 people there. You may also want to pop into Matsumoto Shave Ice, one of the most famous treats on the island.
After that, jump in your car and head to the beach to see if you can catch a glimpse of some Honu, the Hawaiian green sea turtle. Most people stop at Laniakea Beach to see the turtles, but we've found that there's often a crowd. Instead, head to Papa'iloa Beach. This beautiful beach became well known after being featured on the TV show Lost and we've had the best luck seeing turtles here without the crowd.
Remember, there are rules when you see turtles. You shouldn't disturb them and you should stay 10 feet away from them.
With your last full day winding down, you have a choice: head back to Turtle Bay for dinner and a sunset or head to (yet another) food truck and watch the sunset from Sunset Beach.
Day 6: Saying goodbye
Before you head to the airport, say goodbye to the island with a stop at Sunrise Shack for an acai bowl, toast, or bulletproof coffee.
Stop scrolling and start packing. Our full Oahu itinerary and guide will give you the best of the best. 7+ excursion days, the best restaurants, beaches, and snorkel spots organized by location. We've got you covered.
Can You Save Money with the Go Oahu Card
We, generally, have shied away from purchasing passes when visiting cities. However, we've recently started to do the math, and, depending on what to do, in some places, it absolutely makes sense to purchase a pass.
Oahu just might be one of these places. You can read our full review and breakdown to see if the Go Oahu Card is worth it for you, but if you plan to do even just a few activities on this list, the pass can actually end up saving you money.
How Long Do You Need on Oahu?
Well really, how long can you stay? There's so much to do and see on every island. This itinerary takes you through 5 action-packed days to explore the island. But, there's even more to see. Or, you could take it at a slower pace and alternate one beach/pool day with one day of adventure.
According to the Hawaii Tourism Authority, in 2017 a visitor to Oahu spent an average of 6.74 days:
Maui: 8.10 days

Oahu: 6.74 days

Kauai: 7.52 days

Hawai'i: 7.34 days

Lanai: 3.4 days

Molokai: 4.76 days
Whether you can come to the islands for a long trip or you can only fit in a quick getaway, you should make the most of your time here with the best planning and advice — that's why we started this guide! Read up for more information on the ideal number of days to spend on Oahu here.
Staying Longer on Oahu?
If you're staying longer on the island (I hope you are!), there is so much more to see. Here are some suggestions:
Easy and Short Hikes on Oahu:
Koko Crater: this Stairmaster workout, takes you up a mile-long hike of steps, an old railway line, to the top of Koko crater.

Moana Falls: easy hike to a waterfall and a pretty drive from Honolulu

Euhaki (sunset) Pillbox Hike: This North Shore hike takes you up a 30-minute climb, and is a good spot for sunsets

Kaiwa Ridge (Lanikai Pillbox): A 1.8-mile hike up to the pillbox with views of Lanikai Beach below
Polynesian Cultural Center:
Stay one more day on the North Shore and visit the Polynesian Cultural Center. Learn about the cultures of Hawaii, Fiji, Aotearoa (New Zealand), Samoa, Tahiti, and Tonga. Spend the day exploring and stay for the Ali'i Luau.
Explore Downtown Honolulu:
We love downtown Honolulu and with one more day on Oahu, I'd put this at the top of your list. You got a tiny view of the city when you visited Iolani Palace, but there is so much more to see. Aloha Tower, fish markets (eat at this one), and Chinatown are our favorites.
Onward Bound?
Many visitors to Hawaii don't just visit one island. If you're heading elsewhere, we've got you covered with island-specific itineraries, the best places to stay, and amazing things to do.
Start exploring with:
The BEST Oahu itinerary and guide for your dream vacation
Ready to pack your bags for your dream vacation? We've got you covered. Grab our itinerary and guide!
This is the best itinerary you'll find anywhere. With 7+ excursion days that have been carefully planned to help you see the very best of the island. But it's more than just an itinerary.
Along with the excursion days you'll receive:
A video guide walking you through the pre-travel testing program
A video overview of the island, so you know what to expect when you land
A quick hits section with our favorite beaches, snorkel spots, and restaurants
Our favorite tour operators
Excursion days that you can pick up and do without planning
Get The Oahu Itinerary
The step-by-step itinerary takes you to all the best beaches, snorkeling spots, restaurants, and sights. You'll get six carefully planned excursion days to help you see the can't miss stops no matter how limited your time is.
Get all the details on our itinerary and download it for a memorable and easily planned trip to Oahu.