How Many Days Do You Need on Oahu, Hawaii? The Ideal Plan
Disclosure: This post may contain affiliate links, meaning if you decide to make a purchase through my links we may earn a commission at no additional cost to you. Read about our affiliate policies here.
Oahu is the Gathering Place for a good reason. Oahu is the epicenter of Hawaiian tourism, business, government, and cultural activities. With so much to do, how many days do you need on Oahu?
Five days is how many days you need to visit Oahu. With a minimum of five days on Oahu, you will have time to visit the south and north shores, see the best beaches, go to a luau, and do worthwhile activities and sights around Oahu.
Erica and I lived on Oahu for two years before moving to Maui. Oahu feels like our second home.
There is a lot to keep you busy on Oahu but with our list of things to do for Oahu below, you won't feel like you missed anything. But you may be busy.
You will want to come back to Oahu for more but you won't have a case of FOMO with a five-day trip.
How Many Days Do People Spend on Oahu?
6.8 days was the average number of days people stayed on Oahu in 2019. 6.8 days is the third shortest number of days, after the non-touristy Lanai and Molokai.
78% of people who visited Oahu stayed on Oahu only in 2019, they didn't visit any other Hawaiian island. This number may be high as Oahu has the most business travelers and conference attendees than any other island.
The average length of stay of visitors to each Hawaiian island was the following in 2019:
🍍 Oahu: 6.8 days
🍍 Maui: 7.9 days
🍍 Kauai: 7.4 days
🍍 Hawai'i: 7.3 days
🍍 Lanai: 3.2 days
🍍 Molokai: 4.5 days
(source: Hawaii Tourism Authority)
Get The Oahu Itinerary
The step-by-step itinerary takes you to all the best beaches, snorkeling spots, restaurants, and sights. You'll get six carefully planned excursion days to help you see the can't miss stops no matter how limited your time is.
Get all the details on our itinerary and download it for a memorable and easily planned trip to Oahu.
5 Days on Oahu Is All You Need
If you are planning on minimizing your time on Oahu to island-hop, then let's make the five-days count.
I truly believe a five-day itinerary is possible to fully enjoy all Oahu has to offer. You can choose to rush through the activities below or pick what sounds best to you.
Oahu has some of the best beaches in the State of Hawaii so you will want one or two relaxing beach days.
To make a five-day trip to Oahu work, stay in a central location on the island.
Where to Stay on Oahu for a 5-Day Trip
When Erica and I head back to Oahu for a mini-vacation, we always stay in Waikiki, a neighborhood in Honolulu.
Stay in Waikiki for your short trip to Oahu.
One of the reasons Waikiki is so popular is its central location on Oahu. From Waikiki, you can take the Pali Highway to Kailua, drive the southeast coast, and see all the major sites in and around Honolulu.
Oahu has three major resort areas – Waikiki, Ko Olina, and the North Shore. If you are staying seven days or longer on Oahu, you should consider staying at two different locations to be closer to the action and get a different experience.
All the resorts and hotels in Waikiki are two to three blocks from the beach so you can't go wrong.
Find the right location on Oahu for you: Which Part of the Oahu Should You Stay: Waikiki or Ko Olina or North Shore
Traffic is horrible regardless of where you stay on Oahu so plan ahead. Avoid the rush hour periods of 5:00 am to 8:00 am going inbound to Honolulu and 3:00 pm to 6:30 pm going outbound.
Related article: How Much Does a Trip to Hawaii Cost?
Do You Need a Rental Car on Oahu for a Short Visit?
A rental car is needed on Oahu as the island is big. Plus, if you are planning to go to more than three activities listed below then a rental car will pay for itself compared to taking Uber or a taxi.
Erica and I always book with Discount Hawaii Car Rental as they provide the best rates. They are a car rental search comparison website but they negotiate better deals than Expedia or Kayak for the national car rental companies.
We saved $60 dollars on our week-long car rental on Oahu in February compared to booking directly with National Car Rental.
If you plan to stick to the area around Waikiki and Honolulu, then here are some tips to get around Oahu without a rental car.
Related articles:
Top Things to See and Do on Oahu in Five-Days
If you want to plan out your own itinerary days based on the top things to do and see on Oahu, here is a short list of things to do. Explore our full list of 40 Things to Do in Oahu for more ideas!
🍍 Hike Diamond Head
🍍 Kayak to the Mokulua Islands (the mokes) from Kailua Beach
🍍 Sunset cocktail cruise from Waikiki Beach
🍍 Sunset drinks at Duke's Waikiki
🍍 Grab a Kona coffee at Honolulu Coffee Company at the Moana Surfrider, Waikiki
🍍 Visit Historic Chinatown, Honolulu
🍍 Leonard's Bakery for malasadas
🍍 Surf lessons on Waikiki Beach
🍍 Makapu'u Point Lighthouse Trail
🍍 Pearl Harbor
🍍 Waimea Bay
🍍 Waimea Valley for a waterfall swim
🍍 Haleiwa Town on the North Shore
As you can see there's more than enough to keep you busy on Oahu. You can estimate how many days you want to spend on Oahu by picking out some of your must-do activities and planning out some daily itineraries.
Sample Day Itineraries for Oahu
To make the best use of your days on Oahu, it is best to group activities based on where you visit. It is a big island and the major sights to see around the island are usually 30-minutes to an hour from Waikiki.
We recommend you bunch your activities with the sample day itineraries below to take full advantage of being on the windward side of the island, for example.
Beach Day in Kailua: Drive to the windward side of the island across the Pali Highway from Waikiki. Stop at Nu'uanu Pali Lookout on the drive for an amazing view from the top of the cliffs. Have breakfast at Boots & Kimos for mac-nut pancakes and fried rice. Then visit two of the best beaches in the world, Kailua Beach and Lanikai Beach. For some adventure, rent kayaks from Kailua Sailboards and Kayaks and kayak to Mokulua Islands.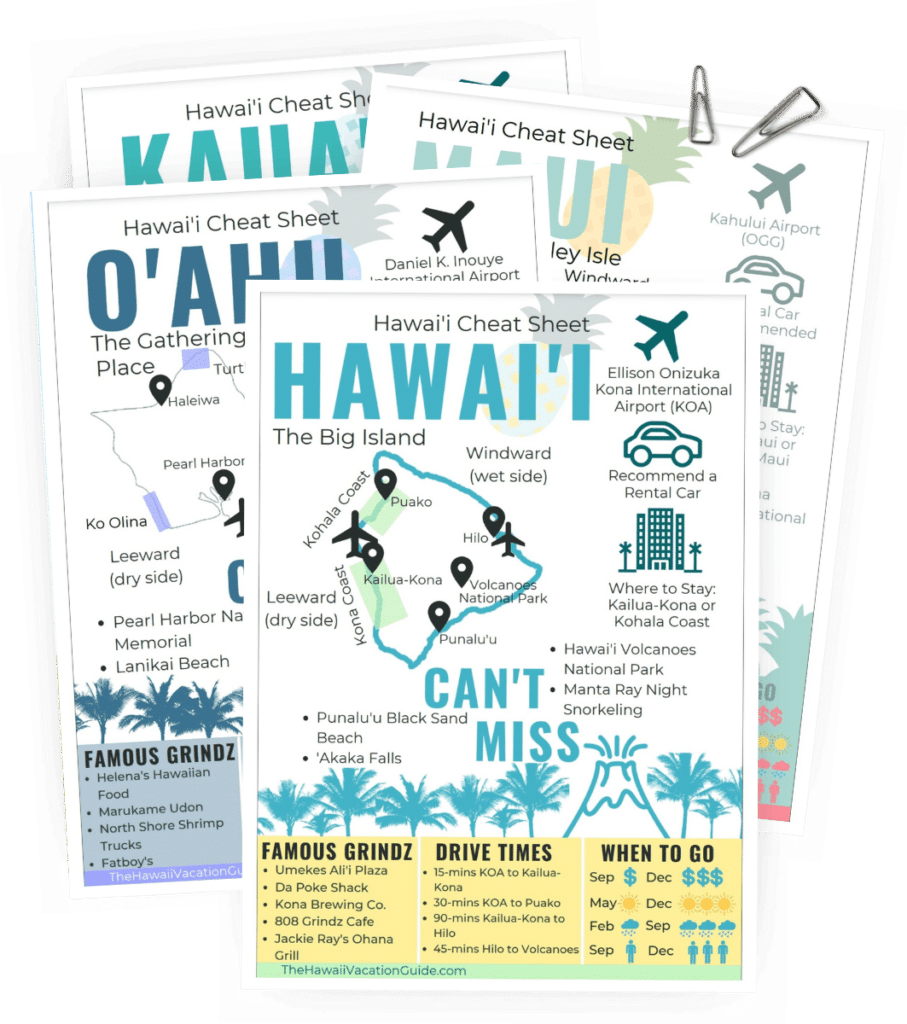 Free Download!
Hawaiian Island Cheat Sheets
Sign up & we'll send you our island cheat sheets so you can get to know the islands like the back of your hand!
We'll share 4 can't-miss activities on each island, a map with the main sights in town, & famous local grindz (eats)!
Visit Oahu's North Shore: An hour's drive from Waikiki is Haleiwa Town, the best-preserved surf town on Oahu. Walk the art galleries, get lunch at Giovanni's Shrimp Truck or one of the many other food trucks, and then grab dessert at Matsumoto Shave Ice. Drive up the coast to see turtles resting on the beaches of Papa'iloa Beach or Laniakea Beach. Swim and jump from the rock at Waimea Bay or swim under a waterfall in Waimea Valley. You won't get bored on Oahu's North Shore.
A Day of Hiking: Start your morning and fight off the jet lag by hiking Diamond Head crater. The WWII bunker is an easy, 2-hour hike on a paved path with handrails. Pick up a Hawaiian plate lunch (loco moco recommended) at Rainbow Drive-In in the Kapahulu neighborhood of Honolulu. Then head to Moana Falls Trail for a rainforest hike with a waterfall. Hit up Rainbow's End Snack Shop for a bite after Oahu's most-famous hike.
Historical Sightseeing: Oahu is rich in Hawaiian and American history. Start your morning by visiting Pearl Harbor National Memorial. Then head to Iolani Palace, the home of the Hawaiian monarch and the prison for the last Queen of Hawaii. Find a local tour guide to walk you through the only royal palace on American soil to get the unadulterated history. If you have time and the energy left in you, visit the Bishop Museum to explore Hawaiian history or head to my favorite part of Honolulu, the historic Chinatown. Chinatown is a hip place in Honolulu.
Waikiki and a Luau: There is a lot to do around Waikiki to keep you busy for multiple days, but here is one day in Waikiki. Start your morning with surf lessons at Queen's Beach, part of Waikiki Beach. The slow, long rolling waves of Waikiki Beach are perfect to learn how to surf. Then shop and eat at the newly renovated International Market Place. If the prices are too high for shopping, hit up Kuhio Avenue for better deals. Head to Kapi'olani Park at the end of Waikiki to visit the Honolulu Zoo, Waikiki Aquarium, or stroll the gardens. There is a nightly hula pageant at Kuhio Beach Park, starting with a torch-lighting ceremony and the call of a conch shell.
Ko Olina Adventure: Explore the leeward side of the island with a drive to Ko Olina Resort. Even if you are not staying in Ko Olina, it is a fun place to visit. Swim in one of the four man-made, white-sand lagoons. Walk the pool of Disney's Aulani resort to see the Disney characters. If you and your kids love Disney, you can get your photos with Mickey and friends at the Disney character breakfast at the Makahiki restaurant from 7 am – 11 am. For some of the best snorkeling on Oahu, outside of Ko Olina is Electric Beach. The warm cooling water from the power plant attracts a diverse marine life.
Can You Save Money with the Go Oahu Card
We, generally, have shied away from purchasing passes when visiting cities. However, we've recently started to do the math, and, depending on what to do, in some places, it absolutely makes sense to purchase a pass.
Oahu just might be one of these places. You can read our full review and breakdown to see if the Go Oahu Card is worth it for you, but if you plan to do even just a few activities on this list, the pass can actually end up saving you money.
Do you Need Extra Days on Oahu?
Perhaps after reading the many things you can do on Oahu, you may be considering that you need more days on Oahu. Erica and I both feel five days is a good length for Oahu for your first trip or your eighth trip.
We even made the Best 5 Day Oahu Itinerary to walk you through a perfect five days on Oahu. Because that is how many days you need on Oahu.
Oahu is an amazing island so add more days if you need or hop on a flight to check out Maui or another Hawaiian island. Each island is unique, that is why people come back to Hawaii over and over again.
Have a great trip to Oahu and wherever the tradewinds take you!
Get The Oahu Itinerary
The step-by-step itinerary takes you to all the best beaches, snorkeling spots, restaurants, and sights. You'll get six carefully planned excursion days to help you see the can't miss stops no matter how limited your time is.
Get all the details on our itinerary and download it for a memorable and easily planned trip to Oahu.