Hawaii in February: Everything to Know For Your Trip
Disclosure: This post may contain affiliate links, meaning if you decide to make a purchase through my links we may earn a commission at no additional cost to you. Read about our affiliate policies here.
The weather outside may be frightful, but Hawaii can still be delightful! If you're considering a February trip to the islands, here's what you need to know.
February tends to be the coldest month of the year in Hawaii. But fewer people visit during the month, so you'll have the beaches practically to yourself. And since there aren't as many visitors, you can often find discounted hotel rates, helping you save money on your Hawaiian getaway.
Let's look at the data regarding Hawaii's weather, crowds, and costs in February. This information can help you decide if a trip this month is for you.
Hawaii trip planning gets overwhelming, no matter where you are in the process, we have resources to help guide you!
From what to pack to where to stay to what to do, even the best rental car recommendations, we have you covered for every part of your planning process.
Get started with:
15 essential details to know before planning your trip to Hawaii
A step by step process to help you plan
Is February a Good Time to Go to Hawaii?
A trip to Hawaii in February isn't for everyone. But it could be just right for you if you're looking for a more affordable vacation and don't mind a bit of chillier weather. The other perks make it worthwhile: there are fewer crowds, it's peak whale watching season, and it can be easier to find great deals on accommodations.
Reasons to Go to Hawaii in February
Hawaii is a tropical paradise, which means even when it's cool, it's still enjoyable. Here are a few reasons why this month is an excellent time for your trip:
Fewer crowds. In 2019 it was the least-visited month of the year, and in both 2021 and 2022, it was the second least crowded. February means less competition for those perfect beach spots and shorter lines at popular attractions.
Affordable prices. Without as many tourists around, February is one of the most affordable months to visit Hawaii.
Fun February activities: Even though it's winter, there's plenty to do in Hawaii in February. You'll find a list of can't-miss activities at the bottom of this article.
Warm ocean temps: Even in February, the ocean temperature is usually around 70-75 degrees Fahrenheit. So you can still enjoy a dip in the crystal blue waters of Hawaii.
Reasons Not to Go to Hawaii in February
Of course, a February trip to Hawaii isn't everyone's dream vacation. Here are a few reasons to consider coming in a different month instead:
Cooler temperatures: February temperatures range between 68-81. The daytime temperatures aren't too bad, but the nights can get a bit chilly.
Chance of rain: You're more likely to get rained on in February than if you visit in April through September.
Limited February events: While February in Hawaii is pleasant, there are fewer events and cultural experiences than in the summer.
Ultimately, whether you should visit Hawaii in February depends on your preferences and what kind of experience you're looking for. If a low-key beach getaway with fewer crowds and lower prices sounds good, February in Hawaii might be just the thing. But if you're looking for a vacation filled with unique events and warm temperatures, it may be better to wait until summer.
Related read: Make sure you check out our breakdown of the BEST time to visit Hawaii.
Is Hawaii Nice in February: Weather Data
If you ask a local, no, the weather is not nice in February. Instead, it tends to be the coldest month of the year. You'll find them wearing sweatshirts and commenting on the chilly weather.
But here's the thing about the weather. It's relative. February in Hawaii is still much warmer than February in the mainland United States. And you won't have to worry about snow when you're in the Aloha State. The only shoveling you'll have to do here is if you want to make a sandcastle on the beach.
Getting ready to pack your bag? Our cheat sheets will help you get started with the most important need-to-know information: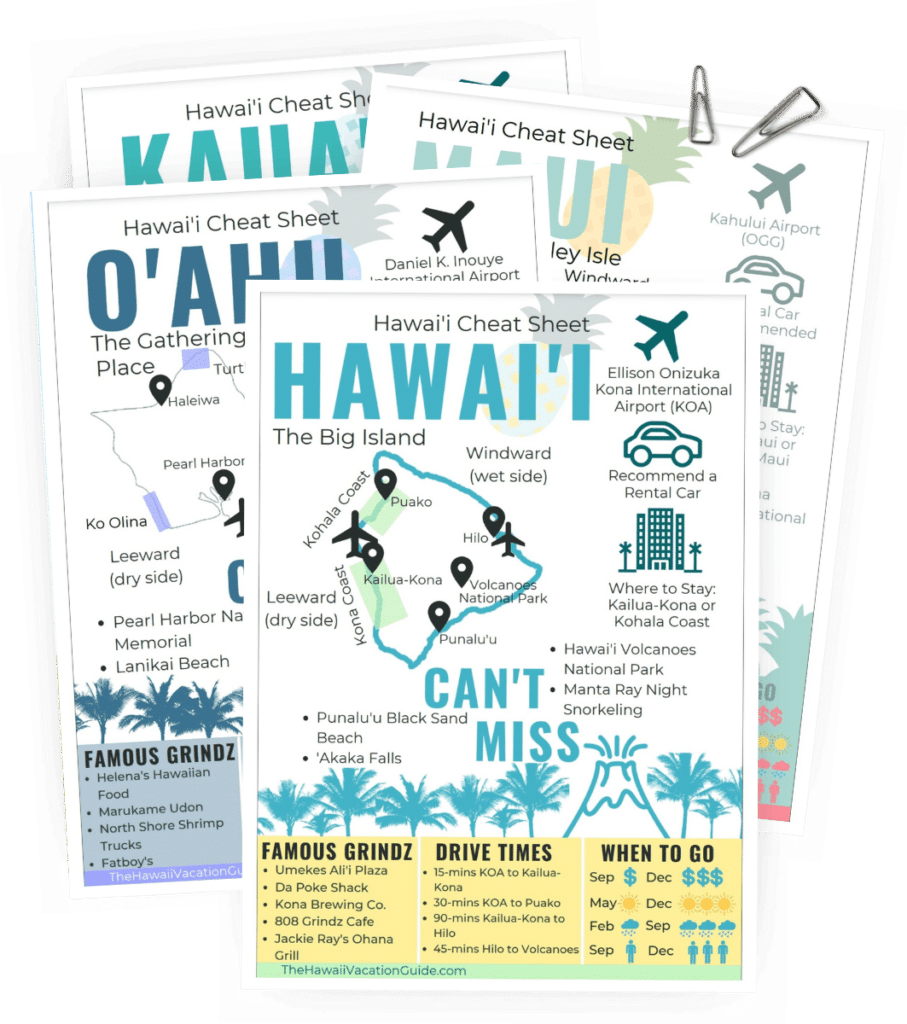 Free Download!
Hawaiian Island Cheat Sheets
Sign up & we'll send you our island cheat sheets so you can get to know the islands like the back of your hand!
We'll share 4 can't-miss activities on each island, a map with the main sights in town, & famous local grindz (eats)!
Is Hawaii Rainy in February?
February is not the wettest month of the year in Hawaii. That's December. But as a winter month, you're more likely to get rain when visiting in February than in the summer months.
February gets an average of 1.37 inches of rain. Kauai is the wettest of the four main islands, and Maui is the driest.
So plan on staying in Kihei (we've rounded up the best Kihei vacation rentals) if you really want to avoid rain. You may still have some light showers, but you won't get as wet as you would in Poipu.
This chart shows you how much rain you can expect in four of the most popular towns:
| | |
| --- | --- |
| Town | Average February Rain (in Inches) |
| Kailua-Kona, Hawaii | 1.5 |
| Kihei, Maui | 0.75 |
| Poipu. Kauai | 1.81 |
| Honolulu, Oahu | 1.42 |
These towns are all located on the leeward side of their island. If you go to the windward side, you may get even more rain. That's because the trade winds bring more moisture to that side of the island.
While no month is rain-free in Hawaii, June, July, and September are much drier than February. So if you hate the thought of packing around an umbrella, plan your trip during one of those months instead.
Here's a graph showing how the rain measures up throughout the year.
Related read: What to do in Hawaii when it rains
How Warm Is It in Hawaii in February?
Warm isn't the first word that comes to mind when thinking about February in Hawaii. But don't let the cooler temperatures fool you – February in Hawaii is still much warmer than February in most other parts of the world.
The average high temperature on the Big Island is 81 degrees. So if you're dreaming of warm beaches, that's where you want to go. Compared to Kauai, where the average high temp is only 73°F, the Big Island is the place to be. Check out our Big Island guide to help you plan that trip.
But there is a catch. The average low temperature on the Big Island is the coldest of all the main islands. With a 68-degree low temperature, you'll want to bring a light jacket with you for sure.
This chart shows the average highs and lows across the four main islands so you can get a better sense of where you want to stay.
| | | |
| --- | --- | --- |
| Location | Average High Temperature (in °F) | Average Low Temperature (in °F) |
| Kailua-Kona, Hawaii | 81 | 68 |
| Kihei, Maui | 74 | 71 |
| Poipu, Kauai | 73 | 70 |
| Honolulu, Oahu | 75 | 70 |
If it's heat you're looking for, arrive in August or September instead. Historically, these are the warmest months of the year.
You can use this graph to compare average temperatures throughout the year to decide when you want to come.
Can You Swim in Hawaii in February?
Swimming in February is doable, thanks to the fantastic way the currents keep the ocean water at a fairly consistent temperature. It hovers between 76-81 degrees all year long.
It's slightly warmer in September and October, so if you're making your travel decisions based on water temperature alone, those would be the ideal months for you to come. However, as far as the water temperature goes, there's no bad month for swimming.
According to the National Center for Cold Water Safety, you should be cautious and wear thermal protection, like a wetsuit or drysuit, when the water temperature drops below 70°. But even in February, Hawaii's waters are still above that point.
What Are the Ocean Conditions Like in February?
Temperature isn't the only factor to consider when swimming in February. The ocean conditions can also be an issue. With higher swells, February tends to have rougher waters than the summer months. You'll want to check the surf forecast before heading out.
And anytime you're out on the water, pay attention to the flag system the lifeguards use. A yellow flag is the safest level of conditions. When you see a red flag, it means there's a high hazard and you're advised to stay out of the water. A black flag means the water is even more hazardous, so you should definitely stay out of the water.
You can check ocean conditions at lifeguarded beaches in Hawaii here.
When Is Hurricane Season in Hawaii?
February is not part of hurricane season in Hawaii. That runs from June to November, so you shouldn't worry about a severe storm causing evacuations or damage while you're there.
How Busy is Hawaii in February?
January and February are both pretty calm in Hawaii. These months are sandwiched between the hectic holiday season and the spring break crowds, which means fewer visitors arrive.
Here's a look at three years' worth of visitor data for February to show you just how few people there are. The average daily census is the number of visitors in the state on any given day.
| | | |
| --- | --- | --- |
| Year | Total Monthly Visitors | Average Daily Census |
| 2019 | 487,940 | 246,517 |
| 2021 | 235,283 | 90,776 |
| 2022 | 623,691 | 209,968 |
Even before the pandemic, February didn't get that many visitors. It's never been a popular time of year here.
February feels practically empty compared to July, which brought in 919,154 visitors. If you like quiet vacations, this could be ideal. But if you prefer the hubbub of crowds, you'll feel lonely this time of year.
This graph shows visual data for 2022, so you can see how many people came to Hawaii each month.
Which Hawaiian Islands Are the Busiest in February?
Of course, the number of people you have to deal with varies depending on what island you're on. All the islands are pretty quiet in February, but some get more visitors than others.
On average, Oahu is the busiest island, with over 300,000 visitors throughout the month. This represents nearly half of all Hawaiian travelers in February.
Of the main islands, Kauai is the least busy. In 2022, only 88,428 people went there. However, there are two other islands you can visit that are even quieter. Molokai and Lanai are both practically empty this time of year.
Here's how the islands compare in terms of monthly visitors:
| | |
| --- | --- |
| Island | Monthly Visitors in February |
| Oahu | 308,705 |
| Maui | 193,232 |
| Island of Hawaii | 122,480 |
| Kauai | 88,428 |
| Lanai | 4,814 |
| Molokai | 3,240 |
If you prefer wide-open beaches, Hawaii doesn't get much better than February. January has slightly fewer people, but not by much.
You can compare traffic on the islands throughout the year with this graph:
Related read: The Best Time to Visit Hawaii: skip the clouds and crowds
Is Hawaii Cheaper in February?
While September is the cheapest time of year to stay in Hawaii, February isn't that bad, either. You'll spend an average of $400 a night on a hotel room. However, this number includes rooms across the four main islands. And it includes both luxury-class resorts and economy lodges.
If you're really trying to save money, opt for an economy-class room in Oahu. That'll set you back less than $150 a night, which is a steal. Our Oahu guide will help you get started.
Maui is the most expensive island, so its rates drive up the averages across the state. Here's what you can expect to pay based on where you stay:
| | |
| --- | --- |
| Island | Average Hotel Daily Rate (in USD) |
| Maui | $583.32 |
| Island of Hawaii | $403.18 |
| Kaua'i | $375.34 |
| O'ahu | $236.39 |
And this graph shows average rates throughout the year. It's a helpful reference when planning your Hawaiian vacation on a budget.
Related reads:
How Much Does a Trip To Hawaii Cost for a Family of Four
The 14 Best Things to Do on Maui on a Budget
Costco Hawaii Vacation Review: 9 Things to Know Before You Buy
Things to Do in Hawaii in February
Even though February is a slow season, there are still plenty of things to do in Hawaii. Whether you're looking for outdoor activities or cultural experiences, February has a little bit of everything.
Here are some of our faves:
Maui Whale Festival: Celebrate the return of migrating humpback whales with this month-long festival. It's also a great time for a whale-watching tour!
Waimea Cherry Blossom Heritage Festival: Watch free, multicultural performing arts and participate in hands-on demonstrations. The Hawai'i Island chefs cooking demonstration always has delicious samples!
Watch professional surfers catch waves: Winter brings large swells to the shore, so you'll find different competitions, including the Billabong Pro Pipeline, the first event of the 2023 WSL Championship Tour.
Go to a luau: With fewer tourists, it'll be easier to get reservations for the most popular luaus
Check out the Waimea Town Celebration: This weeklong event commemorates the unique cultural heritage of the town. There's a rodeo, canoe races, foot races, ice-cream eating contests, and many other fun activities.
Take a sunset cruise: Hawaii's known for its gorgeous sunsets, so reserve your tickets for a Napali Coast Sunset and Dinner Cruise. You won't be disappointed!
Related reads:
The 59 Best Things to do in Hawaii: Your Ultimate Bucket List
35 Best Things to Do on Kauai (we will surprise you!)
33 Things to Do on Maui (+Things to Skip)
40 Things to Do in Oahu, Hawaii
21 Incredible Things to Do on the Big Island
Now that you know if February is right for your arrival, be sure to download our free Island Cheat Sheets before you embark on your vacation. Our printable guides give you all the important details so you can plan an incredible trip. And it's all presented in an easy-to-read format.
You'll find some of our favorite restaurant recommendations, four can't-miss activities, a map of the island, and more.
In addition, you'll join our newsletter mailing list so we can deliver great insider tips right to your inbox every two weeks. Our newsletters contain insider information, exclusive discount codes, and real-time updates about what's happening in Hawaii. Sign up today!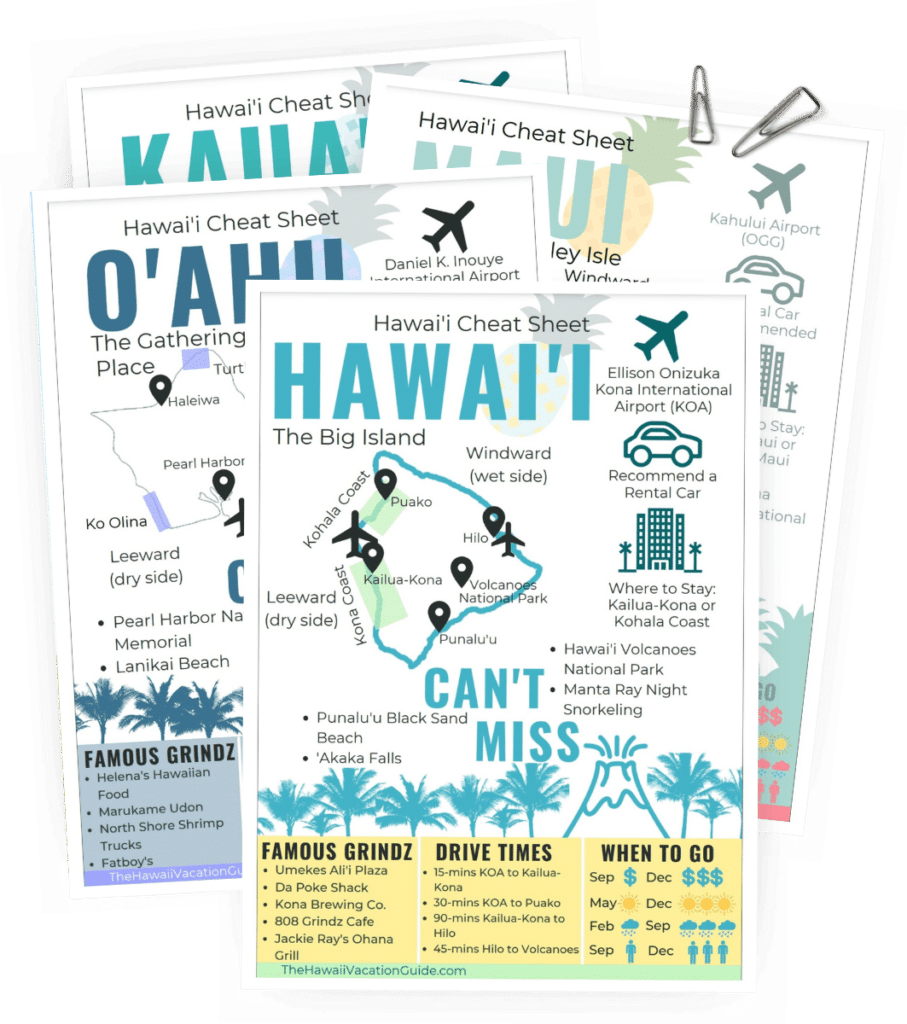 Free Download!
Hawaiian Island Cheat Sheets
Sign up & we'll send you our island cheat sheets so you can get to know the islands like the back of your hand!
We'll share 4 can't-miss activities on each island, a map with the main sights in town, & famous local grindz (eats)!