Is Airbnb Legal in Hawaii? Yes, but it's complicated
Disclosure: This post may contain affiliate links, meaning if you decide to make a purchase through my links we may earn a commission at no additional cost to you. Read about our affiliate policies here.
Like many places in the country (and world) the housing shortage in Hawaii is causing communities to rethink their acceptance of short term rentals. While vacation rentals play a part in housing visitors and supporting local owners, they also play a part in driving up property prices, making it difficult or impossible for current residents to find affordable housing. And regulation is getting strict. So…is Airbnb legal in Hawaii?
Short term rentals like Airbnb and VRBO are legal in Hawaii, but like everything else, there are a lot of rules and regulations. They are not legal everywhere on the islands. What makes this even more confusing is that rules are decided at the county level. So each island has a different set of rules as to what they allow for vacation rentals.
We're going to give you the ins and outs of the rules on each island as well as help you with strategies to find legal vacation rentals in Hawaii. Plus, you'll want to read to the end for some of our favorite legal vacation rental properties.
Are vacation rentals and Airbnb legal in Hawaii?
Let's just get this out of the way first. Airbnb and short term vacation rentals are legal in Hawaii. There are tens of thousands of rentals that are legally available for you to book for your dream Hawaii vacation. But each island has its own restrictions and renting outside of resort areas and business districts is almost always illegal (aside from specific homes that have been grandfathered in or are run as a hosted vacation rental).
We'll dive into the specific rules for each island as well as some of our favorite vacation rentals.
Looking to book your stay in Hawaii? Our Where to Stay database has you covered. We share all of our favorite hotels and vacation rentals for each island, to help make booking your accommodation less overwhelming.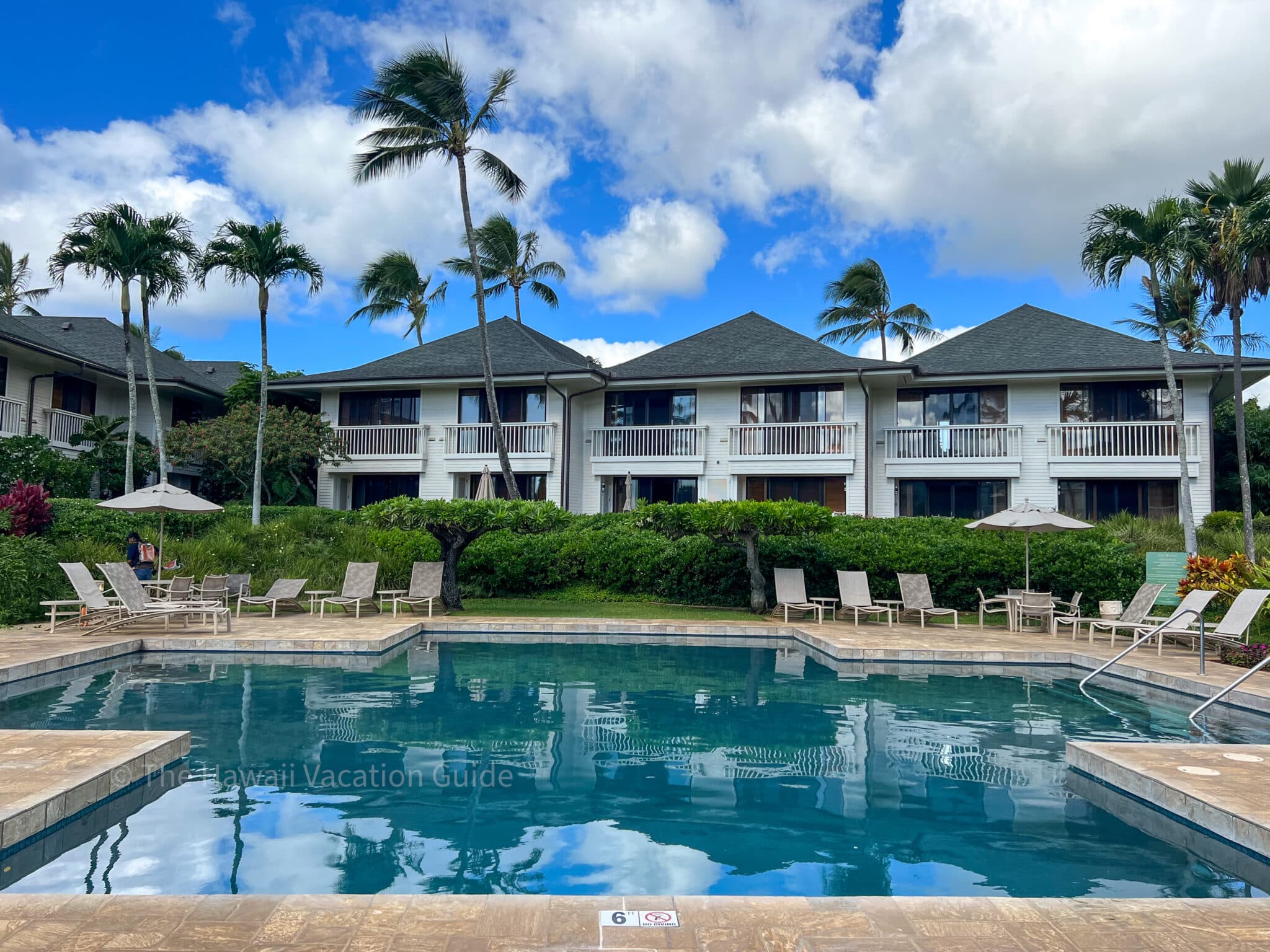 When Were Vacation Rentals Illegal in Hawaii?
The chatter around vacation rentals being illegal in Hawaii gets murky because (1) there have been new, recent ordinances to limit vacation rentals (more on that below), and (2) because for a period of time during COVID, all vacation rentals were illegal in Hawaii.
Wait, all of them?
Yes, all of them.
Short term vacation rentals, bed & breakfasts, and time shares were required to cease operations until the emergency proclamation expired. This was part of then-Governor Ige's response to COVID to close all businesses that weren't deemed essential.
So yes, vacation rentals were illegal in Hawaii, but only for a short period of time.
There is always talk and discussion about how to restrict or improve the short-term rental regulation in Hawaii to help ease the housing crisis the islands are currently experiencing. And there's a constant fight to remove illegal vacation rentals from the market. But as a whole, vacation rentals are legal in Hawaii as long as they follow the island-specific guidelines we cover below.
Are Airbnb's legal in Honolulu and on Oahu?
Recently, Oahu has made headlines with changes they are making to their short-term rental rules. Before we get into the details of that, it's important to note that vacation rentals are legal on Oahu.
On Oahu, short term rentals (transient vacation rentals or b&bs) are defined as lodging that is provided for less than 30 consecutive days. These short term rentals are only allowed in resort-zoned areas and in a few apartment-zoned areas. The exception to this is short term rentals outside of these areas that were in operation prior to October 22, 1986 were able to be grandfathered in as short term rentals. These rentals will have a nonconforming use certificate that they renew annually.
Resort-zone areas on Oahu are limited. This property map shows the very small areas where short term rentals are allowed. Most of Waikiki and Ko Olina allow short term rentals as well as a very small area of the north shore near Turtle Bay. 
Not sure what part of the island you want to stay on? Check out our where to stay on Oahu article to learn about the different areas.
Outside of a resort-zone, homeowners are able to rent their property to visitors for a minimum stay of 30 days (for now). They can't advertise that they will rent for less than 30 days, though if you look outside of the resort areas, there are plenty of listings that want you to contact them directly to skirt the 30-day minimum regulations (don't do that). 
What is the new Hawaii vacation rental law on Oahu?
In April of 2022, the Honolulu City Council voted to approve a bill that extended the minimum booking period for a property outside of a resort area to 90 days (up from 30 days). Under this new ordinance, a short-term rental would be considered anything that is booked for less than 90 consecutive days. That bill has been blocked by a judge, so as of now, nothing has changed. A short-term rental is considered any property that is rented for less than 30 days.
While the fate of the 90 vs 30 day minimum is unknown, Honolulu Mayor Rick Blangiardi has promised to crack down on people illegally renting properties in residential neighborhoods for less than 30 days by issuing fines of $10,000 per day to the ownerships . 
If you're heading to Oahu, our Oahu Travel Guide will give you all the need to know information.
Are Airbnb's legal on Maui?
Maui County regulates Transient Vacation Rentals (TVRs) and defines them as any housing unit that is rented for less than 180 days. This is significantly different from Oahu and the Big Island, which define short term vacation rentals as anything that is rented for less than 30 days.
With over 16,000 legal TVRs in Maui County, it's clear that vacation rentals are allowed. Per their website: "An estimated 16,000-plus TVRs may operate legally in the County, many in multi-unit buildings, along with several hundred single family units. They operate legally because they are in an approved zoning district (hotel, business, historic, etc). Those that are not in approved districts and are operating legally, have applied for and received a "conditional permit" that is required to conduct a vacation rental business in a residential, rural or agricultural zoned district."
Looking at the zoning map for Maui, you'll see that locations like Ka'anapali, have areas that are designated hotel or commercial zoning, allowing TVRs to operate there. There are sections in Kihei where there is both commercial and hotel zoning. But if you look at Upcountry, you will mostly find that it's zoned for residential use. So visit upcountry for the day (here are 15 incredible things to do in upcountry) but then head back to a vacation rental in a resort zone.
Legal transient vacation rentals on Maui are required to publish their registration, tax ID, and local contact information. 
If you're hoping to plan a trip to Maui, make sure you check out our comprehensive Maui Travel Guide with everything you need to know for a fantastic trip. And if you're coming with multiple people, we have our favorite vacation rentals for large groups.
Are Airbnb's Legal on the Big Island?
Short-term rentals are legal on the Big Island, but like the other islands, legal rentals are mostly allowed in resort-zone and commercial areas. Examples of resort-zoned areas include areas in North Kona and South Kohala (like Waikoloa)
Rentals outside of resort areas that were previously being used as a vacation rental may still be a legal vacation rental if they have been granted permission and have a Non-Conforming Use certificate.
All listings must include their STVR Registration number or their NUC number.
"Short-term vacation rental means a dwelling unit of which the owner or operator does not reside on the building site, that has no more than five bedrooms for rent on the building site, and is rented for a period of thirty consecutive days or less."
If you are interested, you can check zoning maps here.
Following in the footsteps of their neighbors, the Big Island is considering taking steps to limit and better regulate short term vacation rentals. This time, they are focusing on hosted short-term rentals, where the owner lives on-site. We've stayed at one of these homes, where the owner lived in one house, we rented her ohana unit, and she operated a coffee farm on the property. They are in the early stages of making changes to these types of properties, but you can expect that there will be changes coming here as well. 
Our Big Island travel guide gives you all you need to know to plan your trip!
Are Airbnb's Legal on Kauai?
Short term vacation rentals (less than 180 days) are legal on Kauai but only within Visitor Destination Areas (VDA), unless they are registered as non-conforming vacation rentals or homestays.
VDAs on Kauai include Princeville on the North Shore, Kapa'a condos along the ocean, and homes and condos oceanside of Poipu Road. Can't decide where to stay? Check out these resources for Kauai:
Kauai conveniently publishes a list of non-conforming legal vacation rentals (rentals outside of VDAs), so you can check to see if a property you are interested in renting is a legal vacation rental. These properties were grandfathered in as legal vacation rentals, even though they are outside of a VDA. 
Check out our Kauai travel guide for all you need to know to plan your trip.
How Can You Tell if a Vacation Rental is Legal?
Truthfully, it is tricky to 100% know that you are renting a legal short term vacation property in Hawaii. But there are two ways that you can increase the chances of booking a legal rental.
Look for the listing to post a registration number and/or tax ID as required by the county
Look for vacation rentals that are within resort zone/hotel areas (this is easiest done on Oahu thanks to their interactive property map)
We use vacation rentals for at least half of our trips and these are the two strategies we use to book rentals. We primarily stick to resort-areas, unless we are staying in a legal, hosted rental. And really, we like staying in resort areas. These are usually on the leeward (sunny) side of the island. We usually find places that are near the beach, have nice pools, and an overall vacation-friendly vibe. 
(psst: haven't heard 'leeward' before? We explain that and everything else you need to know to kickstart planning with our Hawaii Trip Planning guide).
Some of our favorite picks for resort-zone rentals are:
Make sure you check out all of our favorite vacation rentals and hotels for each island in our Where to Stay database. 
Heading to Hawaii?
We have the resources you need to plan a great vacation. Check out our free Hawaii Cheat Sheets that give you the need to know information for each island, like what to do and where to eat.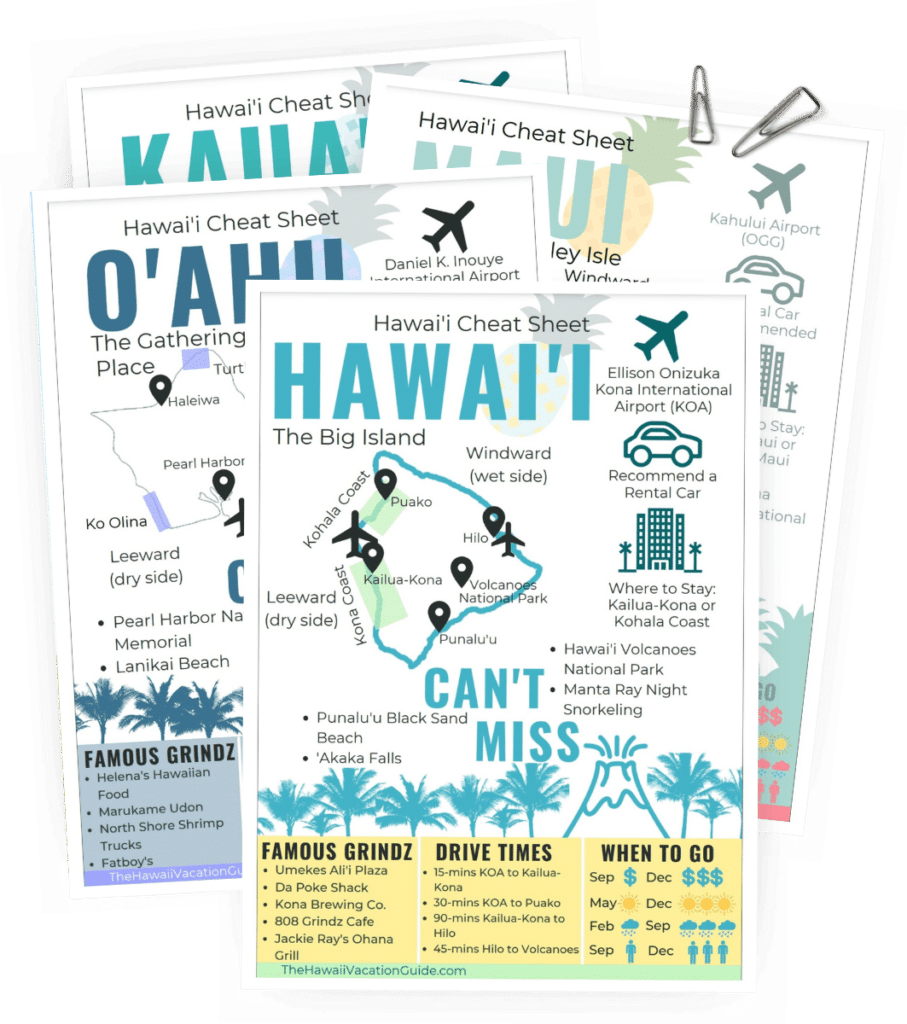 Free Download!
Hawaiian Island Cheat Sheets
Sign up & we'll send you our island cheat sheets so you can get to know the islands like the back of your hand!
We'll share 4 can't-miss activities on each island, a map with the main sights in town, & famous local grindz (eats)!