This is The Best Hawaiian Island for Singles (don't miss this)
Disclosure: This post may contain affiliate links, meaning if you decide to make a purchase through my links we may earn a commission at no additional cost to you. Read about our affiliate policies here.
It felt like a no-brainer when I was asked what was the best Hawaiian island for singles. Oahu came to mind. It has nightlife. But nightlife isn't what a solo traveler or single person is looking for on vacation.
Maui is the best island for singles who want a beach vacation plus activities. Oahu is the best Hawaiian island for singles who are looking for nightlife. Kauai is the best island for singles who are looking for adventure. Molokini is best for anyone who wants to be alone in warm weather.
How do you want to remember your Hawaiian vacation? Romance, the best yoga retreat ever, where you learned to surf, a relaxing get-away to clear your head, or all of the above is possible when you land on a Hawaiian island.
Now I may be married with children (my dog counts as a child) but my experience on the islands is worth more than two cents for solo travelers. For some street cred, I lived alone on Oahu for a couple of years.
Here is your place to figure out the best Hawaiian island to visit for singles. At the end of the day, the important thing is you come to Hawaii for a vacation because no one leaves with regrets.
Hawaiian Vacation for One
Hundreds of thousands of people visit Hawaii as solo travelers. I don't know the exact figure but this is a safe guess.
With 9.7 million people visiting Hawaii in 2018, the average party size was 2.22 people. 4.8% were on business trips so the remainder must be solo travelers out to have a good time on the islands.
You won't be alone as a solo traveler. I can guarantee you that. Singles come to Hawaii for the activities in a safe environment.
Hawaii is full of activities from whale watching to yoga retreats to surf camps to ziplining. You won't get bored as a solo traveler.
My best friend went on vacation with his parents to Hawaii when he was 24. He had a great time as a single guy hanging with his parents at Turtle Bay on the north shore of Oahu.
His stories from his trip revolve around sitting in hot tubs with honeymooners chatting them up.
He has the personality to make anyone laugh and enjoy every moment being surrounded by romantic couples while being single. Not everyone wants a vacation to Hawaii like that.
Most single or solo travelers come to Hawaii seeking adventure. A few come for love. Some visit the Hawaiian islands for the densest population of mating humpback whales in the world.
Whatever your fancy for visiting the Hawaiian islands as a single person, make sure you pick the right island for your Hawaiian vacation.
Unlike my friend, it is easy to avoid honeymooners if you choose.
Only 5.4% of visitors in 2018 came to honeymoon. The majority, at 75%, go to Oahu and 28% go to Maui. Out of over 9 million visitors, the odds are in your favor that you won't cross a newlywed couple.
Hawaii is Safe to Visit for Singles
Hawaii is a great place to visit for a solo traveler because it is safe. Crime rates are lower than the national average and far lower than international destinations in the tropics.
There are few sketchy neighborhoods and those are far from tourist spots and resorts. Violent crimes against tourists are nearly non-existent. One can relax on the beach without getting haggled or walk home from the bars without looking over one's shoulder.
Tourists are typically targeted with property theft. Car break-ins at condos or when you are the beach or stolen bags at the beach.
You can avoid car break-ins by not leaving valuables or bags in your car. When on the beach, I recommend leaving your bag in front of you so they can't grab your bag from behind while you are staring at the waves.
Crime in Hawaii 2017 report provides a great summary of the types of crime (e.g., murders, property damage, theft, etc.) by island if you would like more information.
Get The Maui Itinerary
The step-by-step itinerary takes you to all the best beaches, snorkeling spots, restaurants, and sights. You'll get six carefully planned excursion days to help you see the can't miss stops no matter how limited your time is.
Get all the details on our itinerary and download it for a memorable and easily planned trip to Maui.
Types of Hawaiian Vacations for Solo Travelers
Step 1, know what you want on a vacation. Most single people know what they want so this is an easy first step.
Step 2, know what island has what you want.
If you are looking for lots of beach time sprinkled with some snorkeling and some hiking over 5 days then great. We can find a Hawaiian island for you.
If you are looking to never leave your resort until you are sore from messages than we have the island for you.
If you are looking to bike down a volcano, get strapped to a zipline, and plunge into turquoise waters then we have the island for you.
If you are looking for Captain Jack Sparrow, then maybe the Caribean or the Bahamas has better islands for you.
Hawaii has class.
Of course, you can always find a military bar or underground club in Hawaii but Hawaii is no Mexican spring break trip. Hawaii can be expensive as it is a tropical paradise in America. But Hawaii's je ne sais quoi is its tropical class.
Activities for Singles
All the Hawaiian islands offer surf camps, yoga retreats, hula lessons, health retreats, and spa vacations.
All-inclusive hotels are rare in Hawaii and usually come in the form of a packaged trip.
Snorkel cruises, sunset cruises, and scuba trips are popular activities on the islands. I'm a confident and outgoing person but doing these alone, as I have done, does get uncomfortable.
Explore all our recommended Hawaii tours and activities here.
Most people on these are with a partner so getting matched up for safety like on snorkel trip or scuba diving trip can quickly make you the third wheel.
The best surf for new surfers is on Maui and Oahu. So I'd recommend those islands for a surf camp.
More things to do across Hawaii:
I'd also say the best beaches are on Maui and Oahu. They are older islands so they have miles of white sand beaches.
The Big Island has nice beaches near Waimea on the north coast. Kauai has the jaw-droppingly beautiful Hanalei Bay and beaches on the south coast but the north coast gets strong waves and undercurrents during the winter months.
I don't want to talk you out of Kauai or the Big Island for a beach vacation. I'm splitting hairs here when it comes to Hawaiian beaches. Check out this article for Big Island Beaches and here for the 9 Best Beaches on Kauai.
Kuaui, the Garden Isle, is more peaceful and quiet. Thus making it an ideal tropical paradise for a yoga retreat.
For a single person, Hawaii is safe, reliable, and fun. A solo traveler can get a latte and bagel for breakfast, walk a promenade, sit at the beach until they feast on a food truck lunch of local grindz, hike to waterfall, and then take a sunset, all you can drink sail to cap off the day.
Related articles: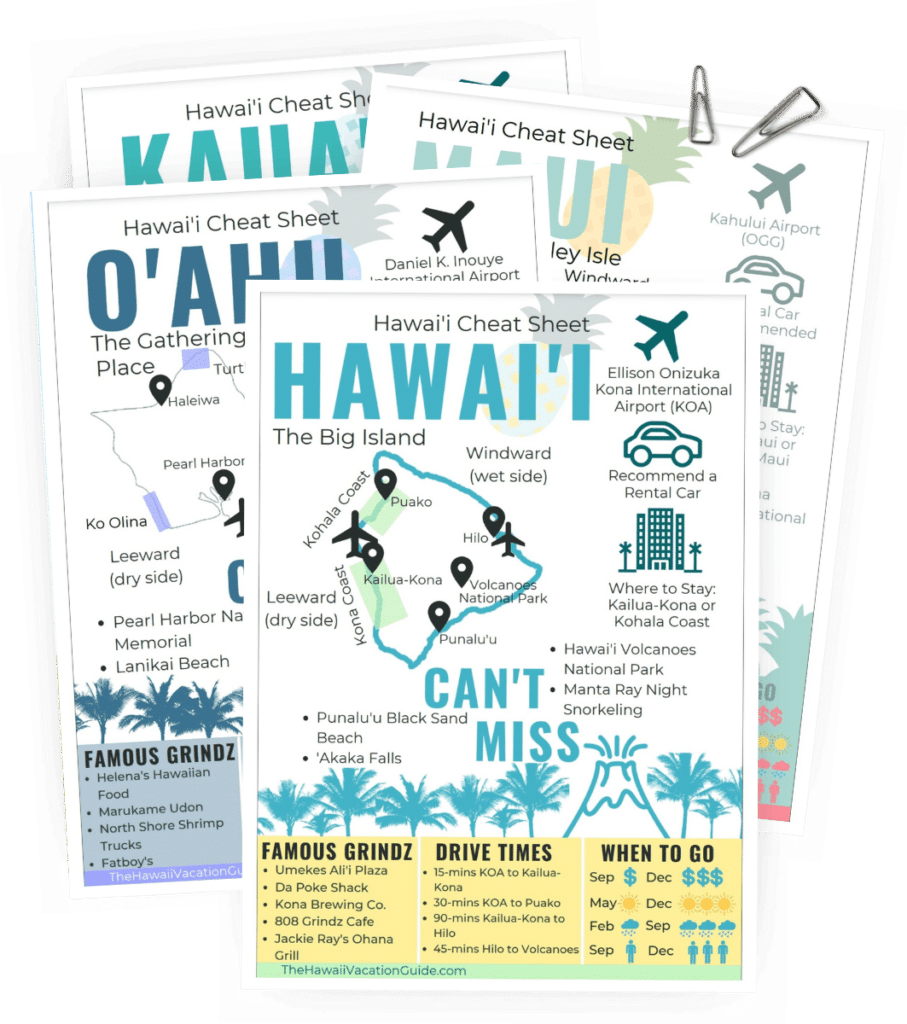 Free Download!
Hawaiian Island Cheat Sheets
Sign up & we'll send you our island cheat sheets so you can get to know the islands like the back of your hand!
We'll share 4 can't-miss activities on each island, a map with the main sights in town, & famous local grindz (eats)!
Oahu Singles Vacation
The itinerary above comes to you from Honolulu, Oahu.
Waikiki, a neighborhood in Honolulu, is the place to be for a solo traveler who wants a beach vacation with some nightly spice.
And in Waikiki, you can take sunset cruises from your backdoor to start your night and go to a wide selection of bars in your front yard to end the night.
Honolulu has lounge nightlife, Chinatown hipster nightlife, military bar nightlife (hello Lewers Street), and causal hotel mai tai sipping nightlife. Waikiki is the Pacific's Vegas Strip. In a good way.
Waikiki is clean, safe, and has a fun, hip vibe that makes for a fun trip as a single person. Oahu is the most visited Hawaiian island with 5.86 million visitors in 2018. Also, Oahu has the largest population of all the islands. With all these people, there is always something going on.
Of course, Oahu has so much more to offer than nightlife. After living there for 2 years, I never got bored.
The hiking is the best of any island as it is accessible for day hikes. You can get to waterfalls and swimming holes all over the island with a Google search. Cultural activities are abundant like hula lessons, surf lessons, and cooking classes galore.
There are plenty of long sandy beaches that are safe to snorkel alone. The waves are calm on the southside of the island all year.
If you rent a car, not necessary but recommended, one can visit Pearl Harbor, The Dole Plantation, and amazing beaches like Lanikai Beach.
What makes Oahu good for a single traveler is you can find budget options. You don't have to rent a car as Waikiki is walkable and Honolulu has a good bus system. You can also find lodging to fit any budget.
It is no surprise that Jason Segel went to Oahu to forget Sarah Marshall. The joke is that he goes to Turtle Bay instead of Waikiki. A place for families and honeymooners. He still has fun though. Oahu never disappoints.
Oahu is my Hawaiian island recommendation for singles who want to stretch their travel dollars and want nightlife with easily accessible activities during the day.
Get The Oahu Itinerary
The step-by-step itinerary takes you to all the best beaches, snorkeling spots, restaurants, and sights. You'll get six carefully planned excursion days to help you see the can't miss stops no matter how limited your time is.
Get all the details on our itinerary and download it for a memorable and easily planned trip to Oahu.
Maui Singles Vacation
Maui provides sun-filled and action-packed days. To the point where everyone is ready for bed after dinner. Maui doesn't have the nightlife like Oahu.
Maui is the second most visited of the Hawaiian islands and second in size behind the Island of Hawaii. Perhaps due to its size and fewer people, it is known more for rejuvenating and more intimate vacation spot compared to Oahu.
A-list celebrities and internet millionaires can be found on Maui enjoying the sites and the resorts.
Singles heading to Maui can choose from a variety of trip types. Luxurious, 5-star resorts with secluded beaches abound on Maui like in Wailea on the southside. One can park themselves there to get a spa treatment, pools with swim-up bars, and white sand beaches.
The Hotel Wailea is an adult-only hotel that does not disappoint when it comes to a luxury Hawaiian vacation.
Renting a car is recommended due to activities and sites are stretched out across the island. You can get to the best sites in 20 to 50 minutes so it still isn't a huge place. There is so much to see and do around Maui to keep you busy.
Maui is best enjoyed with a couple of beach days dispersed amongst activity days. You can pick the level of excitement you want.
With a rental car and fewer budget-friendly lodgings compared to Oahu, Maui can be more expensive for a solo traveler.
Maui is more intimate than Oahu.
Maui is full of historic towns and tourist centers that aren't overcrowded. The restaurants and bars have a beachy vibe and island time is in full effect. The slower pace makes for more opportunities to meet locals and other single tourists.
Sunset and snorkel cruises come in all sizes. Hop on a boat and mingle on Maui.
Kihei is a popular town for single tourists with its large beach and abundant bars and restaurants within walking distance from condos and resorts. Kihei is popping during spring break time.
KAUAI Singles Vacation
Kauai is the Garden Isle. With 1.4 million visitors a year and 72,159 (2017) local residents, Kauai is known more for its tropical paradise than nightlife and restaurants.
Kauai may be too quiet for most singles. The resort area in Princeville is better for honeymooners, babymooners, and families than singles looking to meet someone.
As a solo traveler looking for adventure on their holiday, Kauai would be your top pick. Kauai packs a punch with amazing hiking trails and camping.
The best sunset cruise of my life was on the Na Pali Coast. The towering sea cliffs, lush mountains, and sitting on the net of the catamaran sipping cocktails made for an unforgettable and lively cruise.
I recommend Kauai for a solo traveler looking for adventure over romance. You may find a local on the hiking trail who shares your interests so anything is possible.
Molokai Singles Vacation
Just don't do it. Even if you are an adventurous solo traveler who is looking for the next thrill or Instagram shot, don't go to Molokai.
Molokai is a fun day trip from Maui for some hiking and visiting a former leper colony but it isn't worth flying across the Pacific for 7 days.
As a solo traveler, you will make friends with the bus drivers on the island. You won't meet or talk to very many other people.
Best Hawaiian Island for Single Women
My recommendation for the best Hawaiian island for single women would be Maui. Maui has so much to offer in terms of beaches, activities, bars, resorts, and a good time.
Maui doesn't have the electrifying vibe of Waikiki but it outdoes Oahu for activities, safety, and beaches. You can stay busy with activities on Maui or camp out at your luxury resort. The Waimea resorts outdo Oahu any day.
You won't get stuck in traffic as you explore the large island. You can go to dessert beaches or the rainforest on the Road to Hana.
If getting a rental car is a concern for your budget, I highly recommend budget rental car companies away from the airport. Like the family-run Kihei Rent a Car. They will pick you up from the airport and make you feel part of the family.
Here are discount Hawaii car rental options.
Going to a Luau Alone
For my 27th birthday, I was living in Oahu alone. My girlfriend and future wife got me a scuba trip on the Waianae Coast. A scuba buddy is usually available as others do these trips alone also.
Surprise! She got me a cake to end the boat trip.
Nothing says "I have no friends on Oahu" like a boat full of strangers singing you Happy Birthday. I found the situation hilarious as they felt more uncomfortable than me. I love cake. And I love her.
This experience reminds me of how uncomfortable it can be to be single in Hawaii or anywhere for that matter.
Embrace the experience. This may be your first trip as a solo traveler or single. If you are still reading this article I can tell you are independent and confident. A trip to Hawaii is perfect for you.
You can't go to Hawaii without visiting a Luau. Here are our 14 Best Hawaii Luaus: our unbiased review.
To enjoy a luau alone go to a buffet-style luau. You can choose your seat on long tables. You won't be stuck next to someone horrible or no-one as the long table brings out a family-style conversation.
Well before dinner, there are plenty of activities around the luau facility to watch. Such as how to open a coconut, the unearthing of a pig, and spear throwing. It is a choose-your-own-adventure setup at luaus before the dinner and shows begin.
You can meet and mingle during this time or stay to yourself without feeling awkward.
Once you find a table that looks good for you, remember everyone who is there is on vacation and having the time of their lives. Embrace the camaraderie and make some friends.
Dinner is quick as people rush the buffet lines. The show starts during dinner so if the conversation is bad, just turn to watch the show.
Have a wonderful trip to Hawaii! You won't regret going to the island single.