Cheapest Time to Fly to Maui (And It's Not What You Expect)
Disclosure: This post may contain affiliate links, meaning if you decide to make a purchase through my links we may earn a commission at no additional cost to you. Read about our affiliate policies here.
The cheapest time to fly to Maui is not the shoulder season. Two years of flight price data were analyzed to determine the cheapest and best time to book your flight to Maui.
January is the cheapest time to fly to Maui. Flights are 20% cheaper than the yearly average when you fly to Maui in January, based on 2 years of historical flight data analyzed by Skyscanner. February is the second cheapest month to fly to Maui.
Popular opinion is the best ticket rates are during Maui's slow season of mid-April to mid-June and September to mid-December. As a chemical engineer, I love getting into the numbers to find the facts. I found airfare prices are low during this period but they are not the lowest.
Skyscanner's analyses match Faredetective's airfare price history charts. To determine the cheapest time to fly to Maui from your departing airport by month, Faredetective is a good tool.
Read on for 5 steps to buy the lowest ticket during the cheapest month to fly to Maui. Your Hawaii vacation budget would appreciate the help.
Cheapest Time to Fly to Maui
January may sound like the ideal time for you or the absolute worst time to fly to Maui. Is 20% lower than average airfare worth it for your Maui vacation budget?
We calculated a trip to Hawaii will cost $5,200 for two people going for 7 days. Find the breakdown in This is How Much Your Trip to Hawaii Will Cost (And Ways to Save).
Airfare was $1,200 for a couple or 23% of the $5,200 trip to Maui. The airfare estimate was based on the average 2019 roundtrip flight from Chicago, per person, of $600.
Flying from the west coast, you'll be able to grab some well-priced flights for $350+, round trip. You are looking at closer to $700+ roundtrip if you are flying from the midwest or east coast. We chose Chicago as a middle of the road price.
23% of your Maui vacation budget will be airfare, it could be higher if flying from the east coast.
Saving 20% on your roundtrip tickets by visiting Maui in January is a $240 savings (based on our budget of $5,200) or a 5% savings on your trip.
Is saving 5% on your overall vacation in order to buy the cheapest tickets to Maui worth it for you?
Our estimate is based on a couple flying to Maui. If you are flying your family of 4 or 5 to Maui than airfare will be a larger percentage of your Maui vacation budget. A 5% savings on airfare may make the trip worth it for you.
If you are a solo traveler with the flexibility to book your trip to Maui whenever you want, then 5% savings will be extra money for a Maui whale watching tour plus extra lava flow cocktails at the pool. FYI, the whale migration is at peak season in January in Maui waters.
Maui is an amazing place to visit at any time of the year. If you can get away from it all in January, then a trip to Maui to snag the cheapest airline tickets is a good idea.
Other travel websites and forums have other opinions on the cheapest times to fly to Maui. Expedia says the cheapest time to fly to Maui is the following:
"To get the best rates, try booking tickets during Maui's spring, which is mid-April through mid-June, or fall, which is September to mid-December," suggests Expedia's Flights to Maui Travel Guide.
With such a difference in results on the cheapest month to fly to Maui, I dug into the data some more.
Related articles:
Data on the Cheapest Time to Fly to Maui
Let the data do the talking. Forums and other websites have a lot of opinions on the cheapest month to fly to Maui. I trust the historical flight data analyzed by 1 of the top 3 best airfare search sites in 2020, Skyscanner.
Skyscanner includes all low-cost carriers and excels at finding the lowest cost carrier and route. Their analysis used 2-years of historical airfare data to spit out January as the lowest cost month to fly to Maui.
My initial skepticism on their results was two-fold. First, they are looking at flights leaving from all over America and the world. Demand, and hence costs, vary by departing location and country. For example, Japan has large holidays in late April and May that cause a bump in average ticket prices to Maui.
The second skepticism is January is not the shoulder-period. The number of visitors to Maui is high during the winter months. The shoulder period is well documented to be in the spring from mid-April to mid-June and the fall from September to mid-December. One would expect airfare prices to be average or above average during January.
So I dug into the numbers some more to confirm Skyscanner's calculations and reasoning.
Doing my own research on Faredetective, I looked at 2019 historical flight costs from major US city X to Maui (Kahului Airport). February was the lowest cost month for the cities selected most of the time.
Los Angeles to Maui: January
San Francisco to Maui: February
Seattle to Maui: February
Portland to Maui: February
Dallas to Maui: February
Houston to Maui: February
Denver to Maui: October
Chicago to Maui: February
New York to Maui: February
Newark to Maui: February
Atlanta to Maui: February
Interesting, flights from Denver were the lowest on average by far at $294. If you live around Denver, come on out to Maui!
February as the lowest cost month is not what Skyscanner found but interesting that once again the lowest airfare to Maui Kahului Airport was during the winter period. Faredetective's historical trends showed January was low priced also.
Therefore, I feel Skyscanner's more robust research of more cities over a 2-year period is most likely correct.
My second skepticism was the cheapest month to fly to Maui was during the winter and not Maui's shoulder seasons.
2019 Maui visitor data from Hawaii Tourism Authority showed January was the 3rd least visited month with 234,000 visitors. February was 2nd with 221,000 visitors and September was the least visited at 212,000 visitors.
While January is not the least visited, I can see airlines offering sales and trying to fill planes as January and February are not busy times for airlines. In fact, February is the slowest travel month in America. 
The graph above is of Maui Visitors from January to November 2019 (December data not available at this time) showing January and February as the 3rd and 2nd least visited months, respectively.
The data is pointing to January and then February as being the cheapest months to fly to Maui.
Reminder, getting the lowest cost ticket is more luck than anything else. Lowest cost ticket can come from a special sale, like Southwest offering $49 one way tickets, or shedding seats at the last minute. The lowest cost month to fly to Maui means you have the highest probability of purchasing a ticket below the yearly average.
5 Ways to Buy the Cheapest Ticket During the Cheapest Month to Fly to Maui
Now that we are confident January is the cheapest month to fly to Maui and February is a close second, how do you book the cheapest airfare to Maui?
Here are some tips to fully take advantage of finding and booking the cheapest airfare to Maui.
1. Keep Your Maui Flight Search a Secret
You are not paranoid, the ticket prices are increasing the more you search for flights to Maui.
The cookies in your browser are tracking you as you repeatedly search the same flight route on your computer. Ticket prices are increasing to pressure you to pull the trigger and book your flight.
Search for flights in incognito mode or clear your cookies when starting a new search. Always do this to get the lowest cost ticket to Maui.
To turn on incognito mode on Google Chrome or Safari, press Control if using a PC (or Command if using a Mac) + Shift + the letter N.
For Mozilla Firefox or Internet Explorer, press Control or Command (Mac) + Shift + the letter P.
Pressing these keys at the same time will open a new browser window where your Maui vacation flight search is not tracked.
Your cookies are reset every time you open a new incognito window. Therefore, if you want to guarantee a clean slate when starting a flight search you should open a new incognito window and start shopping.
2. Search Flights to Maui Using the Best Flight Search Engines
Everyone has their favorite flight search engines. Personally, I like to check the search engines to confirm the cheapest route and airline carrier when I'm doing my flight planning. I then go to the cheapest airline carrier to see if their website will beat the final price.
All flight search engines are not created equally. They all have their own inflated prices based on taking a fee from the airline for the booking.
Erica and my favorite flight search engine for booking flights, especially to the Hawaiian islands, is Skyscanner.com. (This article isn't meant to be an advertisement for Skyscanner, I just like their lower ticket prices and analysis.)
Skyscanner includes the carriers that fly to Maui, except Southwest Airlines. Southwest doesn't put prices on flight search engines.
Sign up for their Price Alert feature. They will email you when prices change for a range of selected routes and times.
When comparing to other flight search engines, Skyscanner is consistently the lowest cost.
3. Use Southwest Low-Fare Calendar for the Cheapest Month to Fly to Maui
Southwest Airlines is offering amazing deals to Maui and inter-island flights, you definitely need to check out their website to find some great flight deals to Maui.
Check-out Southwest's Low-Fare Calendar for deals to Maui during the lowest cost months to fly, January and February. The Low-Fare Calendar will show you the cheapest days to fly during the cheapest month to fly to Maui. Crazy good deals.
Then compare to all the other carriers using Skyscanner.
Competition is fierce right now between carriers so take advantage of the low airfares.
4. When to Book a Flight to Maui
Having the flexibility to leave for your Maui vacation any day of the week is a huge advantage when looking for the cheapest time to fly to Maui.
Flying during mid-week is the conventional wisdom on booking the lowest cost flights. Tuesday is the cited day to travel for the lowest cost. This isn't a hard rule and we recommend checking all days during the week to find the cheapest departure dates.
Your best strategy for booking the cheapest time to fly to Maui is to look at a calendar of prices on a flight search engine or the airline's website.
Do this by getting a visual of the prices by a calendar. Select "flexible dates" or select "whole month" instead of a specific date. See what your search engine or browser gives you for an option.
By looking at the whole month, you will quickly see the lowest cost days for your flights.
5. When to Buy Your Ticket
Skyscanner's data analysis of 2-years worth of historical flight price data says to buy your ticket 1-week in advance.
1-week in advance! Flights to Maui are 11% cheaper than the yearly average when booked 1-week in advance.
For peace of mind, I like to book earlier to ensure I have a flight but since January and February are slow-ish periods, the planes won't be that busy. Booking 1-week in advance is another way to save.
You can track airfares to Maui using apps too.
To book the best day and time to fly is by using the Hopper app. The Hopper app predicts the best airfare price with up to 95% accuracy, so Hopper says.
Enter your route and they will let you know the best prices and when to book. They will notify you as prices change. This is a good pricing tool when planning your Maui trip well in advance.
Is Visiting Maui at the Cheapest Time to Fly Result in the Cheapest Vacation to Maui?
You may be able to buy the cheapest airline ticket to Maui, but will your overall trip be cheaper?
Flying to January may be a perfect time of the year for a Maui vacation. The snow is blowing at home and the cheer of the holidays is waning. The days are dark and there is no end in sight for winter.
Time to pack the swimsuit, sunglasses, family for a beach vacation on Maui.
But what about your lodging? Are hotels and vacation rentals like Airbnb and Vrbo cheaper or at average prices during January and February?
The Hawaii Travel Authority says they are not. January is the 9th most expensive month for accommodations. February is high on the list also, especially during Presidents Weekend in mid-February.
Therefore, you can save 20% or more on your flight by vacationing in Maui in January, but your higher hotel cost may offset your savings.
The cost of accommodations was the highest single line item in our Hawaii vacation budget, found in This is How Much Your Trip to Hawaii Will Cost (And Ways to Save).
For a couple visiting for a week, a hotel was $2,100 or 40% of the cost.
Therefore the higher accommodation cost during the winter months would be more than the savings from your flight.
There are numerous factors coming into the budget of your Maui vacation. If you have a large family, you may save substantially on your airfare by coming in January while getting an economy of scale on booking a house/condo on Airbnb.
There are always deals to be had and vacation packages during the winter months that can help you save on lodging.
While January and February are the rainier months on Maui and the coldest, the average temperature is still a high of 81 degrees and being rained out all day is extremely rare in the beach resorts (the driest parts of the island). Maui weather is hard to beat.
If you are on the east coast or the midwest in the thick of winter, a trip to Maui is what you need. Pack your bags for January or February knowing that you got a flight to Maui during the cheapest time of the year.
Sit back, relax, and get ready to hit the beach once you land on the Valley Isle.
Planning a trip to Hawaii?
Our cheat sheets will help you shortcut your trip planning. Get the need-to-know info for each island with this free download.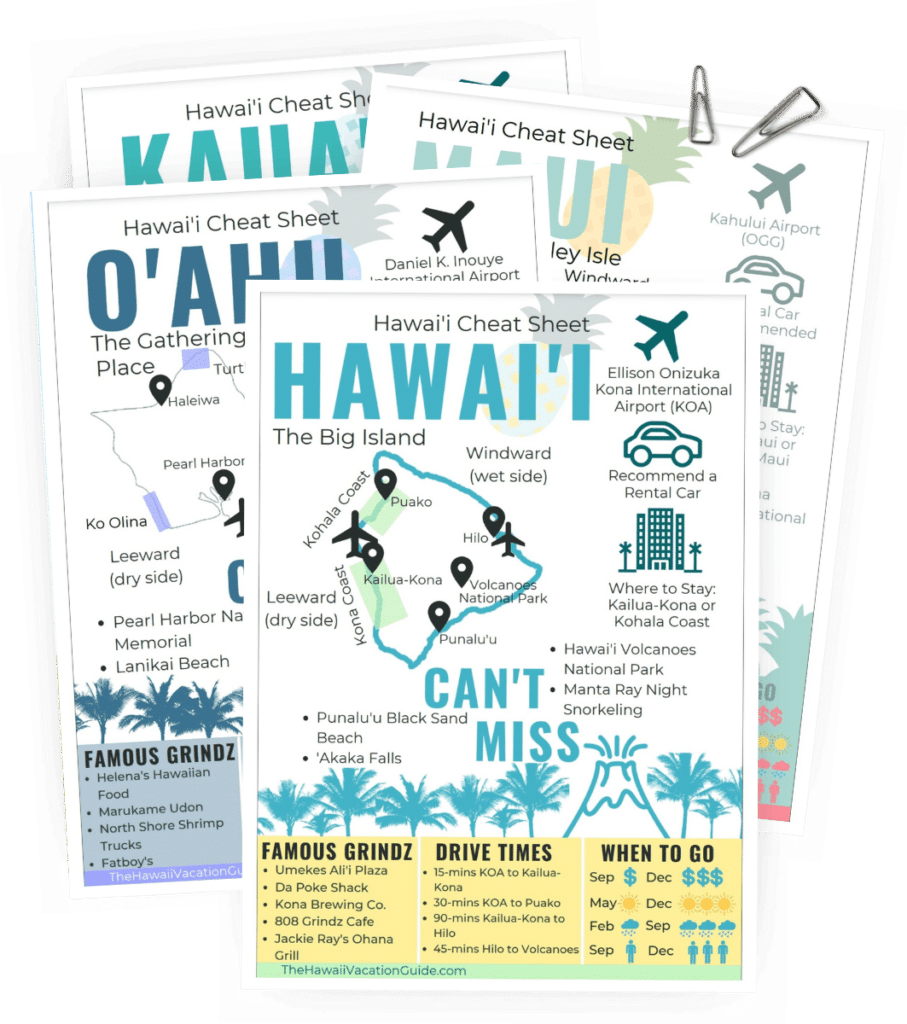 Free Download!
Hawaiian Island Cheat Sheets
Sign up & we'll send you our island cheat sheets so you can get to know the islands like the back of your hand!
We'll share 4 can't-miss activities on each island, a map with the main sights in town, & famous local grindz (eats)!