The Best Beaches in Poipu (Directions + Parking Information Included!)
Disclosure: This post may contain affiliate links, meaning if you decide to make a purchase through my links we may earn a commission at no additional cost to you. Read about our affiliate policies here.
Situated on Kauai's southern shore, Poipu is a dazzling resort town and the perfect base for exploring the Garden Isle. Known for year-round sunny weather and its proximity to Kauai's southern attractions like the historic town of Koloa, Poipu is most famous for its stunning beach scene. Whether you're looking to snorkel alongside colorful parrotfish, catch a few waves, or simply sunbathe beneath the palms, these are the best beaches in Poipu.
Planning a trip to Kauai, let us make it easier:
Looking to get in the water? This is the best south shore snorkeling tour!
If you're visiting during whale season, this whale watching tour that leaves from Poipu is a must.
Get everything you need to know about the island in our Kauai Travel Guide.
Book your rental car with Discount Hawaii Car Rental – we've literally saved thousands booking through them.
Check out our Where to Stay and Activities databases for the best lodging and tours on the islands.
Map of the Best Beaches in Poipu
The Best Beaches in Poipu (and Other Great South Shore Beaches)
From idyllic Shipwreck Beach with its golden sand and beautiful sunsets to the best beach for bringing along the kiddos, these are the best beaches near Poipu on Kauai's South Shore.
We've had the opportunity to enjoy all of these beaches many times (with our kids), and these are the beaches we keep heading to over and over when we visit the south shore of Kauai.
Poipu Beach
Lifeguard: Yes
Parking: Large parking lot
Poipu Beach is often touted as one of the best beaches in the world and it's not difficult to see why. Winning several awards from publications like Dr. Beach, Poipu Beach's shape, two perfect crescents, makes for calm waters that are perfect for swimming. Pair this with sandy shores and turquoise surf and you have a match made in Hawaii beach heaven. For those with children, there is a seawall that creates a semi-protected lagoon — an ideal spot for them to swim! Be aware that waves do increase in intensity in the summer months and can make it more difficult to swim at times. Luckily, Poipu Beach is relatively protected from these swells by its unique shape and reef system. Always pay close attention to warning signs posted at the beach and stay alert.
If you're a lover of wildlife, Poipu Beach is ideal for spotting honu, Hawaiian Green Sea Turtles, and endangered monk seals. Remember to keep an appropriate distance away from these animals, 150 feet for monk seals and 10 feet for sea turtles – at a minimum. Poipu Beach is a popular spot for surfing and the Kauai Surf School operates on this particular beach.
Poipu Beach Park is also a great place to hang out. With a playground, showers, restrooms, and picnic tables, it's easy to spend a day here.
Kiahuna Beach
Lifeguard: No
Parking: Shared parking lot with Poipu beach
Kiahuna Beach is located in front of the Sheraton Hotel (a Marriott property) and offers up a long stretch of coastline with wonderful swimming conditions! This quintessential Hawaiian beach has everything you're looking for, golden sand, swaying palms, and turquoise waters that remain calm for most of the year. Aside from being a great swim spot, Kiahuna Beach is perfect for surfing, especially in the summer months when swells on Kauai's South Shore are larger.
Visitors that stay for sunset can attend one of the best luaus in all of Hawaii at the Sheraton. The Auli'i Luau is the only oceanfront luau in all of Kauai and is a great way to experience Hawaiian culture on your trip. Kiahuna Beach is a great spot to go if Poipu Beach is already full of fellow swimmers and sunbathers. Even better, you can grab a drink from the bar onsite at the Sheraton.
Baby Beach Poipu
Lifeguard: No
Parking: Along road
The name says it all! Baby Beach is the best beach in Poipu for those with kids. Fringed by idyllic palm trees, Baby Beach is small and tucked away from large waves. It also has a naturally shallow depth that makes it perfect for splashing around.
Unfortunately there is virtually no shade, food, or drink at Baby Beach which can make it a bit more difficult to stick around longer than a few hours. Parking can also get tricky in the busy season as space is limited.
Shipwreck Beach
Lifeguard: No
Parking: Small parking lot
Named for a shipwreck that once rested off its shoreline, Shipwreck Beach is one of the most stunning on Kauai's South Shore. With views of the craggy coastline, it isn't difficult to see why a ship may have come aground here. Located in front of the Grand Hyatt Kauai Resort & Spa, Shipwreck Beach is a great spot to watch the sunset or build a sandcastle.
Want to book the Grand Hyatt for free? We show exactly how it can be Booked With Points.
Swells at Shipwreck Beach can be huge in the summer, making it difficult or even dangerous to swim at times. While it isn't always a swimmers paradise, it is a wonderful spot to sunbathe in the silky, golden sand. If you're looking to break a sweat before you take a refreshing dip, the Maha'ulepu Heritage Trail begins in the parking lot and offers hikers breathtaking views from the cliffs. The trail follows the ocean along its 3.8 mile, roundtrip course.
Related read: Is There a Best Time to Visit Kauai? (Yes…here's when)
Lawa'i Beach
Lifeguard: No
Parking: Along the road
If you're looking for a great snorkeling option, Lawa'i Beach is just the place! A beautiful reef system, colorful corals, and abundant fish have made this area one of the best on the entire island of Kauai. The large reefs that make Lawa'i Beach such a wonderful snorkeling spot also protect it from the large swells come winter. This isn't the best beach to visit if you're looking to casually swim as the sand turns to rocks once you're in the water.
There is a small strip of beach for sunbathing and lounging in between snorkeling sessions at low tide, but it vanishes almost completely at high tide. If you're visiting Lawa'i Beach at the end of the day, grab dinner at Beach House Restaurant for stunning sunset views with a delicious cocktail in hand and live music to serenade the evening.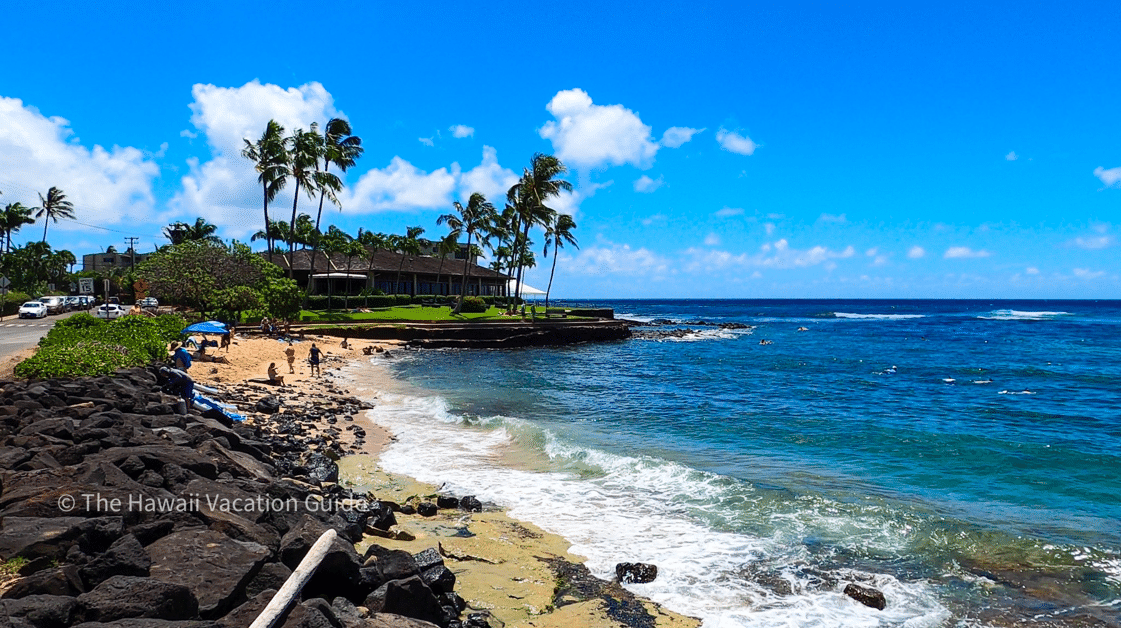 Brennecke's Beach
Lifeguard: Yes
Parking: At Poipu Beach
Located right next to Poipu Beach, divided by a grassy area and rocky outcrop, Brennecke's Beach isn't the best spot for swimming but is an ideal bay for bodyboarding. The wave break is a bit more intense than neighboring beaches which means perfect conditions for catching surf.
The break does not make Brennecke's Beach great for kids or inexperienced swimmers. The rough shore break and strong currents make this a moderate to dangerous beach for swimming.
Brennecke's Beach is one of the better beaches for spotting sea turtles, often napping in the sun. Remember to stay at least 10 feet away (3 meters) from these beautiful sea creatures. If you're hungry after a long day at the beach, pop over to the Puka Dog Hawaiian Hot Dog Stand nearby for their unique take on this traditional American fare including pineapple relish.
Related read: The Ultimate Kauai Food Truck Guide (find the best cheap eats)
Beaches in Poipu FAQs
Which beach is best for swimming in Poipu?
Poipu Beach itself is the best beach for swimming in Poipu. Cerulean water, soft sand, and its unique double crescent bays make for an idyllic dip in the Pacific. Know that the summer surf can be intense but makes for great surfing.
A secondary alternative for the best swimming spot in Poipu is Kiahuna Beach. Similar in shape and size to Poipu Beach, you may find that this beach is less crowded than Poipu Beach although it's just a few minutes' walk or drive away.
Where's the best place to see turtles in Poipu?
Kauai is a well known haven for sea turtles, also known as honu in Hawaiian. The Hawaiian Green Sea Turtle makes its home in the warm waters off the coast of the island, coming ashore to bask in the sun or to lay their eggs. Poipu Beach and Brennecke's Beach are some of the best beaches in Kauai to catch a glimpse of sea turtles, often lazing away the day in the sand. Hawaiian Green Sea Turtles are the largest hard shelled sea turtles in the world! Although much more rare, you may also see Hawksbill sea turtles.
Be mindful that sea turtles are protected animals. While it might seem fun to get up close and personal, it's crucial to give them their space. The DLNR and NOAA ask that sea turtles be given at least 10 feet of space (3 meters) to ensure that they're comfortable and go undisturbed.
What else is there to do in Poipu?
As one of the most popular spots on Kauai due to its central location near resorts and restaurants, Poipu has an endless list of fun activities and unique natural areas to explore! Here are a few of the best things to do in Poipu for when you're not busy snorkeling and sunbathing!
Kauai Plantation Railway
Check out Spouting Horn
Koloa's Tree Tunnel (drive)
Maha'ulepu Trail
Shopping in Historic Koloa Town
Related Reads:
Princeville vs Poipu: Finding the Best Place to Stay on Kauai
7 Best Resorts on Kauai for Families: our kids approve!
35 Best Things to Do on Kauai (we will surprise you!)
The Best Kauai Itinerary
Heading to Kauai? Shortcut your trip planning with our Kauai Itinerary, packed with excursion days and what to pack for each one, links to directions, where to get the best local grindz (eats), and even where to stay, its all your vacation planning done for you.
Your vacation guide was absolutely amazing. Traveling to Hawaii required 100s of decisions from where to stay, what to eat and what to do, and you made it a TON easier. All of your restaurant suggestions were fantastic.

Rebecca S.
Get The Kauai Itinerary
The step-by-step itinerary takes you to all the best beaches, snorkeling spots, restaurants, and sights. You'll get six carefully planned excursion days to help you see the can't miss stops no matter how limited your time is.
Get all the details on our itinerary and download it for a memorable and easily planned trip to Kauai.