What is the Best Hawaiian Island for Kids?
Disclosure: This post may contain affiliate links, meaning if you decide to make a purchase through my links we may earn a commission at no additional cost to you. Read about our affiliate policies here.
You've decided to take your family on a big trip to Hawaii, but now you have the task of picking the best Hawaiian island for kids. While all of the islands are family-friendly, one may be better suited for your family than others.
If we are pushed to name one, Oahu is the best Hawaiian island for kids and families because of its cost, exceptional family resorts, and wide range of activities and sights. But it's not the best island for every family.
Each island has its own unique draw for a family:
Oahu is the best island for a Hawaiian vacation on a budget and for family-friendly resorts

Maui is the best island for a family that loves beaches and ocean activities

Big Island is the best island for volcano enthusiasts

Kauai is the best island for nature lovers
Read on to decide which Hawaiian island is best for your family vacation.
Take a deep dive with our travel guides for everything else you need to know about the islands including geography, where to stay, how to get around, and so much more.
Big Island Travel Guide – Oahu Travel Guide
Maui Travel Guide – Kauai Travel Guide
Oahu: best for a Hawaii family vacation on a budget
While a trip to Hawaii is undoubtedly expensive, there are some ways to save money. One way includes picking the right island. When we calculated the average cost of a one-week trip to Hawaii for two people, we found Oahu to be $1,000 cheaper than Maui.
If you were to take a family to Hawaii, the cost difference would certainly be greater than that.
So if you're looking for a Hawaiian family vacation on a budget, Oahu is a great choice. You'll still get beautiful beaches, sparkling blue water, and lush landscapes. Sure, there are crowds, but you don't have to stay in Waikiki. Head up to the North Shore or rent a home on the windward (east) side of the island.
Why else is Oahu the best Hawaiian island for families?
Cost isn't the only reason Oahu is a top pick for families.
Activities and sights
There is so much to do on Oahu. If your kids love planes and boats, a trip to Pearl Harbor is an outing the whole family can enjoy. Take in the history at Ililani palace. Hike Diamond Head, an easy trail that is accessible for even the smallest travelers. Zipline through a rainforest in Kualoa.
While the wide variety of activities is a big perk of Oahu, so is the proximity of many of them to Waikiki. If your family chooses that as your home base for the trip, car rides are kept to a minimum for many of the fun family outings.
We have a five-day Oahu itinerary that is toddler approved (by our son Henry) and will give you plenty of activities for five perfect days on Oahu with your family.
Resorts
All of the islands have spectacular resorts, but Oahu has two very kid-focused resorts. Not only do you have Disney's Aulani Hotel — a huge draw for many families — but you also have resorts like the Hilton Hawaiian Village that are made for family fun.
Related read: the seven best family-friendly resorts on Oahu. We stayed at them all and love them.
Calm (but crowded) beaches
A lot of people are surprised when they come to Hawaii that the entire island is not calm and has tranquil water like you'll find on other islands. But on Oahu, you'll find a number of calm, white-sand beaches that are perfect for the beginning swimmer. The man-made lagoons at Ko Olina make for a fun day at the beach for all ages. The turquoise waters at Lanikai beach make you feel like you've been transported into a magazine ad. And Waikiki, though very crowded, has small, relaxing waves that you'll enjoy splashing with your kids in.
Oahu: what to know before you go
The biggest drawback to Oahu for most people is that it's a crowded island. It's the most populated and the most visited, with Waikiki getting an average of over 72,000 visitors per day. Traffic can be unbelievably bad and it's the only island where you'll find high rises and four or more lanes on the highway.
Related read: The best five day Oahu itinerary
Maui: best for the beachgoing family
Hawaii Tourism Authority data shows that Maui is the second most visited Hawaiian island, and it's not difficult to figure out why. This island seemingly has it all, without major highway and city feel that you'll find on some parts of Oahu.
But one of the best reasons to come to Maui? Here you'll find the best snorkeling in Hawaii, making it ideal for the beachgoing family. If you want to snorkel, spend time on white sandy beaches that aren't terribly overcrowded, and have the chance to see some of the best sea life (whales, dolphins), Maui is your spot.
Just like Oahu, you'll have plenty of beaches for the novice swimmer, which makes snorkeling and getting into the water more comfortable. The sea life is incredible, and you'll see turtles, beautiful fish, and more, around Maui's reefs, not far from shore. Plus beautiful white sand beaches are everywhere, so nothing feels as crowded as it does on Oahu.
You also have the option to take a boat ride to Lanai for a day-trip, where you'll likely run into spinner dolphins along the way. And if you're here during whale watching season (December 15 – April 15), the best whale watching happens in Maui.
These are just some of the pros we break down in our Oahu vs Maui for kids article.
Why else might Maui be the best Hawaiian island for your family?
Beaches aren't the only draw to the garden isle. You'll also want to consider Maui for these reasons.
Less rain
If you're hoping to avoid wet weather, Maui is a good choice. The two main resort areas are on the leeward side of the island, which gets much less rain than the windward side. According to BestPlaces.net, Ka'anapali gets 24 inches of rain per year and Wailea gets 15.2 inches of rain. Compared with an average of 49 inches in Honolulu, you're looking at better chances of a sunnier vacation.
The road to Hana and Haleakala
Each island has amazing sights, but two that stand out on Maui include the road to Hana and Haleakala. If your kids don't mind car rides, you can have an unforgettable day exploring the black and red sand beaches, waterfalls, and curving roads on the road to Hana. Or take in sunrise or sunset from the top of the volcano, Haleakala.
Spend a day on Lanai
There is something incredibly exciting about hopping from one island to another, and you'll only have this opportunity when you're on Maui. Hop on a boat in the morning and land on Lanai in less than an hour. From there you can snorkel, relax on the beach of Manele bay and look for dolphins, or head on an ATV tour. Explore our 21 Things to Do on Lanai for more ideas.
Related read: 68 activities on Maui your kids will love.
Maui: what to know before you go
Maui is the most expensive island to visit. Kauai isn't far behind, but Maui takes the cake. There are great places to stay on a budget here, but resorts are often significantly more expensive than what you'll find on the other islands.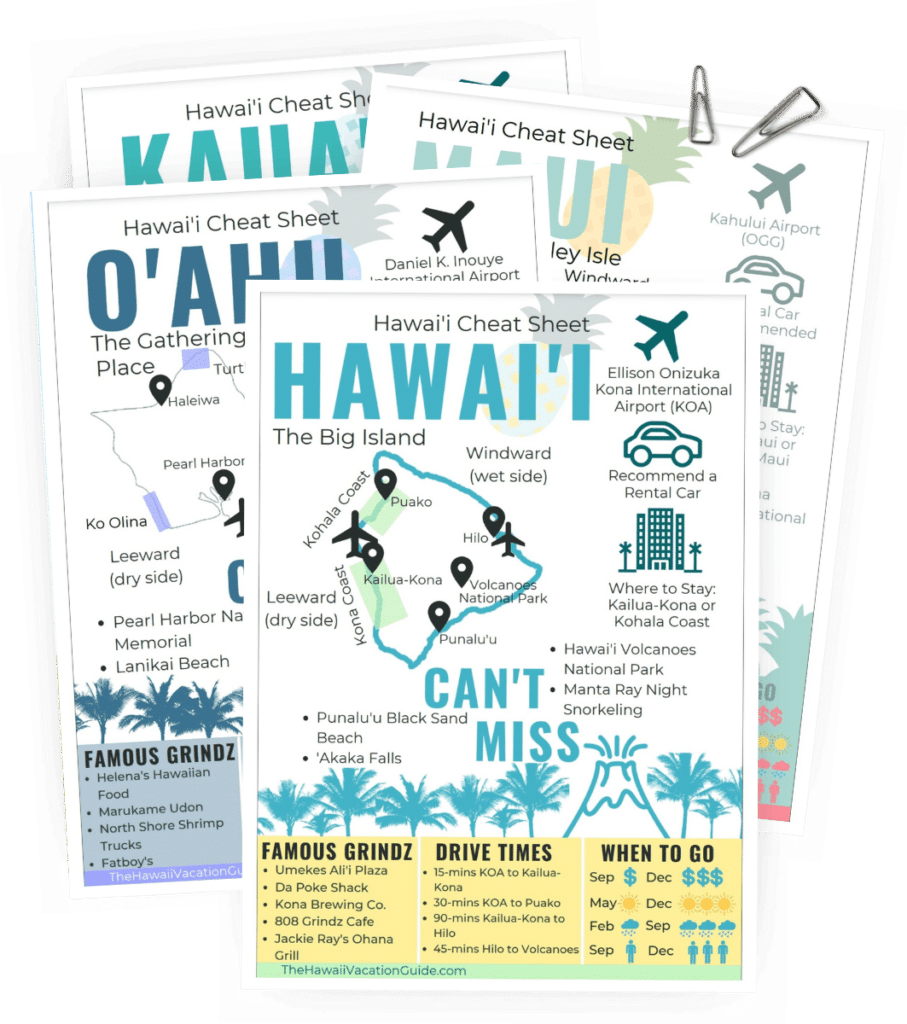 Free Download!
Hawaiian Island Cheat Sheets
Sign up & we'll send you our island cheat sheets so you can get to know the islands like the back of your hand!
We'll share 4 can't-miss activities on each island, a map with the main sights in town, & famous local grindz (eats)!
Big Island: best island for the volcano enthusiasts
The big island has something that no other Hawaiian islands can lay claim to four active volcanoes. If your children (or you!) are interested in volcanoes or geology, this is the island to visit.
Spend some time at Volcanoes National Park, exploring the Thurston Lava Tube, hiking a crater, and possibly seeing lava in the park. You can stay in or near the park. Volcano enthusiasts can easily spend a few days here, seeing everything. Those less enthused may enjoy just one full day of exploration. Either way, it's an experience that is unlike many other things in Hawaii.
Why else might the Big Island be the best choice for your family?
The big island offers more than volcanoes. You'll want to pick the big island for your family because:
Less touristy
Compared with Oahu and Maui, the big island feels like a well-kept Hawaiian secret. Sure, in Kailua-Kona there are a lot of tourists, but the rest of the island is quiet and wide open.
Swim with Manta Rays
We didn't plan our trip to the big island just for this, but this activity is probably the biggest reason we are excited to return again. Night swimming with manta rays was a highlight of our stay and is a great activity for older kids.
We also love the snorkel spots on the Big Island, check out the 5 best for beginner snorkeling spots as they are family-friendly.
The Big Island: what to know before you go
The Big Island is big. You might be surprised by just how much time you spend in the car going from one location to the other. If your kids (or you) don't do well with car rides, consider heading to another island where you can see more without such long trips. For example, getting to a beach that was good for our toddler was a 25-minute drive from our hotel.
Kauai: best for outdoor adventuring families
We love all of the outdoor activities that Kauai has to offer. If your family is excited to hike, kayak, and spend time in beautiful tropical forests, this is the island for you. Kauai, aptly named the Garden Isle, is the oldest of the Hawaiian islands. With that age comes stunning scenery: jagged mountains and dense, lush, forests.
Walk to Wailua Falls, take a boat ride up the Napali coast, and hike in Waimea Canyon State Park. On Kauai, you can have the outdoor adventure your family has dreamed of.
Why else might Kauai be the best place for your family?
Kauai isn't just for the active adventurers. You might also want to pick Kauai because:
Quiet family time
If you're looking for a quiet, relaxing family vacation, Kauai is the right place for you. There are some parts of the island where you really feel like you've gotten away from it all. A perfect place to stay, play, and reconnect as a family.
Hiking and camping
Teenagers who are enthusiastic about hiking and the outdoors will be excited to camp and hike with you in the NaPali Coast State Wilderness Park. This isn't an easy area to hike and the trail does occasionally close due to flooding, but for the right family, this is a once in a lifetime experience.
Kauai: what to know before you go
Kauai is lush and beautiful for one reason: it gets a lot of rain. It's the wettest island, which creates the lush jungle atmosphere. But it also means that you risk rain on your vacation. The south side of the island is a better bet for sunny weather, but you'll miss out on some of the tropical beauty that you've come for.
Best Hawaiian Island to Visit With Kids
Still can't decide what island is right for your family? We give you a glimpse of each island with our video to help you decide.