Hawaii in October: is it the best time for your trip?
Disclosure: This post may contain affiliate links, meaning if you decide to make a purchase through my links we may earn a commission at no additional cost to you. Read about our affiliate policies here.
Ever thought about coming to Hawaii in October? Turns out, it's one of the best times to visit!
With milder temperatures, fewer crowds, and fantastic deals on hotels, October is a great time for a Hawaiian getaway. It's personally our favorite time of year!
But there are some things you should know before committing to an October trip. Keep reading to learn more about the weather, crowds, and costs of taking a tropical vacation this time of year.
Planning getting a little overwhelming? We have your back with these resources:
Let us help you pick the best island for your trip with this article
There are 15 Essential Details to planning a Hawaiian vacation
Get all of our insider tips and learn how we book our travel
No trip planning is complete without grabbing an itinerary for the island(s) you choose – it seriously doesn't get any easier than that!
Is October a Good Time to go to Hawaii?
If you're looking for a good deal on hotels, mild weather, and smaller crowds, October is a wonderful time to go to Hawaii. However, just know that it's still considered hurricane season (which runs June – November), though hurricanes making landfall in Hawaii is rare. 
Whether you're planning a trip to Hawaii in October or another month, our guide to planning a trip to Hawaii walks you through 15 steps to plan and design the best vacation.
Reasons to go to Hawaii in October
Here are some great reasons to go to Hawaii in October:
Reasons to Not Go to Hawaii in October
Though October is pleasant in Hawaii, it's not for everyone. Here are some reasons to plan your trip during a different month:
Is Hawaii Nice in October: Weather Data
Hawaii is generally mild in October, with temperatures in the mid-80s Fahrenheit during the day. It cools off a bit at night, into the mid-70s. As for rain, it's mostly localized and usually only lasts a few hours. This means it shouldn't interfere with your plans too much.
But let's dive into the data so you have a better idea of what the weather in October is like.
Is Hawaii Rainy in October?
You probably came to Hawaii for blue skies and sunshine, not overcast skies and showers. Unfortunately, October is one of the rainier months in Hawaii. On average, it receives 1.4 inches of rain during this time.
If you want to minimize your chances of rain, you definitely want to avoid the windward side of each island. That's where the most rain comes down, thanks to the rain shadow effect. The north and east sides of Maui, Kauai, and the other islands usually get more rain than the south and west sides.
This image shows the distinction between the windward and leeward sides so you know where to plan on staying. If it does rain during your trip, we have you covered with things to do on each island in the rain.
Now let's look at the real numbers in four different locations on the leeward sides.
| | |
| --- | --- |
| Location | Average October Rainfall in Inches |
| Poipu. Kauai | 2.05 |
| Honolulu, Oahu | 1.81 |
| Kailua-Kona, Hawaii | 1.3 |
| Kihei, Maui | 0.55 |
According to the data, if you want to stay dry on your trip, plan on staying in Maui. It's the least likely to get rain, and there's plenty to do. Check out our list of the best things to do on each island:
Or you could plan your trip in the summer when there's less rainfall overall. Here's a graph showing how much rain the state gets on average throughout the year. We picked a point on the leeward (drier) side of each island to share rainfall data.
How Warm Is It in Hawaii in October?
In most of the country, October is known as the beginning of the "brr" months. That's because the days are starting to get cold and it's sweater weather. But since Hawaii is located in the tropics, it's much warmer than most of the mainland.
In October, Hawaii is full of sunshine and mild temperatures. The average high temperature during this time is nearly 82°F (27.7°C), and the low is 75.5°F (24°C). That makes it perfect for swimming, snorkeling, zip lines, and all sorts of outdoor fun.
To give you a better idea about what you can expect, here's a closer look at the average high and low temperatures in October at four locations:
| | | |
| --- | --- | --- |
| Location | Average High Temperature in October (in °F) | Average Low Temperature in October (in °F) |
| Kailua-Kona, Hawaii | 86 | 74 |
| Honolulu, Oahu | 81 | 77 |
| Kihei, Maui | 80 | 75 |
| Poipu. Kauai | 80 | 76 |
The Big Island is the warmest place to be. But it also has the coolest low temperature. If you prefer somewhere without as much as a swing between the highs and lows, head to Honolulu, Oahu, or Poipu, Kauai. With only a four-degree range, the weather stays pretty similar throughout the month. 
We have full island (FREE) island guides that will help you plan your trip. Check out each one to help you decide which island you want to visit and plan out the can't miss activities you'll definitely want to do: Big Island guide, Oahu guide, Maui guide, Kauai guide.
Are you wondering how October weather compares to the rest of the year? This chart shows you what it's like each month at each of the four locations listed above.
As you can see, September is the hottest month of the year, followed closely by August. However, October isn't that far behind.
Can You Swim in Hawaii in October?
Yes! The waters of Hawaii are warm year-round, and October is one of the warmest months in terms of water temperatures. You'll find the waters of the Pacific to be just over 80 degrees, which feels fantastic.
Just remember to bring sun protection like a hat and reef-safe sunscreen since the sun is intense in Hawaii even though it's winter.  
What Are the Ocean Conditions Like in October?
Typically, the winter waters in Hawaii can bring large swells, especially on the north shores. But those swells occur because of storms in other parts of the country. Those fierce winter storms generally haven't started yet in October, so the water is usually fairly calm. 
Of course, the ocean can change in an instant. So when you're out, always pay attention to the conditions. Watch the lifeguard flags and watch for any beach closures. And always remember the most important beach rule, "If in doubt, don't go out." The Pacific Ocean can be a dangerous place to swim and snorkel.
To make sure you enjoy your beach days, check out our list of the best beaches in Hawaii!
When is Hurricane Season in Hawaii?
Hurricane season in Hawaii runs from June through November. So, there's a chance your October trip could see a storm. However, hurricanes are rare in Hawaii. Only a handful of them have done significant damage since the 1950s.
This means you likely won't have your trip interrupted by a tropical storm or hurricane. But you should always be prepared because it is a possibility.
To help you with that, the Hawaii Emergency Management Agency has some great information on hurricane shelters. In addition, this news article has some practical tips to help travelers prepare for the worst.
And just as a reminder. If you're in Hawaii during a hurricane threat, stay out of the ocean. That's the worst place you could be! 
How Busy is Hawaii in October?
Trying to avoid long lines and crowded beaches? October might be a good month for your visit. While it's not as empty as you'd find it in January or February, October isn't nearly as busy as July or December.
But to give you a better idea of how many people come to Hawaii each month, let's look at some official numbers from 2022.
| | | | |
| --- | --- | --- | --- |
| Month | Total Visitors | Average Daily Census | Rank in Terms of Busiest Month for Total Visitors |
| January | 567,179 | 201,109 | 12 |
| February | 623,691 | 209,968 | 11 |
| March | 785,715 | 226,375 | 6 |
| April | 809,6123 | 235,398 | 5 |
| May | 774,144 | 221,727 | 7 |
| June | 841,809 | 264,942 | 3 |
| July | 919,154 | 277,444 | 1 |
| August | 829,669 | 242,692 | 4 |
| September | 691,794 | 206,643 | 10 |
| October | 726,059 | 214,120 | 8 |
| November | 725,469 | 220,352 | 9 |
| December | 871,870 | 266,967 | 2 |
The data shows that October is the 8th busiest month of the year in Hawaii, which isn't bad. It's part of the "shoulder season" here.
Which Hawaiian Islands Are the Busiest in October?
Of course, where you go matters. You'll see way more people on Oahu than you would if you traveled to Lanai or Molokai. 
This chart breaks down the visitors by island, so you can get a better sense of where you want to go based on crowd size:
| | |
| --- | --- |
| Island | Total Visitors in October 2022 |
| Oahu | 390,845 |
| Maui | 231,886 |
| The Big Island | 141,283 |
| Kauai | 109,158 |
| Lanai | 6,102 |
| Molokai | 3,280 |
And if you think October crowds are too big for your comfort level, a January trip after the New Years crowd has left will be your best bet. It was the slowest month of the year in 2022. 
This graph shows the monthly visitors for the four main islands throughout the year:
Is Hawaii Cheaper in October?
When planning your Hawaiian vacation, your accommodations will make up most of your budget. So let's look at how much you'll shell out to stay in hotel rooms here.
October isn't quite the cheapest month of the year for accommodations in Hawaii, but it's close. In September, the average is $373 a night, and in October, it's $377. So if you want to save money on your trip, you want to come during Hawaii's late summer or early winter. 
Hawaii can be an expensive vacation regardless of when you go. We show you exactly how much a vacation to Hawaii costs and the spending breakdown.
You'll also want to stay on Oahu. It's the least expensive of the four main islands for hotel rooms. That's why it's #1 on our ranking for the cheapest Hawaiian island to visit (you might be surprised at the most expensive island).
Here's a look at the average daily hotel rate in October for each island: 
| | |
| --- | --- |
| Location | 2022 Average Daily Hotel Price in USD |
| Maui | $527.81 |
| Oahu | $254.25 |
| Kauai | $364.18 |
| Big Island (Island of Hawaii) | $361.44 |
Average room rate data from the Hawaii Tourism Authority
So when you book a room on Oahu, you'll save over $100 compared to a room on any other island. That can really add up!
And while Maui is the most expensive island for accommodations, October is actually the cheapest time of year to get a hotel room there. So if you have your heart set on a fabulous Maui vacation, go in October.  
We have a complete Where to Stay database to help you search through our favorite hotels and vacation rentals on each island. We've stayed in and visited over 75 hotels and vacation rentals in Hawaii and we share only the best with you. It's easy to filter by island, price, and accommodation type (hotel or vacation rental) so you can find exactly what you're looking for.
This graph shows the averages throughout the year. If you're trying to plan your trip on a budget, this information can help.
Things to Do in Hawaii in October
While you can't beat the activities, festivals, and cultural events that happen over the summer, your October trip to the islands won't be boring. Check out our can't miss activities on each island. These are the things we recommend doing anytime of the year!
Here are some popular things to do in Hawaii this month:
Our favorite can't miss activities that we love to do year-round include:
No matter when you're heading to Hawaii, don't forget to download our free Hawaii cheat sheets before you arrive. 
You'll find can't-miss activities on each one, a map to help you plan your days, must-know tips and details for booking a vacation, and a few of our favorite grindz (eats!).
In addition, you'll join our bi-weekly newsletter that goes out to 42,000+ Hawai'i visitors. Every other week you'll receive real-time updates, tips, and fun facts to help you prepare. Sometimes we'll share discount codes for some of our favorite tour operators. You don't want to miss out, so grab your free cheat sheets today!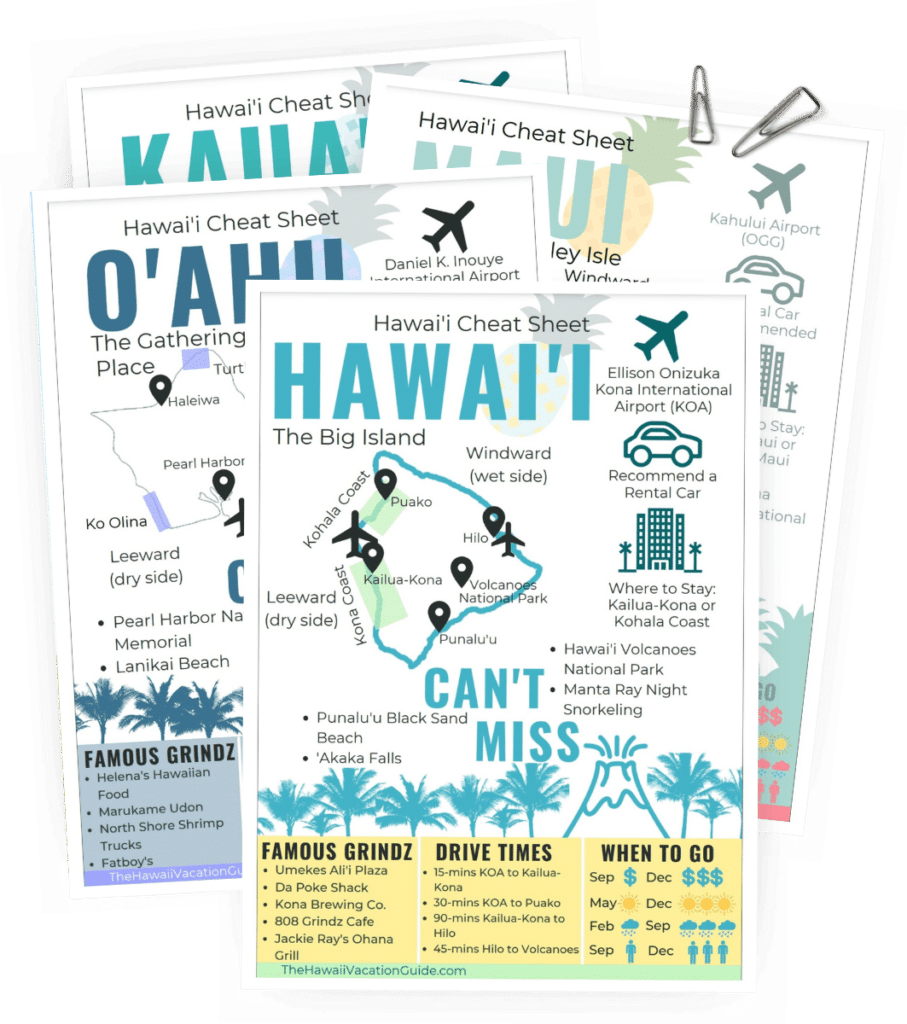 Free Download!
Hawaiian Island Cheat Sheets
Sign up & we'll send you our island cheat sheets so you can get to know the islands like the back of your hand!
We'll share 4 can't-miss activities on each island, a map with the main sights in town, & famous local grindz (eats)!