The 7 Best Vacation Rentals in Wailea and Makena
Disclosure: This post may contain affiliate links, meaning if you decide to make a purchase through my links we may earn a commission at no additional cost to you. Read about our affiliate policies here.
Staying in a vacation rental offers a more intimate and personalized experience that you likely won't get in a big beach resort or hotel. This is especially true on Maui, where there are numerous vacation rental properties where you can have your home away from home.
Wailea and Makena are two popular resort areas that serve as the perfect backdrop for beach enthusiasts and outdoor adventurers eager to bask in the unspoiled beauty of Maui's stunning coastline. And most importantly, you won't have to sacrifice the ocean views or the luxury amenities, as these vacation rentals in Wailea have everything you need for a relaxing and memorable stay.
Heading to Maui? Here are some helpful links for your vacation planning:
Check out our Maui Travel Guide for everything you need to know about the island and preparing for your trip.
Don't forget a thing with our Hawaii Vacation Packing List.
This Molokini snorkeling tour leaves right from a beach in Wailea and gets you to the crater FIRST!
Take a look at our activities page for the best tours on the islands and 33 Things to Do on Maui (+Things to Skip) for even more to do on the island
Wailea Vacation Rental FAQs
Where is Wailea?
Wailea is an upscale resort community on the island of Maui. It's located on the southwestern coast, just a few miles south of Kihei. It's also very close to Makena, another popular destination for vacationers and beach lovers.
And although it feels like a quiet and secluded part of the island, it's not far from West Maui or Kahului. If you're flying into the Kahului Airport, then Wailea is just a quick 30-minute drive away.
What is Wailea known for?
When most people think of Wailea, they likely picture a sparkling, lush coastline dotted with lavish resorts. And while this is true (Wailea has some of the most expensive hotels and resorts on the island), there's so much more to discover here during your visit.
In addition to its beautiful beaches, Wailea is also a great destination for sports enthusiasts. There are championship golf courses, tennis clubs, and the beautiful Wailea Beach Walk. And offshore, the ocean serves as an underwater playground for snorkelers, scuba divers, and kayaking.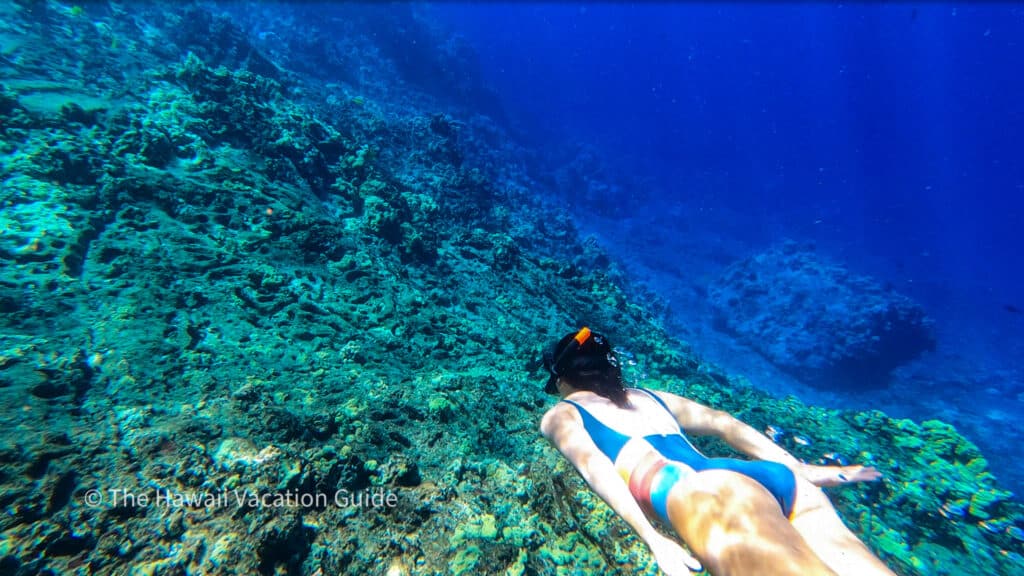 Check out some of our favorite things to do on Maui:
The 8 Best Road to Hana Tours: Find Your Perfect Guide
The 5 Best Molokini Snorkeling Tours
The 4 Best Haleakala Sunrise Tours (+ our 10% off code)
Is Wailea worth visiting?
There's a reason why Wailea is one of the most popular places for people visiting Maui. In some ways, it offers the quintessential Hawaiian experience, with its beautiful beaches, high-end resorts, and abundance of things to do to keep you occupied during your stay.
Check out a list of the best things to do in Wailea!
The beaches around Wailea are some of the best on the island (some would even say the best in all of Hawaii!). With gentle waves and powdery soft sand, they're the perfect setting for sunbathing, swimming, or water sports. All you have to do is take a stroll along the Wailea Beach Walk to see what we mean. This 1.6-mile-long paved pathway winds along the coast and takes you to numerous beaches and resorts in the area.
Although Wailea is more expensive than other parts of Maui, you don't have to stay in one of those mega resort to enjoy everything it has to offer. There are some fabulous vacation rentals that you can book to have a wonderful Wailea experience with the amenities and comforts of home.
Related reads:
Don't Miss the 15 Best Restaurants in Wailea & Kihei (by category!)
The 14 Best Things to Do in Wailea (+ how to get to Molokini FIRST)
Kaanapali vs. Wailea: Here's How To Decide Where You Should Stay
The 7 Best Vacation Rentals in Wailea and Makena
1. Palms at Wailea
A lush oasis in the middle of the world-famous Wailea Resort Community, the Palms at Wailea is an excellent place to stay for your Maui vacation. The apartment complex consists of 150 apartments, each one nestled within a two-story, Mediterranean-style building. Therefore, it feels more like you're staying in a private home rather than an individual 1- or 2-bedroom apartment.
Units are equipped with everything you need for a short or long-term stay. They have full kitchens, washers and dryers, and private lanais or patios for soaking up the sun. Keep in mind that apartments are individually owned, so they may or may not have an A/C unit installed (double-check the listing if this is important to you).
While the complex isn't directly on the water, it's only a 10 to 15-minute walk to Keawakapu Beach. But if you want to go for an early morning or late afternoon swim, you can always use the whale-shaped pool on the property. And because it's located a bit further inland, units tends to be a bit more affordable compared to other beachfront apartments.
2. Wailea Ekahi
Wailea Ekahi Village is one of the more affordable beachfront properties in Wailea. With a prime location directly on Keawakpau Beach, you're never more than a few steps from the ocean (or from the scenic Wailea Beach Walk that winds down the coast).
The 1- and 2-bedroom condos are spread out across 54 two-story buildings, so your unit will either be on the ground or second floor. Because they are individually owned, interiors and amenities will vary between apartments, but they do all come outfitted with kitchens, dining areas, and private lanais.
Additionally, Wailea Ekahi Village has some top-notch amenities available to guests. There are four swimming pools to choose from, including one that sits directly in front of the beach. No matter which building you stay in, you'll never be more than a few minutes away from a nice, refreshing dip in the water!
There's also a shuffleboard area, eight BBQ grills, and a beautiful outdoor pavilion overlooking the beachfront pool and ocean. With plenty of covered seats and tables, this is a great spot to have afternoon drinks or dinner with the whole gang.
3. Grand Champions
This country club-style resort is one of our top picks for those who want to be near all the wonderful activities that Wailea has to offer. Surrounded by tropical gardens, this 11-acre property is situated between the championship Old Blue Golf Course and the award-winning Wailea Tennis Center. On top of that, the beaches of Wailea are just a 15 to 20-minute walk away too!
There are 188 1-, 2-, and 3-bedroom units in Grand Champions. Apartments are located in two-story buildings (there aren't any elevators if you're renting one on the second floor), and are outfitted with full kitchens, dining rooms, washer and dryers, and outdoor lanais. Depending on your unit, you may overlook the tennis courts or golf course or even have a view of the ocean in the distance!
While there are tons of fun activities nearby, you don't have to leave the resort to enjoy your time here. That's because the resort also has two outdoor pools, two hot tubs, and two grilling areas. The pools are a bit on the small side, but they tend to be quiet and great for relaxing or sunbathing. All-in-all, Grand Champions is an excellent vacation rental for families or active travelers!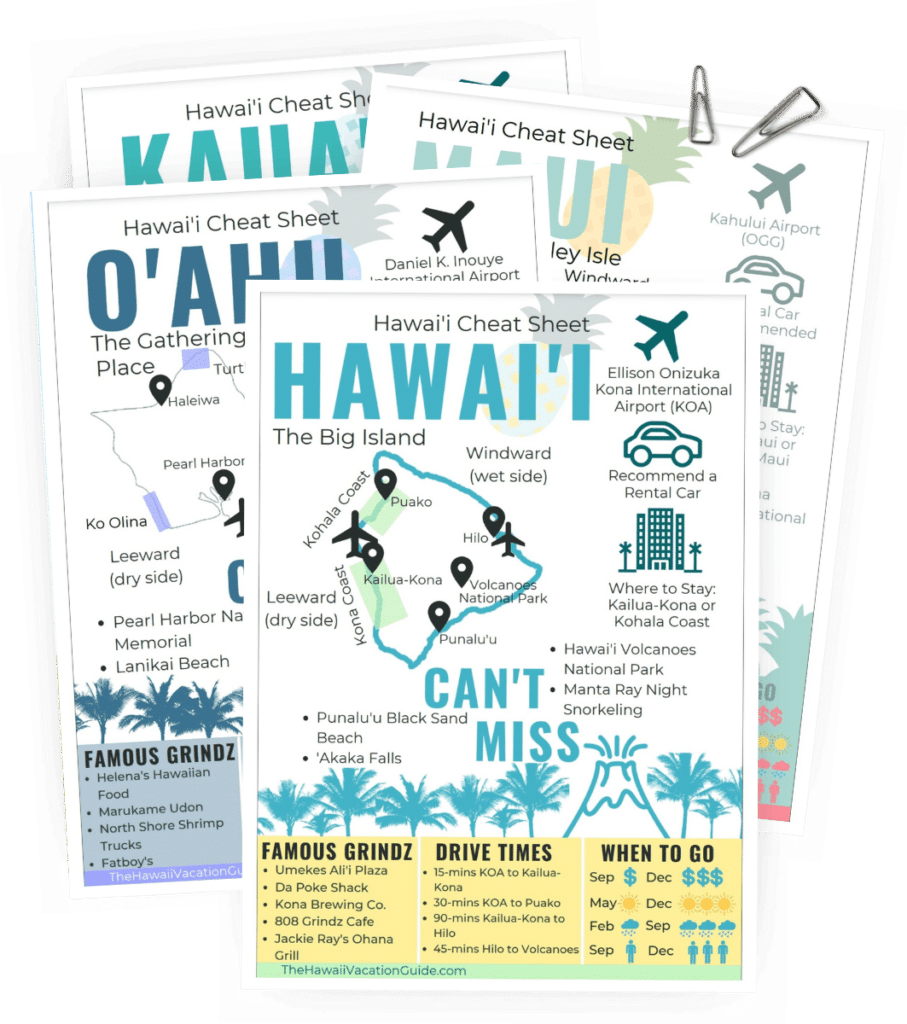 Free Download!
Hawaiian Island Cheat Sheets
Sign up & we'll send you our island cheat sheets so you can get to know the islands like the back of your hand!
We'll share 4 can't-miss activities on each island, a map with the main sights in town, & famous local grindz (eats)!
4. Wailea Elua Village
One of the biggest selling points of renting an apartment at Wailea Elua Village is that you'll be smack-dab in the middle of all the action! This 24-acre beachfront property spans the entire length of Ulua Beach, which is arguably one of the best beaches in Wailea for swimming and snorkeling. It's also just a 4-minute walk to the Shops at Wailea, so you can easily pop over there for meals or some retail therapy.
Many of the 1-, 2-, and 3-bedroom units are ocean-facing, so you won't have to leave your apartment to enjoy the pristine water views. And they're quite spacious (1-bedroom condos clock in at 1,000 square feet), so they're perfect for large groups or families.
Although the apartments are rented out by Hyatt, they are still individually owned. While most units are modern and stocked with necessities (even beach towels and chairs!), others may vary in style and amenities. Just make sure to read about your exact unit to see what is provided before you book.
We're also quite impressed with the on-site facilities, which can easily compete with those found at many nearby resorts. In addition to the two outdoor pools, Wailea Elua Village also has a fitness center, paddleball courts, and a putting green.
Related read: The 17 Best Maui Beaches (with parking, directions, and tips)
5. Ho'olei Villa
If you're looking for upscale accommodations, Ho'olei Villas are guaranteed to exceed your expectations. You'll feel like royalty when you stay here, as each of the 3-bedroom villas is elegantly designed and equipped to provide you with all the luxurious amenities and comforts you need for your trip.
First and foremost, the villas are huge. Measuring between 3,400 and 4,000 square feet, you and up to seven other guests will have plenty of space to sprawl out (the 3 bedrooms and 3.5 baths are spread out across two floors). There is also an open kitchen with a breakfast bar, a dining area, and laundry machines. But best of all, the sliding doors in the living room can completely open up to the private lanai, transforming your home into an idyllic indoor/outdoor space!
This is not a waterfront property, but it does have its own waterfall pool, kid's pool, and fitness center. And since it's located within the Grand Wailea resort, you'll also get to enjoy all the amenities and pools like a normal hotel guest. You can also catch the free shuttle from the resort, which will take you directly to the golden sands of Wailea Beach.
It's definitely one of the more expensive vacation rentals in Wailea, but it's worth it if you want a truly VIP experience!
6. Polo Beach Club
Polo Beach Club is located between Wailea and Makena, just a stone's throw away from Polo Beach. It's one of the last buildings on the Wailea Beach Walk, which means you can reach other beaches, resorts, and restaurants with ease.
Unlike other vacation rental properties on this list, all the apartments at Polo Beach Club are located in one 8-story building. While you won't have that sense of staying in a private residence, every apartment does have some sort of ocean view from the lanai and master suite, which is a huge perk!
All the units have 2 bedrooms and 2 bathrooms, so they are perfect if you're traveling with groups or large families. They also have large kitchens, washer and dryers, and air conditioners!
The resort grounds are immaculate and feature a swimming pool, hot tub, BBQ grills, and herb garden. However, with a prime location like this, we bet you'll be spending most of your time down by the beach! It's rarely crowded and a great place if you want to go swimming or snorkeling.
7. Makena Surf
If you can't decide between a beach resort and a vacation rental, Makena Surf is the perfect blend of both worlds. Not only will you get the comforts of home, but you'll also have a few hotel-like amenities, including a pool, hot tub, tennis courts, and on-site security! There are herb gardens and grill stations that are available for guests to use, too.
This luxury property has 1-, 2-, and 3-bedroom units in a variety of sizes and floorplans. They're all quite large (the smallest apartment is over 1,000 sq ft in size) and boast stunning views over the Pacific Ocean. Each air-conditioned unit also has a fully equipped kitchen and a covered patio that can be accessed through the floor-to-ceiling glass door. However, they are all individually owned, so check the photos and amenities of your exact listing to see what is included with your stay.
Makena Surf is one of the only vacation rental properties in Makena, so it's a no-brainer if you're set on staying in the area. And while it's a beautiful condominium with a breathtaking beachfront location, it can be a tad far from civilization. If you want to go to Wailea or other parts of the island, plan on renting a car (parking is free).
Related reads:
9 of the Best Vacation Rentals in Kihei (+1 Great Hotel Option)
7 Best Wailea Happy Hours
14 Amazing Things to Do in Kihei: your South Maui bucket list
Finish your Maui vacation planning
Now that you have an idea of where to stay in Wailea, don't miss out on the rest of Maui! Our Grab and go Maui Wayfinder Itinerary takes you around the entire island so you see the best it has to offer and don't waste a moment of your vacation time. From full excursion days all the way down to where to park we've done all the work for you.
Your vacation guide was absolutely amazing. Traveling to Hawaii required 100s of decisions from where to stay, what to eat and what to do, and you made it a TON easier. All of your restaurant suggestions were fantastic.

Rebecca S.
Get The Maui Itinerary
The step-by-step itinerary takes you to all the best beaches, snorkeling spots, restaurants, and sights. You'll get six carefully planned excursion days to help you see the can't miss stops no matter how limited your time is.
Get all the details on our itinerary and download it for a memorable and easily planned trip to Maui.