The 7 Best Kauai Hotels for Couples
Disclosure: This post may contain affiliate links, meaning if you decide to make a purchase through my links we may earn a commission at no additional cost to you. Read about our affiliate policies here.
When it comes to romantic destinations, it's easy to see why Kauai is a top choice for couples. The idyllic setting of golden sand beaches and lush mountain landscapes forms an enchanting backdrop for celebrating your anniversary, honeymoon, or special occasion.
But with a wealth of options to choose from, finding the perfect hotel for your getaway can be exciting and challenging at the same time, which is why we've curated a list of the best hotels for couples. Whether you're searching for a luxury resort on the beach or a romantic retreat in the jungle, we know you'll create lasting memories at any of these stellar Kauai hotels.
Let us make your Kauai trip planning easier:
Our FREE cheat sheets give you all the need to know information for planning a trip to Hawaii (including the best restaurants and can't miss activities)
Check out our Kauai packing list for a great vacation without forgetting a thing
If you're planning a couples vacation, you'll love our article on planning a romantic vacation
Our Activities database will help you find things to do (hello sunset sails) for your trip.
Best Kauai Hotels for Couples FAQs
What side of Kauai is the best to stay on?
Kauai is a relatively small island, but its still crucial to choose which side you want to stay on. The South Shore is probably the most popular area for visitors, as it's sunny and dry for most of the year. It's also where you'll find many of the big resorts and hotels. The North Shore is also a good base in the summer if you're here for the cute towns and lovely beaches. But we don't recommend staying here in winter as the waves can be too rough and dangerous.
You may also think about the West Shore, a remote and beautiful area known for its hiking. Accommodations here are a bit limited, but you'll be very close to Waimea Canyon and the Napali Coast. Budget travelers may also consider the East Shore, as it is centrally located to the rest of the island and tends to have the most affordable accommodation options.
What's the best time to go to Kauai?
Taking into consideration the weather, hotel prices, and crowds, we strongly suggest visiting Kauai in May, August, September, or October. We give you all of the need to know information for timing your visit in our article, The Best Time to Visit Kauai, so you can check out month by month information to plan your stay.
The weather on Kauai can be more temperamental compared to the other Hawaiian islands, especially during the winter. Not only does it rain more often, but the temperatures also drop into the mid-70s (which is a bit colder than the average 80s temp in summer and fall). But if you're basing your trip purely on warm sunny days, then summer is definitely the best time to go.
Unfortunately, summer is also the busiest time of the year in terms of tourism. If you want nice weather but don't want to break the bank on flights and hotel costs, then visiting in May, August, September, and October is better.
Is Kauai good for a honeymoon?
Absolutely! Between the stunning landscapes, romantic beaches, and abundance of outdoor activities, Kauai is an incredible destination for newlyweds and honeymooning couples. Although it may not be as popular as Maui, this gorgeous island makes the perfect backdrop for your post-wedding escape.
You'll ideally want to spend at least five days on the island, although there are plenty of things to keep you occupied if you choose to stay on Kauai for seven days. This will give you time to sightsee and participate in excursions in addition to having a few days to just chill on the beach. Looking for honeymoon ideas? We detail a full 7 day Kauai honeymoon itinerary.
Besides hitting up the beaches, you can also explore the Napali Coast, Waimea Canyon, and tons of beautiful waterfalls. Plus, there are many cute hotels and delicious restaurants to make your trip even more memorable.
Check out the best Napali Coast boat tours for a memorable honeymoon activity!
The 7 Best Kauai Hotels for Couples
1. Koloa Landing Resort
When it comes to luxury stays, the Koloa Landing Resort is easily one of the best resorts on the entire island. It's located on a stunning 25-acre property that overlooks a rocky bluff on Kauai's Southern Shore. The resort is oceanfront, although it does not have direct beach access. On the other hand, this 5-star property is just a short 10-minute walk to Kiahuna Beach or a 20-minute walk to Poipu Beach.
However, the location is only one of the many reasons to stay here on your romantic getaway. The rooms are large and spacious (the most basic room is 500 square feet), the service is impeccable, and the pool complex is a tropical paradise in itself. In fact, the hotel has won an award for having the best pool in the entire country!
And if you're hoping to do more than lounge by the pool, then there are some great on-site activities to participate in. For example, you can book a couple's massage in the spa, make s'mores by the bonfire, or take a complimentary yoga class together.
We stayed here with our family, but we can only imagine how romantic it would be to come without the kids. With top-notch service, spectacular views, and ultra-comfy rooms, it's undoubtedly one of the best hotels for couples on Kauai!
Related read: The Best Beaches in Poipu
2. Grand Hyatt Resort
The Grand Hyatt Resort is located in a quieter area of Poipu just steps from the famous Shipwreck Beach. The property is a tropical oasis with swaying palm trees, manicured gardens, and jaw-dropping views of the ocean.
The rooms are large and decorated with modern Hawaiian decor, which really adds to the ambiance of the resort. If you're looking to splurge (because why not!), then you can also book one of their ocean-view or pool-view suites.
And speaking of the pool – the one at the Grand Hyatt is really outstanding. We also love that there's a lava-rock-lined lazy river and a 150-foot water slide, which is just as fun for couples as it is for kids and families!
There's also a 1.5-acre saltwater lagoon with a small sandy beach and even little islands that you can swim to. With so many places on the hotel grounds to lay out, you won't even need to step foot on the beach (although we highly recommend you do because Shipwreck Beach is great for surfing, boogie boarding, or sunset watching).
Heads up! The Grand Hyatt Kauai is one of our favorite hotels to Book With Points. If you want to see exactly how we earn the points and book a stay, check out our new site, Booked With Points. We walk you through how to get FOUR fabulous nights for free.
Related read: 20 Things to Do in Poipu
3. Ko'a Kea Resort
There's a reason why this is one of the best hotels for couples on the island! Named as one of TripAdvisor's most romantic hotels in the world, the Ko'a Kea Resort has carefully curated its activities to make your special vacation a spectacular one. You can book candlelit dinners, soothing spa services, or adventurous activities like snorkeling, hiking, or sailing. 
The only downside of staying here is that the pool is on the small side, especially compared to other resorts on this list. However, you'll be just minutes away from both Kiahuna and Poipu Beach if you're craving to be in the water. And even though you're in the center of everything, the resort is surprisingly laid-back and quiet (kids are allowed, but most families choose to stay at one of the lively resorts in Poipu).
After a long day, you can head back to your room for some rest and rejuvenation. The resort has various room types and categories, but the majority are ocean-facing with private lanais. Or, for a special treat, you can book the Wai Nui Oceanside Couples Experience, which is a side-by-side massage in an outdoor, oceanfront setting.
There are some great restaurants on-site, but you can also enjoy a private 6-course dining experience on the beach. And if you don't want to dine out, you can always order room service to spend some quiet, 1-on-1 time with your honey.
If you're planning your trip in the winter, check out Whale & Dolphin Watching from Poipu (small group size)
4. 1 Hotel Hanalei
Overlooking Hanalei Bay on the North Shore, the luxurious 1 Hotel Hanalei is a remarkable destination that is more like a sanctuary than a beach resort. When you and your significant other stay here, you'll be able to take advantage of the ample wellness amenities such as the sustainable spa or the vitahealth center. You can even participate in a variety of private or group classes like flow arts, yoga, and crystal healing.
Of course, there are plenty of ways to spend a lazy day here, too. Take a ukulele lesson, lounge by the pool, or indulge in sustainable farm-to-table dining at one of the seven bars and restaurants. Best of all, there's no resort fee, which is quite unusual for a Hawaiian resort of this caliber.
The hotel room exudes an Instagram-worthy aesthetic with its bohemian decor, tropical colors, and picture-perfect views of the mountains, ocean, or gardens. For a more tranquil experience, you can also book one of the Within Wellness rooms, which comes with a temperature-controlled bed, infrared mats, muscle massagers, and sleep-enrichment lighting.
If you plan on staying on the north shore of Kauai, you'll want to read The 12 Best Things to Do in Hanalei.
5. Poipu Kapili
You don't have to book a fancy resort in order to have a memorable couples trip to Kauai. At the beautiful plantation-style Poipu Kapili, you can stay in a one or two-bedroom condo and enjoy hotel-like amenities while also having the comforts of home.
All the units on the property are individually owned, so the exact look and feel of the condo will depend on the rental. However, they're very spacious (ranging from 1,100 square feet to 1,800 square feet) and come with large kitchens, separate living rooms, and washers and dryers. Unfortunately, air conditioners are not guaranteed, so make sure your rental has this if it's important to you!
While there aren't any organized activities, the are some excellent facilities available to guests staying at the Poipu Kapili. There's an ocean-view swimming pool, tennis and pickleball courts, outdoor BBQs, and an on-site front desk and concierge service. If you're seeking a more intimate hotel, this is a great option, as the small complex size is a nice change from the larger resorts around Poipu.
While you're staying on the south shore, check out the Best Surf Lessons on Kauai (near Poipu Beach).
6. The Lodge at Kukui'ula
The Lodge at Kukui'ula is another resort with three distinct neighborhoods that you can choose from. First, there are the Club Villas, which are large and contemporary 4-bedroom homes with private pools. Then, you have the 2- or 3-bedroom Club Cottages, which have little yards and personal fire pits. And if you're going for cozy and intimate, you can book a 1-bedroom Club Bungalow (the outdoor lava shower is really amazing!).
The best thing about staying here is that all guests will get exclusive access to the Club at Kukui'ula. Facilities include an 18-hole golf course, a spa and wellness complex, two restaurants, an infinity pool, an activity outfitter, and even a 10-acre organic farm. Feel free to harvest anything in the garden for yourself or head to one of the restaurants to enjoy a meal using the fresh produce.
And if you're still bored, you can also check out their action-packed schedule of events. From early morning power walks and HIIT circuit training to farm tours and trivia nights, there's always something to keep you and your loved one entertained.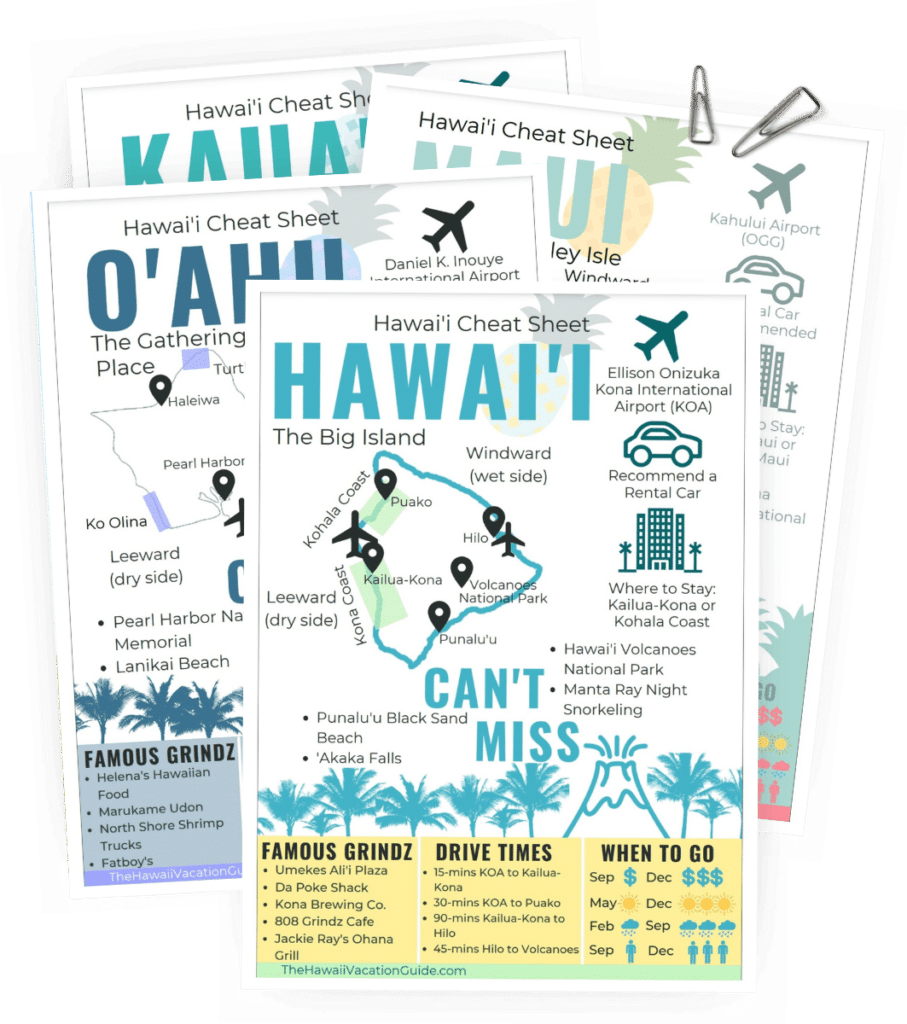 Free Download!
Hawaiian Island Cheat Sheets
Sign up & we'll send you our island cheat sheets so you can get to know the islands like the back of your hand!
We'll share 4 can't-miss activities on each island, a map with the main sights in town, & famous local grindz (eats)!

While you're on Kauai, you won't want to miss a Napali Coast Sunset Dinner Sail
7. Waimea Plantation Cottages
With a prime location near downtown Waimea, the Waimea Plantation Cottages is a secluded oceanfront hotel set on 43 lush acres. This historic resort was once a prosperous sugar plantation that was founded in the mid-1880s. After the plantation closed, the buildings were renovated and turned into vacation rentals. There are now 59 cottages in the resort- all of which were built between the 1880s and 1930s. 
Couples will have plenty of space in a 1-bedroom cottage, although 2-, 3-, 4-, and 5-bedroom units are also available if you need more room. While each of the cottages are unique in terms of layout and design, they all come with fully-equipped kitchens, living areas, and private lanais.
The 2-mile black beach out front is perfect for a leisurely stroll (it's a little too murky for swimming), but you can always take a dip in the resort pool if you want to swim. And if you don't feel like cooking, you can always grab food at the on-site BBQ restaurant.
Related reads:
How to Visit Multiple Islands in 2 Weeks: Itinerary Included!
13 Reviewed Hawaii Wedding Officiants: Don't let just anyone marry you
12 Best Hawaii Wedding Photographers (plus, be your own photographer)
The Best Kauai Itinerary
Keep the vacation planning momentum going with the only Kauai Itinerary you'll need. Full of excursion days, wonderful restaurants, and everything you need to know to get around the island like a seasoned pro.
We just returned from a fabulous trip! My husband and I spent 2 weeks in Kaua'i celebrating our 30th wedding anniversary. We used your itinerary in preparation and probably checked it several times a day. I am grateful for your work and the heart you put into your guides and videos.

Erica Alexander
Get The Kauai Itinerary
The step-by-step itinerary takes you to all the best beaches, snorkeling spots, restaurants, and sights. You'll get six carefully planned excursion days to help you see the can't miss stops no matter how limited your time is.
Get all the details on our itinerary and download it for a memorable and easily planned trip to Kauai.