12 Reviewed Hawaii Wedding Officiants: Don't let just anyone marry you
Disclosure: This post may contain affiliate links, meaning if you decide to make a purchase through my links we may earn a commission at no additional cost to you. Read about our affiliate policies here.
Erica and I pride ourselves on recommending tours and activities that we have done. We hop on that snorkel boat, down cocktails on a sunset cruise, and ride the Road to Hana to give you the best of the best in Hawaii tours.
But, we have no plans to get married on each of the major Hawaiian island for you. So, we studied reviews, online forums, websites, leaned on our Hawaii knowledge, and pretended to be a stressed-out bride and groom to make this list of Hawaii wedding officiants because we get it. Planning a destination wedding or vow renewal ceremony is hard.
We hope this list helps you pick the right officiant for you, even if that officiant is your best friend. We have no affiliation with any of the officiants on our list. Nor do we earn a commission when you book with them.
We wanted to be sure everyone could be taken care of with this list, so we made sure to include officiants who will perform ceremonies from all different religions as well as non-religious ceremonies. Since we feel it's important that no one is turned away for their beliefs or who they are, all of the officiants we recommend are LGBTQ+ friendly.
Iron out the rest of your wedding details here:
Pick where to stay on the island of your choice.
If you'll need a rental car, check out our discount recommendations.
Pick a few pre- or post-wedding activities to unwind. From sunset sails to all-out adventures, you'll be able to find something that will help you shake off the nerves!
Get to know the island with our Maui, Kauai, Oahu, and Big Island travel guides.
Hawaii Beach Wedding 101
Here are the basics on planning a beach wedding or vow renewal in Hawaii.
For vow renewals, you do not need someone who is legally ordained because it isn't a legally binding ceremony. So you could have a friend or family member perform the ceremony to your liking or choose anyone from the list below.
Beach permits are required for beach weddings and can be obtained by following the official instructions here. In order to get a permit, you'll also need to get liability insurance for the event. Most insurance providers offer this.
Pro Tip: Only one permit is required for the whole event. So if you hire a wedding planner, a photographer, or someone else who includes a permit in their package, you don't have to worry about getting the permit.
If you do plan to have a beach wedding, just understand that this will not be a rager.
Your permit will be limited to a maximum of 2 hours and fewer than 25 people in total. The 2 hours include setup and teardown, which will be minimal as no structures (such as arches) are allowed. And remember, all beaches in Hawaii are public, so while you should have no problem finding free space to get married, you can't ask people to move or leave the area.
If you're just looking for an intimate experience with a few good friends and family, it's absolutely possible to DIY it. And when I say DIY it, I mean it. You don't need to hire an officiant. Your high-school buddy or your one normal uncle can get ordained online for free and get registered with the state of Hawaii for $10. Read more on getting ordained in Hawaii.
To help you choose a beach for your DIY ceremony, see our 24 Best Beaches in Hawaii or our list of beaches for a Hawaii Beach Photoshoot. Also, determine the Best Time to Visit Hawaii for your ceremony.
Related reads:
How to Plan the Ultimate Hawaii Romantic Vacation
7 Best Maui Sunset Cruises For a Great Night Out
Your Maui Honeymoon: 10 Unforgettable Activities for Couples
Hawaii Wedding Officiants
Now that you know the basics of a beach wedding in Hawaii, let's get into finding you the best officiant possible. In addition to providing services for all religious backgrounds and being welcoming to the LGBTQ+ community, there were a few more criteria we looked for.
Pricing transparency: we didn't want you to be surprised by what you would be paying, even if it was only a ballpark figure. A reasonable range for a simple service is between $250-$400 (though some on our list cost less). When you get into packages, additional services, and generally more frills that's when you'll start getting into 4-digit figures.
Client experience: we really dug into the reviews. Anyone can look good on a website and then provide a poor-quality service. These officiants have overwhelmingly positive and recent reviews. In the case that someone didn't have a perfect experience they handle it with integrity and make client satisfaction a priority.
Island style ceremonies: a Hawaiian wedding may not be complete for you if you're looking for traditional Hawaiian elements to be included in your ceremony. While not all of these officiants explicitly provide island-style ceremonies, we made sure to point out those who do.
A note on religious ceremonies: some officiants only provide non-religious ceremonies, others have a list of ceremonies they provide, and others are very unspecified but also unrestricted in the type of ceremony they will provide. If an officiant provided a specific list, we included it, but their lists aren't necessarily exhaustive of the services they offer.
Plus all officiants provide the following at a minimum:
Filing the marriage license
Officiating, of course
Permit(s)
A planning process to sort out details for the type of ceremony you want.
Assist in obtaining your marriage license as it is via appointment only. Obtaining your marriage license costs $65, which is not covered by any officiants.
Officiants that Cover All the Hawaiian Islands
Get a loved one to marry you!
There are a million reasons getting someone close to you to officiate is a great option. Among these are:
Price: weddings can be expensive enough, it costs next to nothing to get ordained and registered.
Intimacy: while the below recommendations are wonderful, you may just want someone who has known you for a long time.
Beliefs: there are huge differences in beliefs even among the same religions, those close to you likely have a solid understanding of how you want your beliefs to influence your ceremony.
Your officiant plays a vital and intimate role in your ceremony and can be a member of your wedding party, giving a loved one a role they perform with pride.
Cost: $10
Religious ceremonies offered: up to you!
A Rainbow in Paradise: Kauai, Oahu, & Molokai
Kalona and her team do everything, they can cover every single aspect of the wedding planning process. She has a solid network of vendors and can do small, simple weddings all the way to large venue-based weddings with entertainment, a DJ, and catering. We also love that they are able to provide services for all belief systems.
Cost: $395-$4,500+
Religious ceremonies offered: Non-Denominational, Christian, Jewish, Hawaiian, or a custom religious or non-religious service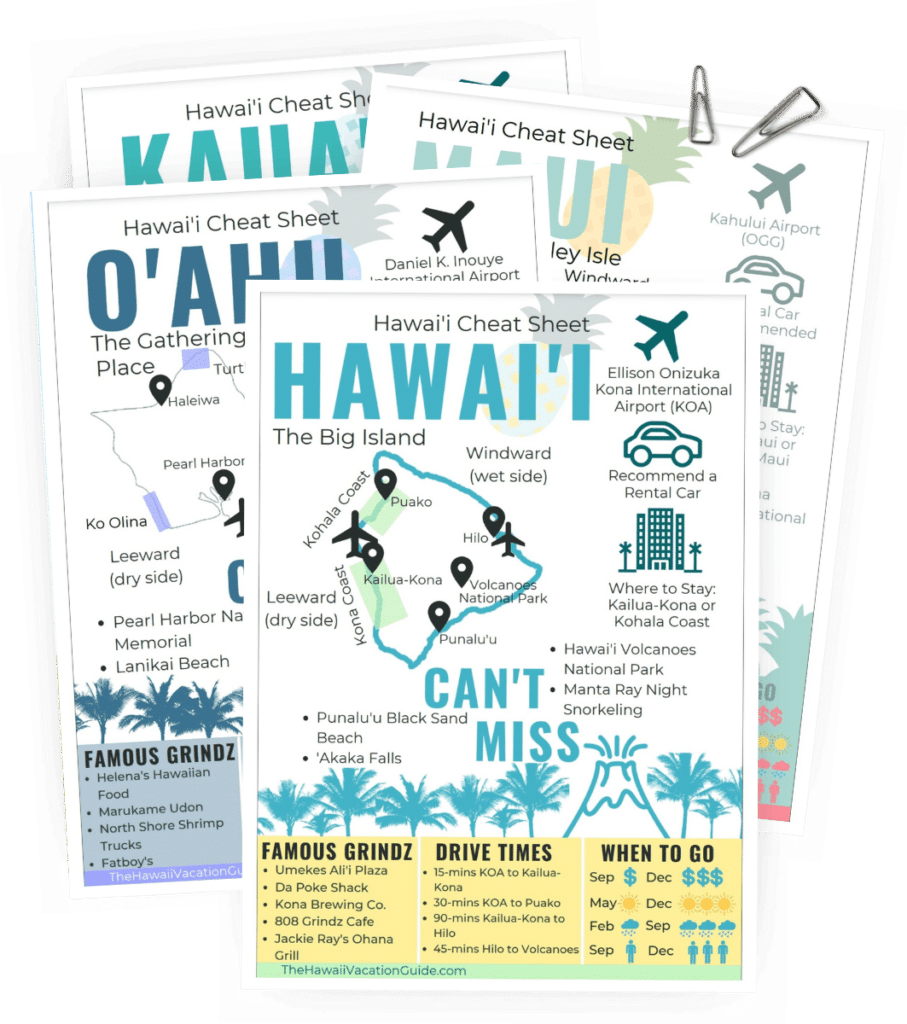 Free Download!
Hawaiian Island Cheat Sheets
Sign up & we'll send you our island cheat sheets so you can get to know the islands like the back of your hand!
We'll share 4 can't-miss activities on each island, a map with the main sights in town, & famous local grindz (eats)!
Kauai
Frieda Gayle
Frieda is no-nonsense, no frills in a very positive way. Her focus is on making the couple happy and customizing the experience to perfectly fit their needs without surprise costs. She is also happy to provide vendor recommendations.
Cost: $150-$350
Religious ceremonies offered: non-religious
Julie D. Wirtz
Julie comes highly recommended by photographers, her clients, and other vendors on the island. She also has an incredible list of vendor recommendations, she is a fantastic resource.
Cost: $150-$350
Religious ceremonies offered: non-religious
Island-style ceremonies: Yes
A Rainbow in Paradise
A Rainbow in Paradise serves multiple islands and they really are the best on Kauai if you're looking for a religious approach as there are surprisingly few options for religious officiating on Kauai. Even if you don't want a religious ceremony, Kalona and her team are still a phenomenal choice.
Details are the same as the above description for A Rainbow in Paradise.
If you're looking for somewhere to stay on Kauai, check out The 7 Best Kauai Hotels for Couples.
Maui
Rev Julienne
Rev Julienne's personality really shines through and you can be sure you won't get a cookie cutter script. She wants to get to know you and create an experience tailored to who you are as a couple and your story together. We've looked at a lot of officiants and Rev Julienne is really someone special and an excellent choice.
Cost: $250-$375+
Religious ceremonies offered: Christian, secular, Buddhist, Jewish, humanist, Catholic, Pagan, Wiccan, non-religious, agnostic, atheist, earth-based, traditional, and Hawaiian-inspired.
Island-style ceremonies: Yes
Distinctive Weddings by Joseph Narrowe
Joseph Narrowe comes highly recommended by various wedding planners around the island and clients alike. Plus he provides a variety of ceremony types and offers a more comprehensive package option
Cost: $400-$1,350+
Religious ceremonies offered: Non-denominational traditional/ religious/poetic/romantic/spiritual, non-religious (no mention of God), New-age, Eastern/philosophical, Interfaith—traditional and non-traditional, Jewish
Chrissy Kapoor
Customization is the name of her game, she wants to provide a service that speaks to who you are as a couple, and she keeps it simple with what she offers. She has plenty of vendor recommendations and she is all about perfecting the ceremony.
Cost: $400-$700
Religious ceremonies offered: Open to all
Big Island
Kona Wedding Officiant, Deanna DiMichele
Deanna offers a lot of different packages to take care of almost every detail of your wedding. She is an adventurer herself, so there are plenty of options for more adventurous weddings. She also has an online booking system that makes the whole process easier. Of course, you can always contact her to build a more custom service!
Cost: $495-$895+
Religious ceremonies offered: open to all
Island-style ceremonies: Yes
Michaela Lehuanani Larson
Michaela is so warm and welcoming to all. She loves having family involved in ceremonies, so that is always an option whereas many other officiants don't include this. She also has a really affordable service for those just wanting the legal piece handled, so your options are wide open.
Cost: $100-$1,595
Religious ceremonies offered: non-religious (but she will honor/include religious traditions upon request)
Island-style ceremonies: Yes
Aloha Beach Weddings, Margarita Ogarkova
Margarita has rave reviews, there are so many happy couples who just cannot speak highly enough of her. She also offers all-inclusive packages so you really don't have to worry about anything.
Cost: $380-$2,760+
Religious ceremonies offered: open to all
Island-style ceremonies: Yes
Oahu
Wild and Free: Chelsea & Alana
They are not about the formalities and the fluff as much as they are about the commitment that's being made and how that manifests for you as a couple. Blaze your own trail, create your own traditions, and write your own story. They're about honoring your relationship by going against the grain, no matter what that looks like for you.
Cost: $300-$2,500+
Religious ceremonies offered: untraditional, they are happy to incorporate traditions as requested.
Nicole Van Diver
Nicole offers many different options for ceremonies, including adventurous ones, yacht ceremonies, and all-inclusive (officiant + photography) packages.
Cost: $120-$975+
Religious ceremonies offered: open to all, Nicole has a master's in Divinity and has done deep dives into an array of religions, and non-religious ceremonies are offered as well.
Related reads:
Your Perfect 7 Day Kauai Honeymoon Itinerary
12 Best Hawaii Wedding Photographers (plus, be your own photographer)
Hawaii Beach Photoshoot
Whether you're planning your wedding yourself or you have someone taking care of the details for you, let us take planning the rest of your time in Hawaii off your hands. If you're doing a destination wedding turned honeymoon or you just have a day or two to explore, our itineraries will help you go worry-free. From excursion days, where to eat, where to stay, all the way down to where to park, these itineraries have it all.