Can You Bring Your Dog to Hawaii? This is How to Avoid Pet Quarantine
Disclosure: This post may contain affiliate links, meaning if you decide to make a purchase through my links we may earn a commission at no additional cost to you. Read about our affiliate policies here.
When we were moving from London to Maui, we had one big issue we needed to solve: how to transport our beloved dog, Hattie. We knew it was possible to bring her to Hawaii but we'd heard horror stories of dogs needing to be quarantined for six months upon arrival in Hawaii.
We knew we couldn't do that to her. Did we have another option?
Yes, you can bring your dog to Hawaii, but in order to avoid the six-month quarantine, you'll need to apply for Direct Airport Release (DAR). You'll need to start this process months in advance of arriving in Hawaii. We'll cover exactly how we navigated the process and what we learned.
There's a lot of planning that goes into bringing your dog to Hawaii, we'll also help you plan the other aspects of your journey with 15 Essential Planning Details.
How to take your dog to Hawaii without quarantine
The Hawaii Department of Agriculture has checklists to walk you through the process of taking your dog to Hawaii. They are a great resource, but in truth, I found it to be a little confusing at times.
There are multiple checklists to choose from, depending on your situation.
Checklist 1: your dog isn't located in Hawaii and you'll be flying with your dog to Honolulu (Oahu)

Checklist 2: your dog isn't located in Hawaii and you'll be flying with your dog to Kona (Big Island), Lihue (Kauai), or Kahului (Maui)

Checklist 3 & 4: applicable to dogs that are currently in Hawaii, will be leaving the island and will be returning to the state at a future date
We were flying directly from the mainland to Maui, so I followed the process in Checklist 2.
Step 1: Ensure your dog has a working microchip
This is important to get right before starting your process: ensure your dog has a working microchip.
The microchip number will be used to identify your dog upon arrival in Hawaii and the number is used on the blood test that your dog will need to pass. If your dog doesn't have a working microchip, get one implanted.
Step 2: Get your dog two rabies vaccinations
Hawaii is a rabies-free state (amazing!) and the strict rules they enact is their way of protecting their habitat to keep it rabies-free. Hawaii is the only rabies-free state in the union.
That means they need to make sure that every animal coming into the state has enough rabies antibodies built up in their bloodstream.
To do that, your dog needs to have had at least two rabies vaccinations in their lifetime, and the most recent rabies vaccination must be active (not expired) before they arrive in Hawaii.
Hattie hadn't had any rabies vaccines in her lifetime (the UK is rabies-free) so we needed to get her two vaccines. The vaccines needed to be 30 days apart and we needed to also wait 30 days after the second vaccine to do her blood test.
Planning and plenty of time are key to ensure that you get this all done before you want to bring your dog to Hawaii!
Two things to note here:
You'll need to get a vaccine certificate from your vet, certifying the date that they gave the vaccine, and submit this to the Department of Agriculture when applying for your permit.

If your dog doesn't pass the antibody test (step 3), you'll likely need to get another vaccine, wait 30 days, and test again.
Step 3: Get the FAVN antibody test
Now that you've gotten your dog two rabies vaccines and you've given them time to build up rabies antibodies, it's time to get a blood test using one of the three approved labs.
This was the most complicated part of the process for us as we were coming from the UK. It should be much easier to get this done if you're living in the US. Provide your vet with the lab names and they should be able to coordinate getting samples shipped to them.
Your dog's blood samples will be mailed to the lab and the lab will send the results (pass or fail) directly to the Department of Agriculture in Hawaii. You should also receive a copy of the results from your vet
If you want to check the status of the test and ensure the results were received by the Hawaii Department of Agriculture, you can search using the Animal Quarantine Microchip Search.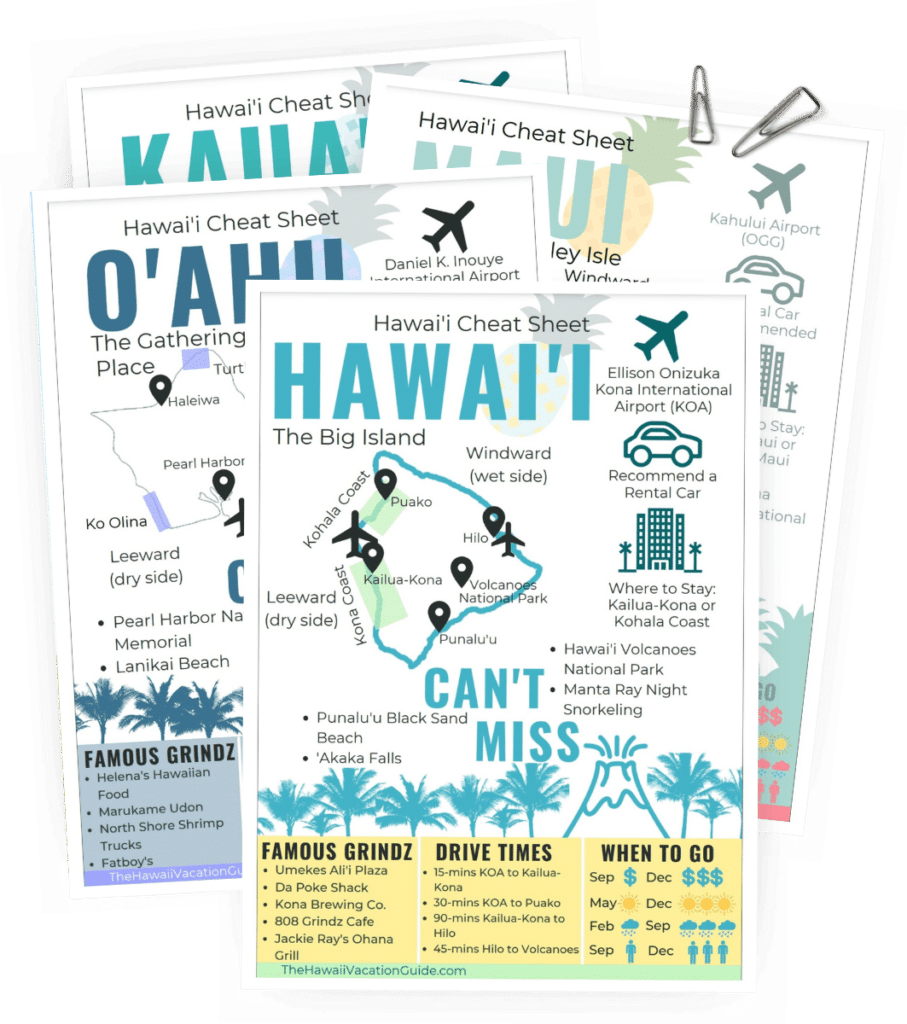 Free Download!
Hawaiian Island Cheat Sheets
Sign up & we'll send you our island cheat sheets so you can get to know the islands like the back of your hand!
We'll share 4 can't-miss activities on each island, a map with the main sights in town, & famous local grindz (eats)!
Step 4: Apply for a permit
Once you've done all the hard work, this is where everything comes together. Before you apply for a permit, you should do two things:
Find a vet inspector on the island to meet you at the airport and clear your dog. This isn't necessary on Oahu. We worked with Melissa from At Home Animal Hospital on Maui and she was great.

Book a flight with an airline that participates in the direct airport release program. We flew with Alaska and had no problems.
Once you have those two details worked out, it's time to apply for your permit. If you're not sure of the details, the vet that you choose on the Hawaiian islands can help you work through the application process.
If you're applying for a neighbor island inspection permit, submit your application paperwork at least 30 days before you plan to arrive in Hawaii. The documentation you'll need to send in includes:
A completed and signed dog and cat import form

$165 cashiers check or money order

Original rabies vaccination certificate for the two most recent rabies vaccines

Flight information for your arrival flight into Hawaii
We also sent in a shipping label for the Department of Agriculture to use to overnight our permit to us. We were really nervous about getting the permit back in time for our flight.
Step 5: Receive your neighbor island inspection permit
If you're flying to one of the neighboring islands like we were, the Department of Agriculture will mail you back a permit. This is the permit that you'll need to present to your airline before you leave for Hawaii (they will check) and you'll need to give this to your vet when you arrive.
So treat this permit like gold.
Step 6: Get a health check
No more than 14-days before the flight, head back to your vet to have them perform a health check and certify that your dog is OK to fly. At this appointment, you'll also want to have your dog treated for ticks because your vet will need to note that on the health certificate as well.
Step 7: Fly to Hawaii and meet your vet upon arrival
It's a lot of work and it takes a lot of time to get your furry friend to the islands with you. But, it's worth it. I was really nervous about the process and wasn't sure what to expect when we landed, but it couldn't have been easier.
Our vet met us at our gate, scanned Hattie's microchip number, reviewed the permit paperwork, and we were off. It was the easiest part of the entire process.
Yes, the process to get your dog to Hawaii is long. But if you're making the move, it's more than worth it. Now Hattie gets to enjoy the beaches of Hawaii and lay in the sun on our lanai all day. She loves it and we love having her here.
How much does it cost to fly a dog to Hawaii?
For your dog's flight, rabies blood test, health certificate, and permit, you can expect to pay over $500. We paid $755 to bring our dog to Maui, broken down by cost:
Flight: $100 (Alaska Airlines fee. The fee on Hawaiian Airlines is $225)
Rabies vaccines: $50
Rabies blood test: $65
Neighbor Island Inspection Permit: $165
Vet release: $300
Health certificate: $75
Most of these costs are standard, but you'll save money by choosing the right airline. To fly a dog to Hawaii on Alaska Airlines, it's $100. On Hawaiian Airlines, it's $225.
Can you take your dog on vacation to Hawaii?
I just laid out all of the steps you need to take to get your dog to Hawaii when you're moving. The steps for bringing a dog on vacation are exactly the same. You'll have to decide whether it's worth it to bring your dog to Hawaii for a trip.
It'll take months of planning and it's really expensive. The total cost to bring Hattie with us (including getting the rabies vaccines) was around $1,000.
If you do decide to bring your dog to Hawaii with you, know that your options for lodging will be more limited. As we've traveled inter-island, we've been lucky to find a few hotels and vacation rentals that will allow us to bring Hattie. But it does always make planning more complex.
We know that bringing your dog to Hawaii is complicated, so to help navigate it all, we also made a video sharing our experience with the process. Check out our video below as we walk you through our experience of bringing our dog Hattie to Maui.
If you are moving to Hawaii or vacationing, check out our Hawaii Recommendations for what to pack, our favorite activities, and deals on rental cars.