Oahu vs. Maui (from someone who has lived on both)
Disclosure: This post may contain affiliate links, meaning if you decide to make a purchase through my links we may earn a commission at no additional cost to you. Read about our affiliate policies here.
The first big decision you have to make once you plan a trip to Hawaii is to decide what island to visit. Choosing between Maui and Oahu can be overwhelming, and everyone has a different opinion. As someone who has visited, lived on, and loves both islands, here is how to decide:
Maui vs Oahu: Oahu is right for you if you want more of a cosmopolitan vacation, enjoy the nightlife, are excited about historical and cultural activities, or want to travel on a budget. Maui is right for you if you're looking for a romantic island, great snorkeling, a relaxing vacation, or more outdoor activities.
Need more to compare? In this article, we break down everything to help you decide.
Here are some quick details to further break down which island is right for you:
– Oahu has the better beaches, but Maui wins for snorkeling
– Maui has the better resorts, but Oahu wins for activities
– Oahu has better prices, but Maui has better winter weather.
Oahu in a Nutshell
Oahu evokes a strong reaction: people either love it or hate it. It's hard to find someone who is in between.
Unlike the other Hawaiian islands, Oahu is densely populated. The capital, Honolulu, is located on the island and has a population of nearly 1 million people. Compare that to Maui with a population of 144,000. Oahu also gets the majority of visitors each year. According to the Hawaii Tourism Authority, 60% of people who traveled to Hawaii in 2019 visited Oahu.
Oahu has a little something for almost everyone. Waikiki and Honolulu are busy and bustling, the North Shore has incredible waves and lush landscape, and Ko'Olina offers a secluded resort experience. Plus, the cultural and historical sites mean you leave with a little additional education.
But, Oahu's critics will be fast to tell you that there's a lot of traffic (it's true) and it feels like a big city in the middle of the Pacific (also true). It isn't what some people envision for a tropical vacation, but it has a lot to offer.
Maui in a Nutshell
Maui is a little more in line with what most people envision when they think about a tropical vacation. It has beautiful beaches, gorgeous resorts, the best whale watching, and fewer tourists, compared to Oahu. It is a bit more relaxing and a lot slower, and the people who visit enjoy that pace. It's the second most visited Hawaiian island after Oahu.
Maui's highlights include:
Oahu vs Maui: Resorts
If a sprawling, luxury, tropical resort is your thing, you're in luck. Both islands have beautiful resorts that will have you lounging in style. But, the resorts aren't created equal. Maui resorts are generally better, though they are usually significantly more expensive.
The majority of Oahu resorts are found in Waikiki, which offers a beautiful, white sand beach and bustling nightlife. But, the downside is that Waikiki is much more crowded than the resort areas on Maui. Space on the beach comes at a premium, even in front of the nicest resorts.
On Maui, you have more space so the resorts are much more sprawling (think, large grass lawns, and plenty of room to roam). They also are generally located on some of the most spectacular beaches on the island.
Related read: Check out our where to stay guide for Oahu and our where to stay guide for Maui to help you find the best place to stay.
Winner for best resorts: Maui
Oahu vs Maui: Beaches and Snorkeling
What island has better beaches? This is tough and subjective. But I'm here to give you answers.
Beauty-wise, I'd have to say Oahu has slightly better beaches, especially in the summer. You'll find stunning beaches all over the island — Waimea Bay (summer), Waikiki Beach, and Lanikai Beach, just to name a few.
While these beaches are significantly more crowded than what you'll find on Maui, Oahu's beaches are easier for young swimmers, if you're traveling with family. So that gives Oahu the slight edge for the Hawaiian island with the best beaches. Stick to the south shore of Oahu for the calmest beaches during the winter. See our list of the 10 Best Beaches in Oahu for more details.
Snorkeling is hands-down much better on Maui. Oahu does have some great snorkel spots, but if you want to get into the water, snorkel easily, and not have the ocean too overcrowded, Maui is your place. Plus, you'll see turtles everywhere. We love snorkeling in Napili Bay, Kapalua Bay, Honolua Bay, Turtle Town & Maluaka Beach.
Related reads: The 17 best beaches on Maui and the best beaches for kids on Maui.
Winner for best beaches: Oahu
Winner for best snorkeling: Maui
Oahu vs. Maui: Activities
Oahu wins by a landslide in this category. Living on Oahu for two years, I never ran out of things to do. In fact, now that I live on Maui, I miss being able to head into Honolulu for an evening or pop into a cultural or historical site for the afternoon. This is by no means an exhaustive list, but you'll find Pearl Harbor, Iolani Palace, Chinatown, a zoo, an aquarium, parks, waterfalls, pillbox hikes, and more. It is bustling and you absolutely won't get bored.
Need help picking the right tour? We have a curated list of our favorite activities on Oahu and a list of the tour operators we love on Maui.
Maui has activities, but it's quieter. Outside of things like snorkeling boat tours, hiking, luaus, and great restaurants (including beachfront dining), you won't find as many interesting things to do. For some people, what Maui has is more than enough. After living here, I can still say I'm not bored. But for people who love a little bit more variety on their vacation, Oahu offers that.
Winner for best activities: Oahu
Additional resources for your decision:
Oahu vs Maui: Nightlife
Another hands-down win for Oahu. If you're excited to hit the town, Oahu is the place to do that. Maui goes to bed early. Sure, Lahaina or Kihei can be lively at night, but you'll find that most of the crowd is home by 10. Even New Year's eve is quiet. We excitedly spent one New Year's Eve on Maui in our 20s and were home tucked into bed before midnight. It was pretty quiet.
Oahu nightlife is centered in downtown Honolulu or Waikiki. You'll find resorts and restaurants in Waikiki open late into the evening. They are bustling, lively, and frankly, a lot of fun. Downtown Honolulu and Chinatown have plenty of bars and restaurants to choose from, and there's always something to do.
Winner for best nightlife: Oahu
No matter what island you choose, make sure you know What to Pack for Your Hawaii Vacation.
Oahu vs Maui: Cost
A trip to Hawaii is never cheap. While prices are looking lower for 2021 (read our breakdown of how much a trip to Hawaii will cost), it's still an expensive trip.
That said, prices differ from island to island. We did a full cost analysis using data from the Hawaii Tourism Authority and found that Oahu is the cheapest island to visit and Maui is the most expensive. In fact, for a one-week vacation, Oahu comes in 28% cheaper than Maui.
Of course, you can find cheap places to stay on Maui and expensive places to stay on Oahu. But comparing apples to apples, Oahu offers lower prices.
Winner for cost: Oahu
Oahu vs Maui: Weather
Contrary to what many people think, Hawaii does have a rainy and wet season. Winter here looks very different from the rest of the US, but we still do get some cooler temperatures and wet weather. That's likely not what you're looking for on your tropical vacation.
From May through September, the average rainfall for Honolulu (Oahu) and Wailea (Maui) are fairly close. But for the remainder of the year, Oahu does get more rain. We used the main vacation destinations on each island to measure the rain. On both islands, the vacation spots are primarily located on the leeward side of the island, which is drier. Head to the windward side on either island, and you'll encounter more rain.
That said, if you're heading to Hawaii outside of the summer months, you'll have a better chance of avoiding rain on Maui.
Related read: here's why visiting Maui in the winter is a great idea (and a few reasons you may want to skip the winter months).
Winner for weather: Maui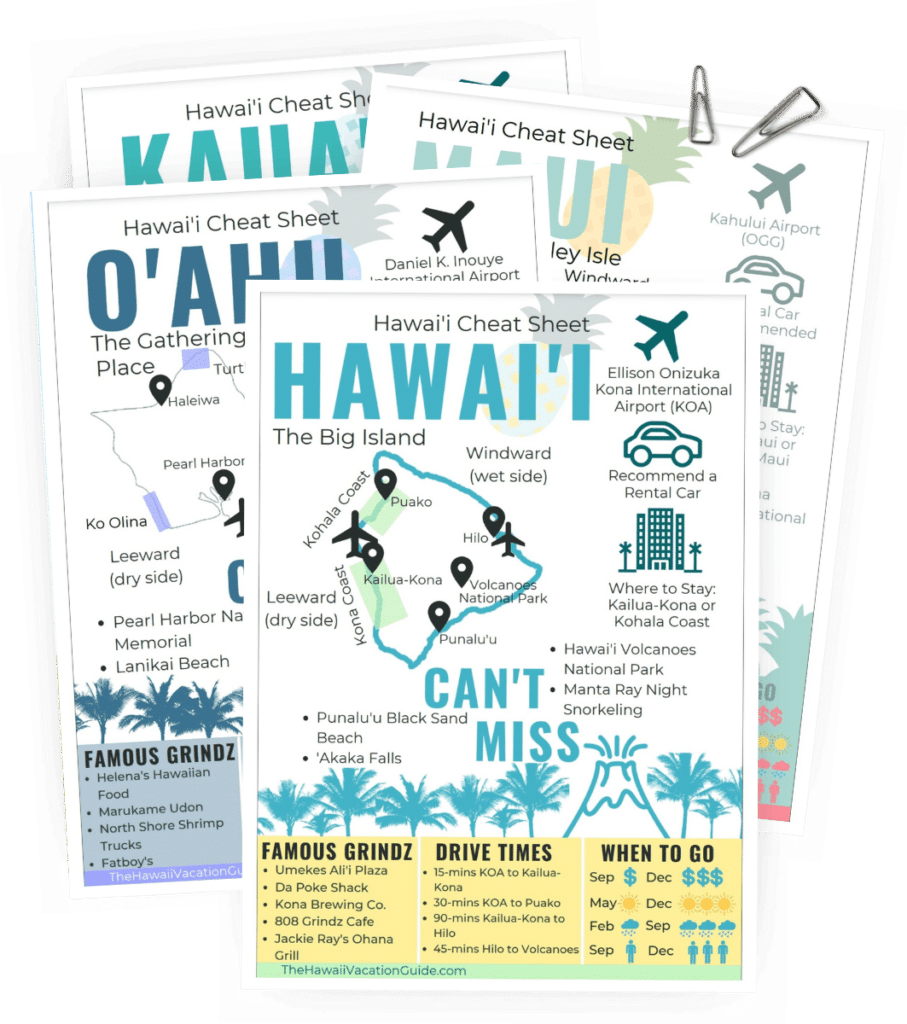 Free Download!
Hawaiian Island Cheat Sheets
Sign up & we'll send you our island cheat sheets so you can get to know the islands like the back of your hand!
We'll share 4 can't-miss activities on each island, a map with the main sights in town, & famous local grindz (eats)!
Oahu vs Maui: Hiking
When we moved to Oahu, I was surprised to find that it has fantastic hiking options all over the island. You can take a quick hike up Diamond Head, do one of the many pillbox hikes all over the island, Seven Falls hike, Ka'au crater hike, and so many more. You can hike to waterfalls, jump in swimming ponds, and hike up the most awe-inspiring ridges. Hiking on Oahu is without a doubt, magnificent. Check out 11 great hikes on Oahu.
Maui also has some great hikes, but they fall short when compared to Oahu. There are fewer waterfall hikes (though this Pipiwai trail hike is a must) and if you're staying on the leeward side of the island (like most visitors) you'll be hiking up fairly dry trails in the heat. These are our 3 favorite easy hikes on Maui.
If hiking is going to play a big part in your vacation, a trip to Oahu is a better option.
Winner for hiking: Oahu
Oahu vs. Maui: You Can't Go Wrong
Whether it's your first trip to Hawaii or your 10th, it's hard to choose a bad spot. Yes, you might prefer one island to another, but they all are beautiful and have something that will appeal to everyone.
And if you want to make the most of your vacation time and experience Oahu and Maui without doing the heavy lifting of planning, our itineraries are for you.
Our itineraries map out excursion days where you visit the best spot — beaches, historical sights, restaurants, snorkeling spots, farms, and more — on a well-planned route. Plus, we provide tips on parking, when to go, and how long to stay.
"I just wanted you to know that my family and I purchased the Maui itinerary and we are wrapping up 12 days on the island. We did so much of what you recommended and it was awesome for everyone. We have three college-age kids and everyone enjoyed the things that you suggested, including the restaurants. Thanks for all of the work that you put into this." – Gunnar