5 Best Sandy Beaches in Kona (all within 30-minutes of Kailua-Kona)
The Big Island feels daunting when one first lands. The Kona Coast is a freshly born volcanic landscape. With all this lava, where are the white-sand beaches? 
These five best beaches in Kona should not be missed:
The best beaches in Kona are found north of Kona Airport, all within 30-minutes of Kailua-Kona. Drive no further to find white-sand beaches with excellent snorkeling and protected turquoise waters.
For my Maui family, these beaches were the highlight of our trip to the Big Island. Read below for the beaches where we spotted the most turtles and tips to avoid the crowds.
The Best Beaches in Kona
We island-hopped from our home in Maui to the Big Island for sightseeing and beaches. Henry, Hattie, nor Erica had visited the Big Island before so I was their tour guide. The first stop, after a cup of 100% Kona coffee for me, was the beach. 
We got annoyed as we couldn't find a sandy, kid-friendly, uncrowded beach near Kailua-Kona. The famous white-sand beaches like Hapuna Beach and Mauna Kea Beach are on the Kohala Coast, an hour or longer from Kailua-Kona. 
Those beaches are worth a visit but with a dog and a toddler in the car, no one was thrilled about partaking in a drive north. Other Kona beaches get crowded, like King Kam Beach in downtown Kailua-Kona or get rocky like Magic Sands Beach (it's magical because the sand disappears from high-surf). These are great beaches but not what we were looking for.
Over the course of our ten-day trip, we sought out the best beaches within a 30-minute drive of our Kailua-Kona vacation rental. We succeeded in finding the best beaches in Kona. I'm the best tour guide ever for this family. 
These Kona beaches are sandy and classic Hawaiian with volcanic tide pools and surrounding lava fields. The kind of Kona, Big Island beaches you would expect on this island paradise.
Enjoy your stay on the Kona Coast with our favorite Kona beaches.
Related: Looking for a unique experience? We have a full guide on manta ray night snorkeling on the Big Island. 
1. Kikaua Point Beach Park
We visited Kikaua Point Beach Park twice during our stay. The cove felt like our own private beach club. Probably because it is located in a private beach club. Thanks to Hawaiian public beach access laws, we got the royal treatment.
Located 14-miles (23-minutes) north of Kailua-Kona, the beach is located within the Kukio Golf and Beach Club. 
Sea turtles! So many of them in this cove. The beach and cove are sandy but where the cove meets the ocean, the marine life is abundant. Sea turtles and endemic Hawaiian fish within the protected cove meant great visibility.
The snorkeling here was ideal. Erica wouldn't get out of the water. 
We also loved this beach for the white sand and the calm waters for our toddler Henry. The cove is well protected from the waves. Plus, the water depth reaches 6-feet or less, making it comfortable to walk out into the sandy-bottom cove with Henry. We also had fun looking for crabs amongst the surrounding tide pools.
This beach was an ideal baby's beach for us. 
Tips on Getting to this Kona Beach
Come early! While not a lot of visitors know of Kikaua Point Beach Park, there is limited parking. I recommend arriving before 10:00 am. 
Click here for directions to Kikaua Point Beach. 
23-minutes north of Kailua-Kona off the main Queen Ka'ahumanu Hwy (Route 19), exit onto Kukio Nui Drive. The road will take you to the guardhouse, or main entry gate to Kukio Golf and Beach Club. 
Don't be nervous about the big security guards, just say you are heading to the beach. They will give you a gate pass and directions to beach parking. They will also open the security gates along the way to the beach for you. 
Once you park, be prepared for a 10-minute walk on a paved, handicapped-accessible sidewalk to the beach. If you have a lot of beach stuff, bring a foldable wagon or something to carry it all. 
Palm trees and a few large trees provide shade on the beach or a grassy area. Arriving early helps guarantee you a good spot in the shade. 
If the lot is full, you have two options. You can wait at the guardhouse for parking spots to open. Option two is to return to Route 19 and drive half a mile north to Kukio Beach at the Hualalai Four Seasons Resort. With a walk, you can access both beaches.
Amenities at Kikaua Point Park
🍍 Restrooms
🍍 Showers
🍍 Shade
🍍 Grass
🍍 Drinking-water
🍍 No lifeguard on duty
2. Manini'owalu Beach at Kua Bay
This white-sand beach is located 22-minutes north of Kailua-Kona. Kua Bay competes with Hapuna Beach for the best white-sand beach on Hawai'i.
The day we went there were spinner dolphins putting on a show out in the bay. This bay is also popular with sea turtles. The turtles and reef make for excellent snorkeling. But beware of winter waves. 
This is not a protected cove but a crescent-shaped beach. Novice swimmers may be best to stick to the more protected beaches, especially during the winter. Visit in the morning for calmer surf, before the tradewinds pick-up.
Big waves are common during the winter. When we visited in February, the waves were big so we kept Henry away from the break. Luckily the soft, white sand was perfect for sandcastles.
The beach lacks shade so bring an umbrella. While you are at it, I recommend you pack a lunch and refreshments also as this beach is a beach within a state park. There are no bells and whistles. Food trucks can be found in the parking lot but they are not on a reliable schedule.
Tips on Getting to this Kona Beach
22-minutes north (33-miles) of Kailua Kona off of Queen Ka'ahumanu Hwy (Route 19), look for the state park signs. The West Hawai'i Veterans Cemetery will be on the left side. The cemetery is well marked so it is a helpful beacon.
Click here for directions to Manini'owalu Beach at Kua Bay. 
You will find yourself on a 5-minute winding drive through lava fields as you head to the beach. The parking lot is large but get there early on the weekends for a spot. Early is before 10:00 am. 
The beach is less than a 5-minute walk from the parking lot. Toilet facilities are onsite.
Manini'owalu Beach at Kua Bay is part of Kekaha Kai State Park. Three of our favorite beaches are part of Kehaha Kai. 
Amenities at Kua Bay (Manini'owalu Beach)
🍍 Restrooms
🍍 Showers
🍍 Lifeguard on duty
🍍 Little to no shade
🍍 No permanent food or refreshments but a food truck may be in the parking lot
Related articles:
3. 'Alula Beach
One doesn't find culture and a beach at the same time. 'Alula Beach is a perfect kid-friendly beach, rich with sea turtles in shallow water, and part of an ancient Hawaiian fishing village and pond. That's a trifecta for a beach.
The sand is mixed rock and coral so not a fine-sand beach but still perfect for a beach towel nap. 
'Alula Beach is a small, crescent-shaped beach that is part of a 1-mile long stretch of beach with Honokohau Beach. The area is a popular snorkeling spot and a safe place to swim. The secluded cove is well protected even with high-surf. 
The beach is part of the 1160-acre Kaloko-Honokohau National Historical Park. It worked out well for us to go to the visitor center first (free entrance). With Henry, we learned about the history of the fishing grounds and the Hawaiian way of life. The area is desolate as it sits within a barren lava field yet it was ripe with life from freshwater springs and abundant fish ponds. It is a surprising place to visit. 
After the history tour, we drove south to the Harbor entrance for a quick walk to 'Alula Beach.
Tips on Getting to this Kona Beach
The best place to park is at the Honokohau Small Boat Harbor. Exit off of Queen Ka'ahumanu Hwy (Route 19) onto Kealakehe Parkway that leads into the harbor. Park on the northside of the harbor, you will see a sign for Kaloko-Honokohau National Historical Park.
Click here for parking directions to 'Alula Beach
From the parking lot, you will have a 7-minute walk to the beach on a gravel-compacted path. 
This is the same harbor where I left for manta ray night snorkeling. My favorite experience on the Big Island: Manta Ray Night Snorkeling Guide: What to Expect (a thrill).
Amenities at 'Alula Beach
🍍 Shade
🍍 No showers
🍍 No lifeguard on duty
🍍 Restrooms located at the harbor, not at the beach
🍍 No permanent food or refreshments
4. Mahai'ula Beach
This beach and the next are absolutely gorgeous white-sand, secluded beaches. Mahai'ula Beach is located 28-minutes (11.6-miles) north of Kailua-Kona. 
The fine, white-sand gradually slopes from the palm tree-lined shore into the crystal clear waters. Shade can be found under the palm trees.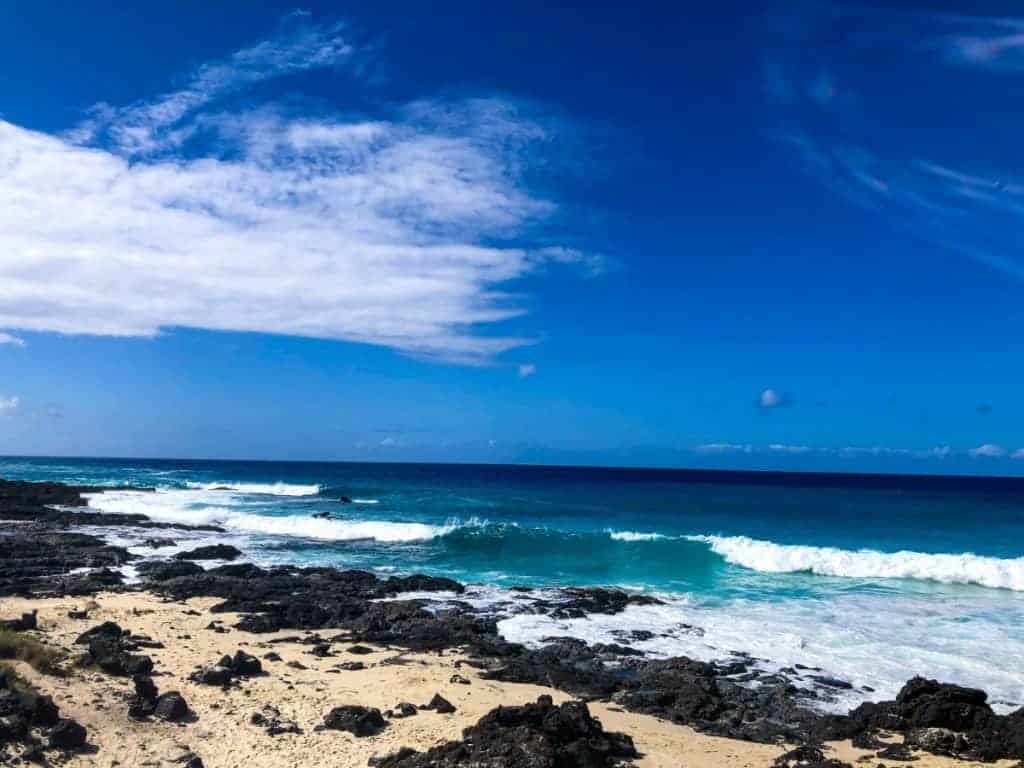 This beach is not ideal for children to swim. While Mahai'ula Beach sits within Mahai'ula Bay, the waves can get large during the winter. The water is a gentle slope though and has a rich coral reef for snorkeling close to shore. The walk from the parking lot was an easy 5-minutes. 
This is a secluded beach as many don't want to make the drive through the bumpy lava field gravel road to get here. Many people drive right past off of Route 19. If you are in for a secluded white sand beach close to Kailua-Kona, this is your beach to visit. 
Tips on Getting to this Kona Beach
Exit off of Queen Ka'ahumanu Hwy (Route 19) onto a gravel road. You will see state park signs as Mahai'ula Beach is part of the Kekaha Kai State Park. The road is treacherous but doable in a rental car. 
Click here for directions to Mahai'ula Beach
Park at the end of the road, and make the short walk to Mahai'ula Beach. Pack food as this is another state beach with limited amenities. It is secluded after all.
There are a lot of hiking trails around the beach to enjoy. Like the hike to the next, even more secluded, white-sand beach.
Amenities at Mahai'ula Beach
🍍 Shade
🍍 No showers
🍍 No restrooms
🍍 No lifeguard on duty
🍍 No permanent food or refreshments
5. Makalawena Beach
Follow an unpaved lava path past Mahai'ula Beach to find the tranquil Makalawena Beach. This powdery white-sand beach is worth the hike. 
I left Erica and Henry back at Mahai'ula Beach to check out Makalawena Beach. Makalawena is located 15 to 20-minutes walk north. It is a hike across scorched earth but the beach is tranquil and the waters are crystal clear. 
Makalawena is perfect for swimming and sunbathing. It is also an ideal snorkel spot with a shallow coral reef just offshore with colorful underwater caves, coral, and sea arches.
Tips on Getting to this Kona Beach
Exit off of Queen Ka'ahumanu Hwy (Route 19), the same way as Mahai'ula Beach directions above. 
Click here for directions to Makalwena Beach
Bring food, water, and sun protection for the long walk. Once you get there you will want to relax and enjoy yourself. 
Amenities at Makalwena Beach
🍍 No shade
🍍 No showers
🍍 No restrooms
🍍 No lifeguard on duty
🍍 No permanent food or refreshments
Visiting the Best Beaches in Kona
My family had a great time, as always, visiting the Big Island. Big Island beaches are very different from Oahu and Maui beaches that we are familiar with. 
The new, harsh volcanic landscape of the Big Island makes for many rocky beaches. While ideal for snorkeling, finding a good sandy beach can be a challenge. Throw in the winter waves on the Kona Coast and your beach vacation is in trouble.
These 5 beaches in Kona were saviors for our trip over the New Year's holiday. We hope you enjoy them also and that this list takes some uncertainty out of your travels. 
Check out our other island of Hawai'i articles for itineraries and activities for your Hawaii vacation.
Jordan Fromholz
Author
I'm the co-founder, with my wife Erica, of The Hawaii Vacation Guide. We live on Maui with our toddler Henry and our sweet but quirky dog Hattie. I have a thing for photographing pineapples and learning to surf.
Related Articles You Will Find Fascinating
Welcome to The Hawaii Vacation Guide, the most comprehensive online guide to plan your vacation. This page will help you get the most out of our site and all of the content we provide. So you can get the most out of your vacation. We are Erica and Jordan and we run...