The 10 Best Maui Resorts That'll Make Your Kids Happy: A Maui Mom's Review
Disclosure: This post may contain affiliate links, meaning if you decide to make a purchase through my links we may earn a commission at no additional cost to you. Read about our affiliate policies here.
Maui is the best Hawaiian island for families. Not only is there plenty to do (beaches! Snorkeling! Farm Tours!), but there is also a wide range of accommodations that cater to family travelers. To help you pick the best spot for your family, we rounded up the 10 best family friendly resorts on Maui. Plus, we share the need to know details to help you decide which hotel is right for your vacation.
Quick links to 5 of the most popular from this list:
1. Go for the water slide: Wailea Beach Resort
2. Go for the beach access: Westin Ka'anapali
3. Go for the spaciousness: The Fairmont Kea Lani
4. Great for a large family: Honua Kai Resort
5. Go for the laid back vibe: Napili Kai Beach Resort
Choosing the Right Family Resort on Maui:
Is Maui family-friendly?
Maui is an extremely family-friendly vacation destination thanks to the swimmable coves and bays, beginner snorkeling options, wide range of restaurants, and great weather. And almost all resorts on the island are kid-friendly.
If you're not sure whether Maui is the best island for your vacation, this article walks through what Hawaiian island is best for each type of family vacation.
For Maui trip planning support, see our Maui Trip Planning for Happy Travelers: Step-by-Step Guide.
Is Maui good for a family vacation?
Yes, yes, yes! There are so many excellent kid-friendly activities that makes this a wonderful place for a family vacation. We love taking our kids on farm tours, snorkeling tours, and so much more.
What part of Maui is best for families?
There are two main areas families generally stay on Maui: Wailea or Ka'anapali. Both areas have great weather, snorkeling, and beaches. Deciding what part of the island is right for your family comes down to budget, proximity to activities, and vibe.
Stay in Ka'anapali if you're looking for a lively atmosphere, more kid-friendly restaurants, and a number of three and four star resort options. Stay in Wailea if you want a slightly quieter atmosphere, huge resorts (with epic resort pools), and five-star accommodations.
Still not sure what part of Maui is best for your family? We go into depth on Ka'anapali vs Wailea in this article.
What is there to do on Maui for families?
There's no shortage of things to do on Maui with your family. Head out whale watching, hit the best beaches, go on some easy hikes, or go snorkeling. If you are looking for a complete list of things to do with kids on Maui (by age) we have you covered.
Best Places to Stay on Maui for a Large Family?
Two of the resort options below offer suites with multiple bedrooms. But if you have an even larger family coming and you need more space, check out our best Maui vacation rentals for large groups.
Is a vacation rental or hotel better for families on Maui?
Let's get this out of the way first: staying at a resort on Maui with kids is going to be expensive. In 2019 the cost of a hotel was around 10% more than the cost of a vacation rental.
The average cost of a hotel room in November 2019 was $205 per night while the average cost of a vacation rental was $180 per night. And that's not considering that most resorts come with a per-day fee, which can range from $30 – $70, and you'll be spending a lot more eating out.
That aside, there's a reason more people stay at resorts when they visit Maui. According to travel data from the Hawaii Tourism Authority, in November 2019, 44% of visitors stayed in hotels only and 13% stayed in vacation rentals only when visiting (the remaining stayed in a combination of both or timeshares).
If you want to see all of our favorite places to stay, make sure you visit our Where to Stay section where we have reviews of all of our favorite hotels and vacation rentals across the islands. We've done the legwork to vet the best spots for you!
Why do more people stay at resorts on Maui?
Depending on the resort, the amenities for kids (and adults) can be fantastic. Water slides, lazy rivers, hula lessons, star gazing, and kids eat free. Plus daily housekeeping and kid's clubs can make it a relaxing vacation for parents as well as the kids. For the extra cost of staying at a hotel, let's make sure you're picking the best resort for your family.
7 Best Maui Family-Friendly Resorts Video
To see more of these Maui family-friendly resorts, watch our video below where we highlight the best resort for different types of kids and families.
10 Best Maui Resorts for Families
Almost every resort on Maui could be considered a family-friendly resort. So what criteria did we use to come up with our list of the 10 best?
We looked at location, kids amenities (like a kids club or activities), pool, and vibe to create our list of the 10 best resorts for families.

1. Best Family Resort for Space: Fairmont Kea Lani
First, to any parent who knows the pain of squeezing into a tiny hotel room with our kids, the Fairmont hears you and is here to fix that. The Fairmont Kea Lani is an oceanfront luxury resort that only offers one-bedroom suites and two to three-bedroom villas. You will have space, a designated bedroom (or more), and you won't trip over each other during your stay.
The Fairmont is located at the southern end of Wailea on Polo Beach and has a less busy vibe than the other resorts in the area. The beach is beautiful and offers great snorkeling when the water is calm.
Watch our experience staying at the Fairmont Kea Lani below (includes a room tour!).
While this is a luxury, expensive hotel, it offers more value for a family than many of the other luxury hotels on the island. The are plenty of family activities, and you'll be staying in a suite or a villa. The one drawback is the on-site restaurants for dinner weren't great for young kids.
But here's why I really like the Fairmont: compared with the other family-friendly resorts on the island it feels calmer and less crowded. Its location at the southern end of Wailea means you're not sandwiched between the other resorts and you get a little more space to breathe and explore.
Fairmont Kea Lani Features
Activities: Koi feeding, nightly torch lighting, croquet, corn hole, Mermaid University, Ninja zone obstacle course

Kid's Club: Yes, for kids 5-12 years old. Cost included in the resort fee

Restaurants: Kids under 5 eat free off the kids' (keiki) menu at the Ko Kea Lani Restaurant and AMA Bar & Grill. Kids 5-12 can eat off the kid's (keiki) menu for full price or the regular menu at 50% off regular prices.

Pools: Two kid-friendly pools with 140' water slide and basketball hoop. Separate pool for small kids and pool toys are available. To help you stay out of the sun, cabanas can be rented. Plus, complimentary sunscreen is available by the pools, to keep your kids covered all day.

Nearby: Polo Beach
You can read a full review of our stay at the Fairmont Kea Lani here.
2. Best Family Resort for Your Budget: Ka'anapali Beach Hotel
There is something about the Ka'anapali Beach Hotel that will make you feel like you're transported to the 1960's Ka'anapali. It might be the decor, the building design, or the wide-open space, but the Ka'anapali Beach Hotel has a retro charm. Don't expect to see many (or any) updates here.
This is a mid-range hotel so you won't have the luxury amenities that you'll find at some of the other hotels on this list. Eating at the restaurant isn't a memorable experience and you won't find plush linens. But if you're looking for a place where your family can get the best value for the location, this is the spot.
The Ka'anapali Beach Hotel is in a prime spot along Ka'anapali beach — in between Whaler's Village and Black Rock with a huge beach stretching out in front of the resort. The area is sprawling (great for kids that want space to run), and the service is extremely friendly.
The downside is that you won't find a kids club or an exciting pool (no waterslide, lazy river, or waterfall in sight). But if those things don't matter to your family, the price here is hard to beat.
Ka'anapali Beach Hotel Features
Activities: Hula, Hawaiian language, lei making, ukulele lessons. See the entire

cultural activities schedule

. There are also ocean activities available through the

ocean activity center

.

Kid's club: No

Restaurants: Kids under 5 eat free at the Tiki Terrace

Pool: Yes, but small and unexciting

Nearby: Ka'anapali beach and Whalers Village
3. Best Family Resort for an Amazing Pool: Grand Wailea
If pools are a draw for you and your kids, this is the place to stay. This is the most elaborate system of pools you'll find on the island: nine pools, four waterslides, a rope swing, and a lazy river.
Plus the grounds are huge and offer something different to explore at every turn (think: lush gardens, small waterfalls, and koi ponds). Your kids won't get bored walking around the grounds. But, the elaborate grounds can feel crowded, which is why we think of this as more of a luxury hotel for kids than for adults.
The Grand Wailea also has an impressive kid's club with a video arcade and a movie theater. But the luxury club comes at a cost: $65 for a half-day and $125 for a full day.
Check out a video of our staycation at the Grand Wailea and catch a view of their amazing pool:
Grand Wailea Features
Activities: Scuba training program (for 12 and up), kayak, paddleboard, aqua glider tours and rentals (through an outside vendor), gaming lounge, sunrise chant, botanical tour, sunset torch lighting, lei making, hula lessons, lego wall.

Kid's Club: Camp Grande for kids 5-12, additional fee ($65 – $125 for half or full day)

Restaurants: Separate kids menu available. Kids 5 and under receive a free breakfast in the Grand Dining Room and free dinner at Humuhumu.

Pools: Four pools, five intertwining slides, whitewater rapids slide, Tarzan pool and rope, waterfalls, caves, jacuzzi's, water elevator, and swim-up bar. Cabanas can be reserved.

Nearby:

Wailea Beach
4. Best Family Resort for Water Slides: Wailea Beach Resort
This is the best Marriott property in South Maui. While compared to other hotels on this list, it does lack in many areas when it comes to being kid-friendly, it makes up for it with the longest waterslide in Hawaii. Yes, that's right. When you stay at the Wailea Beach Resort, you can ride the longest waterslide in the entire state. The pool area is almost as amazing as the Grand Wailea pool and the hotel is priced more reasonably than the luxury neighbor hotel next door.
They also have a game room for kids and movie theater showing kids movies in the evening — free lemonade and popcorn included.
The drawback is that the kids club is open seasonally, so there's no guarantee that you'll be able to use that amenity. And while the hotel is ocean-front, you'll need to walk down the path a couple of minutes to get access to the beach. Beach access is still easy, but marginally more difficult than it is with some of the other Wailea properties.
Wailea Beach Resort Features
Activities: Life size chess and connect four on the oceanfront lawns, a movie room, and an escape room (this is probably not going to be appealing to your young kids).

Kid's club: The kids club is open seasonally; $125 for full day and $75 for half

Restaurants: Restaurants and food truck options

Pools: three pools and the Nalu adventure slide with the longest waterslide in Hawaii

Nearby: Wailea Beach
Read our full review (and see our video) of the Wailea Beach Resort.
5. Best Family Resort for Beach Access: Westin Ka'anapali
The Westin is probably our favorite resort in Ka'anapali. The location is right next to Whaler's Village, which is convenient, but we worried it would make it a little too busy. Luckily, the Westin somehow manages to keep a somewhat serene environment in the midst of a very busy area.
The key to the Westin not feeling too overwhelming might be their pool layout. They have five different pools on different levels overlooking the beach. That's 87,0000 square feet of pool for your kids to splash around in. These pools really give the Grand Wailea a run for their money. They are outstanding and on each of our visits, haven't been overcrowded. The hotel has 770 rooms — the same number as the Grand Wailea — but somehow manages to feel like a smaller hotel than that.
The beach access is a big winner here for this hotel. Ka'anapali Beach is one of the best beaches on Maui, but the beach can get a little narrow in places. In front of the Westin, you have a wide stretch of golden sand and you're just a short walk from Black Rock and the expansive beach there.
One big plus to point out here is that at the Westin they have a night camp for kids. So if you'd like to head out to dinner and leave the kids back at the hotel, the night camp runs from 5:30 – 9:30 pm and costs $60 (which includes dinner for your child).
Westin Ka'anapali Features
Activities: on-site luau and Waterman Program

Kid's club: Day and evening camp for kids 5-12 years old. 8:30 – 12:30 $65 (lunch included), 5:30 – 9:30 $75 (dinner included)

Restaurants: a Kid's Eat Well Menu with nutritious options for kids

Pools: Five pools including a waterslide and waterfalls stretching over 87,000 square feet

Nearby: Whaler's Village and

Ka'anapali Beach
Read our full review of the Westin Maui Resort & Spa at Ka'anapali.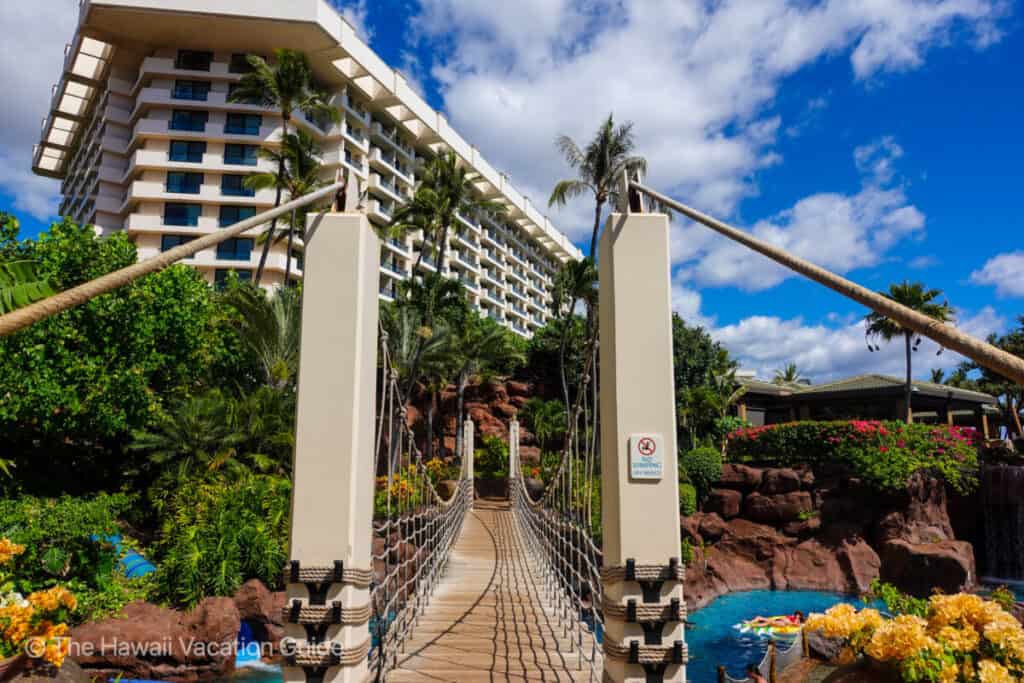 6. Best Family Resort for Kids Activities: Hyatt Regency Ka'anapali
Located on the south end of Ka'anapali Beach, the Hyatt offers a great family-friendly resort experience. The pool is a real draw here for families. You have 6 pools, a 150' waterslide, a rope bridge, and more. But there's more than just a fun pool. The Hyatt has some kids activities that'll keep the whole family entertained.
Some of these activities include:
Penguin Presentation: learn about the on-site penguins and watch them get fed at this informational and fun activity

Stargazing: join their rooftop stargazing program which happens multiple times per week

Mermaid swim academy: weekly, kids can meet a mermaid and join in this poolside swimming class

On-site luau: you don't need to leave your hotel to experience a great luau with the

Drums of the Pacific luau
With 880 rooms on-site, they have plenty of on-site restaurants for their guests. One of our favorite features is the pay by age price of the breakfast buffet (ex: you'll be charged $5 for your five year old's buffet breakfast).
The beach in front of the Hyatt is not great — it's small and they're having erosion issues. But take a walk up the Ka'anapali Beach Boardwalk and you'll find more sand.
Hyatt Regency Ka'anapali Features
Activities: Penguin feedings, stargazing, mermaid swim lessons are all part of the experience

Kid's club: No

Pools: 6 pools, a rope bridge, waterslide, and more!

Restaurants: four restaurants, a pool bar, Ululani's shave ice, Honolulu Coffee and more

Nearby: Ka'anapali Beach
7. Best Family Resort for Large Families: Honua Kai
Looking for the amenities of a resort with the space of a vacation rental? Honua Kai is a vacation rental complex just north of Ka'anapali that offers one to three bedroom suites combined with some luxury amenities like a beautiful pool area, a beach that's easy to walk to, and helpful staff. Their three bedroom suites are over 2,000 square feet, so a large family or group will feel right at home.
There are restaurants on site, like Duke's Maui, and other restaurants are just a short drive away. The pool area covers 3 acres and has a waterslide, five hot tubs, waterfalls, and a fountain area for young kids. This is truly a family friendly resort and you'll find mostly families staying here, so things can get a little noisy and crowded at times (a plus if your kids can also get a little noisy at times).
Though it feels like a resort and has almost every amenity you could want from a resort, each unit is privately owned so make sure when you book you're looking at the reviews and making sure the unit has what you need.
8. Best Family Resort for Luxury Travel: Four Seasons Resort Maui
The Four Seasons combines everything parents and kids will love.
The rooms are spacious, which is a big bonus when sharing a space with your kids (and all their stuff). There are a fantastic number of activities to keep everyone entertained well into the evening. And the service is outstanding, which it should be at all luxury hotels — the prices here are steep.
There are three pools, and while they may not be as exciting as some other hotel pools nearby, they offer one huge benefit: complimentary cabanas. Yes, your napping child can snooze out of the sun and it's not going to cost you $150 per day.
The kids club, open from 9 am – 5 pm is complimentary. And, as an added bonus, there is no resort fee. The included amenities make it easy to see why this is the most expensive hotel on the list but also an incredible place to stay on the island.
Four Seasons Maui Features
Activities: aside from their list of daily activities, you'll have access to a game room, croquet, bocci ball, and a putting green.

Kid's club: The Kids For All Seasons club is complimentary for kids age 5-12 (under 5 are allowed with an accompanying adult). Activities include gecko hunts, hula lessons, lei making, sandcastle building, Hawaiian bowling and more

Restaurants: Free meals for kids five and under at Ferraro's and DUO

Pools: 3 pools, including an adult serenity pool as well as a waterfall family pool with a slide. Pool attendants come around with Evian spritz and frozen cherries to help cool you off during your day at the pool.

Nearby: Wailea Beach
9. Best Family Resort for a Laid Back Experience: Napili Kai Beach Resort
If you want to escape the big resorts but still be right on the beach, the Napili Kai should be your pick for a family resort. Located on Napili Bay, there are no buildings taller than a palm tree. That's right, no sprawling hi-rise resorts with 500+ rooms. Napili has the laid back vibe that you're looking for.
Napili Kai has a seasonal kids club program as well as a kid's eat free program (for kids 12 and under). While you won't find huge waterslides, you will find four pools and an amazing beachfront spot. Napili Bay is one of the best beaches on Maui as well as one of the best snorkeling spots on Maui.
There is one restaurant on-site, The Sea House, which is a perfect spot for breakfast, lunch, happy hour, or dinner. Or, take a stroll to the other end of the bay and enjoy breakfast at the famous Gazebo restaurant.
Napili Kai features:
Activities: cultural morning presentations with coffee

Kid's club: open seasonally

Dining: Kids 12 and under eat free off the keiki menu at the Sea House with a paying adult

Pools: four pools

Nearby: Napili Bay
10. Best Family Resort for Kids Club: Montage Kapalua

Bay

While the Montage at Kapalua Bay might be the most luxurious resort on the island, it knows how to cater to the family crowd. This hotel is a real treat: the sprawling grounds, the location near Kapalua Bay but away from larger resort areas, the villas, and pools.

Staying here means not cramming into a 500 square foot hotel room. They offer one to four bedroom villas, each with a full kitchen, living room, and dining room. There are three pools on varying levels that feel spread out and serene.

But the real highlight is the Paintbox Children's Program. Days are planned to incorporate indoor and outdoor activities and are centered around a theme. For example, on "wildlife Wednesday" they take kids to explore the Kapalua Coastal Trail and the bird refuge and learn about the different birds that live on Maui. They also have Children's Night Out with dinner, arts & crafts, a pajama party, and a movie. These programs are offered at an additional cost, but they are more comprehensive than other kids club programs you'll find on the island.
Montage Kapalua Features:
Activities: Montage Merit Badges that inspire kids to try new activities while on vacation (whale spotting, surfing, etc).

Kid's Club: Paintbox Childrens Club offering daily activities for kids age 5-12. Half day, full day, and night options are available.

Dining: Multiple restaurants available, including family-friendly The Hideaway. 24-hour in-room dining.

Pools: 3 pools on varying levels

Nearby: Kapalua Bay
Plan the Rest of Your Trip to Maui
Now that you've found your resort, it's time to plan the rest of your trip. We have you covered with our done for you itineraries. These done for you days will take you around to the best spots on excursion days, so you can make the most of your valuable vacation time. We include beaches, restaurants, hiking spots, and more to make sure you have wonderful days out.
"Just wanted to thank you for the awesome itinerary you have put together. We just got back from our 10 day Maui trip & it was such a great help to my family. We saw and experienced so much. Thank you for putting all of this fantastic travel information out there! For this travel research nerd, I sure do appreciate it!"
Get The Maui Itinerary
The step-by-step itinerary takes you to all the best beaches, snorkeling spots, restaurants, and sights. You'll get six carefully planned excursion days to help you see the can't miss stops no matter how limited your time is.
Get all the details on our itinerary and download it for a memorable and easily planned trip to Maui.