Koloa Landing Resort Review: the best resort on Kauai
Disclosure: This post may contain affiliate links, meaning if you decide to make a purchase through my links we may earn a commission at no additional cost to you. Read about our affiliate policies here.
In a nutshell: this understated, luxurious resort makes you feel immediately at home.
Overview of Koloa Landing Resort
Koloa Landing Resort is a Marriott Autograph Collection hotel located on the sunny south shore of Kauai. This is a newer resort (11 years old) and it tops our list for our favorite luxury hotel on the island. From the villas to the amazing pool, our stay was perfect from beginning to end.
Koloa Landing Resort Location
Koloa Landing Resort is located in the heart of Poipu, you're half a mile from The Shops at Kukui'ula and 1.5 miles from Poipu Beach.
Highlights of the Koloa Landing Resort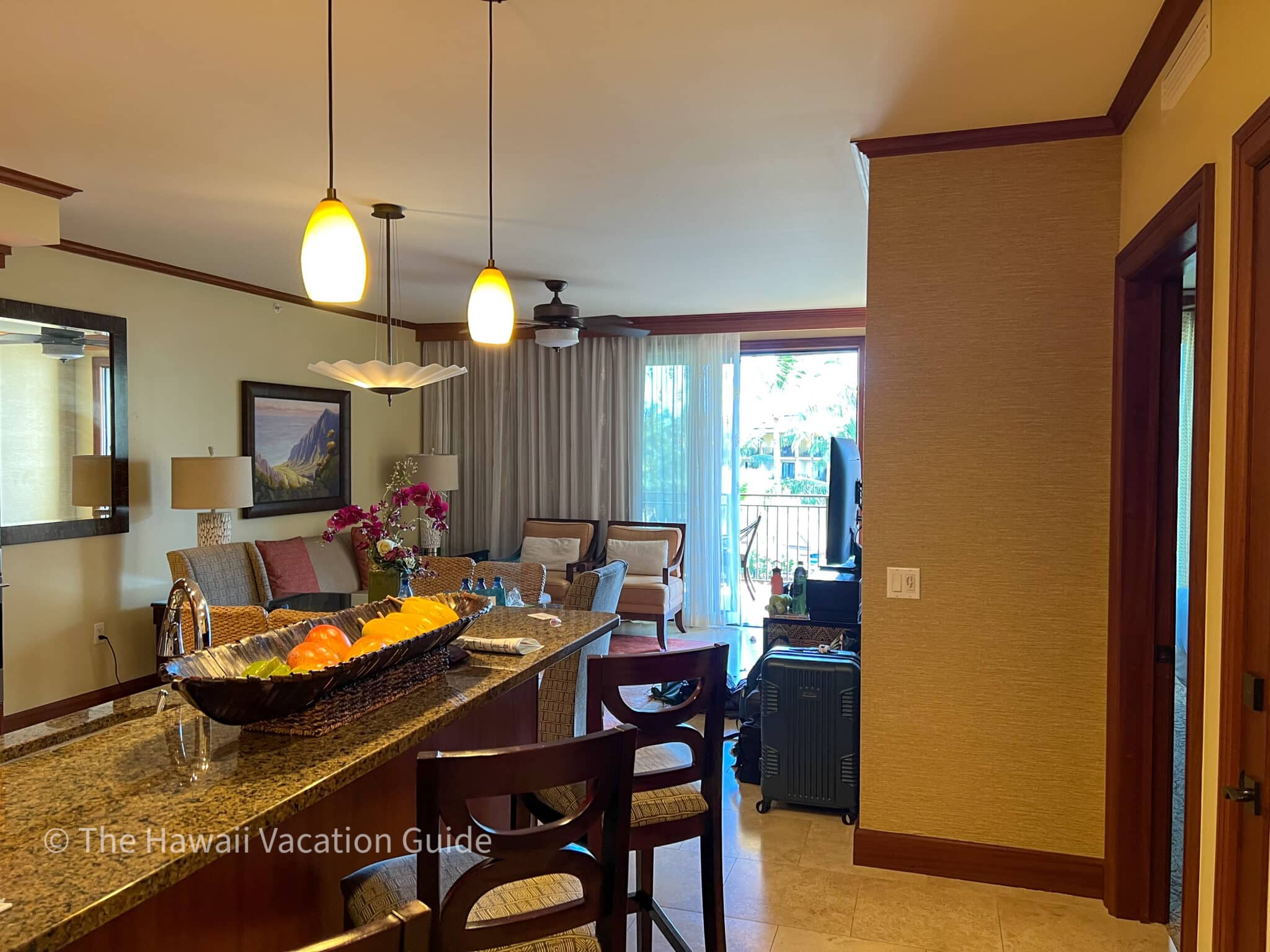 Pools
The resort loves to let you know that they have won an award for the best pool in America. At first, I was skeptical. But after spending 3 pool days there, I was convinced that this is truly a spectacular pool. And I'm honestly not sure if I've stayed at a hotel with a better one.
But they don't have just one pool, they have 3.
Main lagoon pool: This 350,000 gallon pool has it all. Two waterslides, an infinity pool, waterfalls, hot tubs, and a shallow lagoon end perfect for small kids. This was where we spent the majority of our time and we couldn't have had more fun. Luckily, the Holoholo grill is located poolside so you really never have to leave.
Family lagoon pool: If the large pool isn't your thing, they offer a family lagoon pool which is pretty wonderful. This 6,100 square foot pool has an island, a lagoon, a basketball hoop, and more.
Tranquility pool: Because kids at the pool can get loud, if you're looking for an adults only vibe, they have a smaller, quiet pool just for you.
And a quick note about the amenities they provide: I always appreciate free reef-safe sunscreen and water. But they went above and beyond by having free swim diapers available. We had forgotten ours and it was such a relief to have access to a swim diaper and to not be charged an exorbitant amount for one.
Rooms
What sets Koloa Landing Resort apart from every other hotel on the island is the room variety. They offer various room sizes ranging from studios to four bedroom penthouses.
Deluxe studios: these 500 square foot studios give you much more than a standard hotel room. With a king size bed, a queen size sofa sleeper, a kitchenette, and a washer/dryer, you'll have everything you need for a pleasant stay.
Luxury villas: They offer 1, 2, and 3 bedroom villas ranging in size from 800 to 2700 square feet. We stayed in a 2 bedroom villa and it was fantastic. The full kitchen, dining room, living room, and large lanai were perfect for our family. Add in a washer and dryer plus two bathrooms and we never wanted to leave.
Penthouse: Their largest room offering is a four bedroom, five bathroom penthouse that features 3,600 square feet of living space and three private lanais. Ready to entertain? One of the lanais has a private grill ready for you to use.
Restaurants
If you're looking for food, there are only two options onsite:
Holoholo Grill: open for three meals per day, the grill is located next to the main pool and serves food that is actually delicious.
Gourmet marketplace: this shop next to the lobby offers a small breakfast and lunch menu. They also offer some pantry staples for purchase so you can stock your kitchen.
While there aren't a ton of restaurants on-site, there are plenty of delicious options located just a few minutes away. Head to The Beach House for dinner or happy hour or go to the Shops at Kukui'ula for options like Eating House 1849 or Merriman's.
Activities
While there aren't as many on-site activities as you'll find at other resorts, there is plenty to keep you busy. Some of their on-site activities and amenities include:
Full spa with couples treatment room
A putting green
A soccer field
Complimentary yoga classes
Campfire s'mores
One of the benefits of staying on the south shore is that you're so close to so many activities. The three activities we did while staying at Koloa Landing Resort were:
You can check out all of the Kauai activities we recommend here.
Why We Love Koloa Landing Resort
I'm going to be brutally honest here: after staying here it is going to be extremely difficult for me to stay at any other resort on Kauai (or anywhere, really). We loved our stay here (loved!) and here are some of the reasons why:
The space: we were on a three week trip to multiple islands and Koloa Landing Resort was the final stop on our trip. The space we had here was by far the nicest and the largest. It was a welcome treat after staying in small hotel rooms and a large, but less luxurious vacation rental.
Low density buildings: no skyscrapers here. I love that the rooms and villas are spread out in multiple buildings on the 25 acre property.
The pool: Again, the best pool in America. We spent hours each day at the main pool swimming from the infinity pool up top, down the waterslide, into the hot tubs, and over to the shallow lagoon end.
The service: The hallmark of a truly luxurious resort is that the service is never stuffy. Everyone we met was so kind and inviting, which gave the whole resort a very laid back and happy vibe.
Kid-friendly: While some hotels claim to be kid-friendly, Koloa Landing Resort really lived up to this claim. Our kids were given welcome bags upon check in, there was plenty of space for the kids to roam, the kids menu at Holoholo grill was great, and the free swim diapers was just such a welcome surprise.
Our Stay at the Koloa Landing Resort
To see more of the Koloa Landing Resort and the two bedroom villa we stayed in, watch our video below! In the video we not only give a full tour of Koloa Landing Resort but we also share things to do in Poipu and our favorite restaurant for sunset. Enjoy a perfect day in Poipu while staying at the resort.
You can find more things to do around Kauai in our legendary Kauai Wayfinder Itinerary.
Things to Know Before Booking Koloa Landing Resort
Because we enjoyed our stay so thoroughly, it was difficult for me to come up with drawbacks. But here are some things that might convince you that this is not the place for you to stay. Though really, this is the place for you to stay.
Not beachfront: The hotel is oceanfront, but not beachfront. So you can't run out of your villa door and get your feet in the sand. If you want to walk to nearby Kiahuna Beach, you're looking at a 10-15 minute stroll. Or you can drive to Poipu Beach in just a few quick minutes.
Resort fee: Like almost all resorts in Hawaii, Koloa Landing Resort charges a resort fee of $35 per night (at the time of publishing). This is pretty standard (and includes parking), though it still adds up!
Only one restaurant on site: If you're looking for extensive dining options on-site, you're going to be disappointed. While the Holoholo grill is good and we ate many meals there, you'll probably want to venture out to some of the nearby restaurants. The Beach House for sunset is one we'll remember forever.
Luxury resort price tag: While this isn't the most expensive hotel on Kauai or in Hawaii, it is on the high end. It's a luxury resort and it comes at a luxury resort price. It is expensive and it was certainly a splurge for us. But it was also by far our favorite stay on Kauai so it actually felt worth the extra cost.
Ready to head to Kauai? We can make it easy to finish your planning with our itineraries. These island itineraries take you on excursion days seeing the best sights and eating at the best restaurants. All on a planned out route so there is no backtracking.
"We leave on our trip to Kauai and Hawaii on this Saturday. We reserved our timeshares about a year ago. We purchased our plane tickets about two months ago. We started to "flesh-out" our itinerary about a month ago. I only came across your website and itineraries for each island about two weeks ago. I bought your itineraries about a week ago. Honestly, I wish I had found you long ago. Also, I wish that it was more clear on your website how incredibly helpful it is to have you do all the research! Your research and itineraries are priceless and a bargain at your price point. I don't know why I hesitated to buy them."

Gilda S.
Get The Kauai Itinerary
The step-by-step itinerary takes you to all the best beaches, snorkeling spots, restaurants, and sights. You'll get six carefully planned excursion days to help you see the can't miss stops no matter how limited your time is.
Get all the details on our itinerary and download it for a memorable and easily planned trip to Kauai.