Oahu vs Big Island: Pick The Right Island for Your Trip
Disclosure: This post may contain affiliate links, meaning if you decide to make a purchase through my links we may earn a commission at no additional cost to you. Read about our affiliate policies here.
Hawaii is a popular vacation destination for travelers seeking sun, sand, and spectacular landscapes. But before you plan your vacation to paradise, it's important to decide which island you want to visit. If you've never been to Hawaii, it may come as a surprise that the islands are drastically different from one another.
Oahu vs Big Island: Oahu is the better choice if you want beautiful beaches and a bustling city atmosphere. It's also the most affordable island in Hawaii, so it's a good option if you're trying to stick to a tight budget. On the other hand, you might prefer the Big Island if you're more into adventure sports and outdoor activities. It's also more spread out (and less crowded), so it caters more to travelers who want a classic, resort-like experience.
But that's just scratching the surface of what these islands have to offer. If you need more help deciding where to go, we'll dive into each place in more detail so you can feel confident that you're choosing the right island!
Travel resources for any island:
Take a deep dive on both islands with the Oahu Travel Guide and the Big Island Travel Guide
Book some of our favorite activities to enhance your vacation. While tours aren't necessary, we get a lot of value out of going on a few every time we visit.
Travel hack your way to Hawaii and learn all about booking your vacation with points!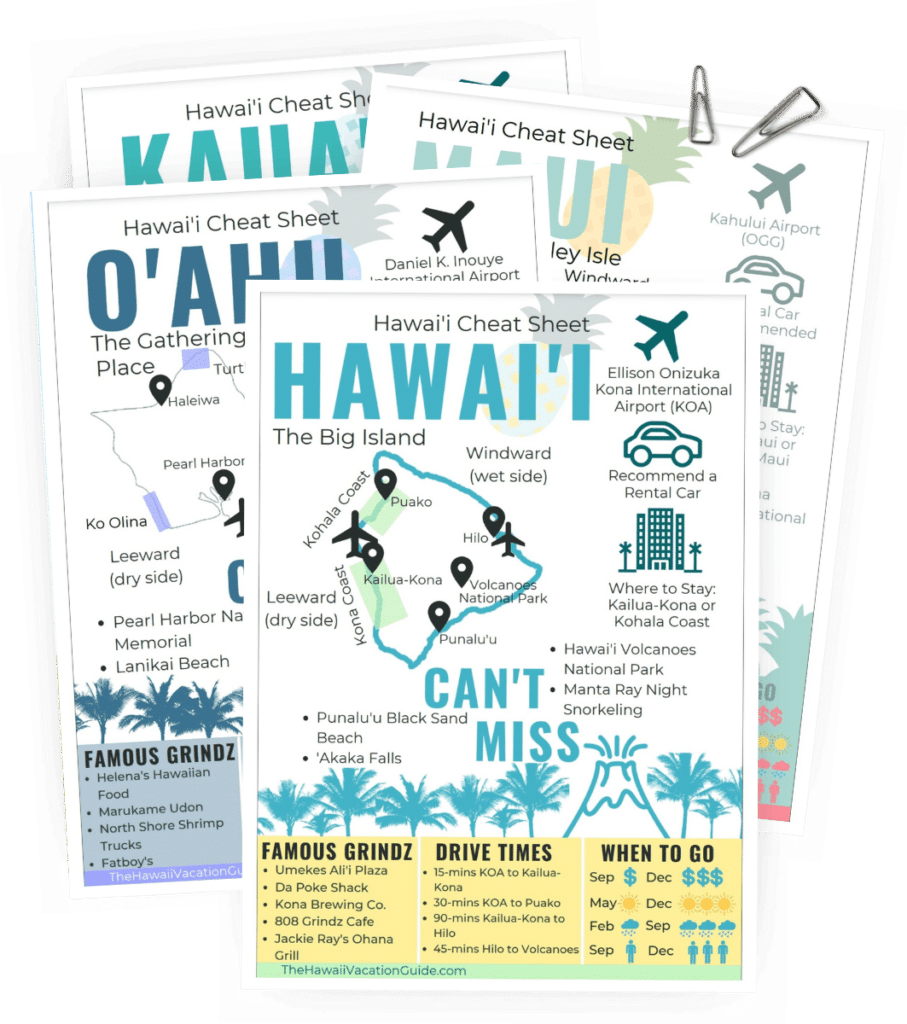 Free Download!
Hawaiian Island Cheat Sheets
Sign up & we'll send you our island cheat sheets so you can get to know the islands like the back of your hand!
We'll share 4 can't-miss activities on each island, a map with the main sights in town, & famous local grindz (eats)!
Oahu in a Nutshell:
Although Oahu is only the third-largest island in Hawaii, it feels completely different than its sister islands. It has a bustling city (Honolulu is the state capital, after all), laid-back towns and beaches, and tons of cultural and historical sites to keep you occupied.
However, Oahu can be crowded. Not only is it the most populated island in Hawaii, but it is also the most visited in terms of tourism (according to a 2019 study, over 60% of people who go to Hawaii visit Oahu). And while there are some secluded places that feel more like a tropical getaway (Ko'Olina is a good option for a luxury escape), the island still has a big city vibe.
But we personally still feel that Oahu has something for everyone, which explains why it's so popular with travelers. Whether you are here for the sun-soaked beaches, the glitzy atmosphere of Waikiki, or the historical sights like Pearl Harbor, this island is definitely something you should explore at least once.
Big Island in a Nutshell:
The Big Island (also referred to as the Island of Hawai'i) lives up to its name. It's big and larger than all the other islands combined. As a result, the landscape is incredibly diverse, with volcanic craters, lush rainforests, and spectacular beaches. Even the climate zones vary from one side of the island to the next! But we will talk more about that later.
For the best of the Big Island's beaches, snorkeling, and cultural sides, head to the leeward side of the island. The Kohala and Kona Coasts are particularly known for their swimmable beaches and snorkeling opportunities, including snorkeling with manta rays! Hilo and other destinations on the windward side are greener (this also means it is much rainier), but also a good place to stay to explore the legendary Volcanos National Park.
While many people come here for a relaxing beach vacation, the Big Island also caters to adventure enthusiasts and nature lovers. Whether you're here for snorkeling, diving, waterfall chasing, or even stargazing atop Mauna Kea, you'll have plenty of exciting opportunities for fun on the Big Island.
Oahu vs Big Island for:
The Best Resorts
From cozy vacation rentals to sprawling beachside resorts, both Oahu and the Big Island have a wide range of accommodation options. However, there are some big differences to keep in mind when choosing where you want to stay.
Oahu has some great resorts, especially in Waikiki. And while these places have stunning locations and outstanding customer service, they're located in one of the most crowded and touristy areas of Hawaii. Not only is beach space more limited, but it also has a strong city-like atmosphere – which can be a dealbreaker for those who prefer to spend their days in peace and tranquility.
There are other resorts outside of Waikiki near Ko Olina or the North Shore, but you can expect to pay a premium to stay here. If you're looking for more affordability, check out these great vacation rentals in Waikiki.
If you're looking for a more traditional resort vacation, then the Big Island is the better option. We recommend the Kohala Coast, a luxury resort area with pristine beaches, volcanic landscapes, and some of the best golf courses in the state.
Winner for best resorts: The Big Island
Beaches
Although both islands have some spectacular beaches, Oahu takes the cake due to the accessibility and diversity of the coastline.
Of course, the most famous beach on Oahu is Waikiki Beach. This is a very popular place amongst travelers, as it's centrally located next to many of the big hotels and resorts in Waikiki. Besides swimming and sunbathing, Waikiki Beach is also a good place to surf (or learn how to surf), snorkel, and stand-up paddleboard.
But there are so many beautiful spots worth visiting that are less crowded and in our opinion, way more scenic. For example, Pupukea is also great for snorkeling, Sandy Beach is best for body surfing (carefully!), Lanikai Beach is best for unbelievably clear water, and Waimanalo has some of the whitest sands we've seen on the island!
The Big Island also has quite a diverse selection of beaches, although they tend to be more rocky and rugged. We especially love a visit to the Big Island's black sand beach, Punalu'u and Hapuna Beach, one of our favorite beaches in Hawaii.
Just like Oahu, in the winter the northern beaches can be too rough to enter the water.
However, the Big Island's coastline is breathtakingly beautiful. The volcanic landscape and lush rainforest is quite a contrast to the lively shores of Oahu. But if you're traveling with kids or plan to spend most of the day in the water, Oahu beaches are definitely the better choice.
Winner for best beaches: Oahu
Snorkeling
You can't visit Hawaii without going snorkeling at least once. But if you're making your decision purely based on which island has the best snorkeling, then the Big Island is the way to go. In fact, we think the Big Island is the best snorkeling destination in Hawaii after Maui.
The waters are translucently clear and teeming with colorful coral reef and marine life. Its possible to see sea turtles, spinner dolphins, manta rays, and even whale sharks!
If you are here to snorkel, we recommend the leeward side, as most of our favorite spots are along the Kona and Kohala Coast (Hilo and the eastern side of the island are rather rainy, which doesn't make the best snorkeling conditions). Kealakekua Bay is known for snorkeling, so it's worth booking a tour if you have the time. Here are a few snorkeling tours we recommend:
Don't get us wrong – Oahu has some good snorkeling too, especially if you're a first-timer. Hanauma Bay Nature Preserve and Shark's Cove have calm, shallow waters that are ideal for a day out snorkeling.
Although Oahu is good for beginners, the snorkeling spots simply can't compare to the underwater world of the Big Island. Plus the Big Island is the only place you can snorkel with manta rays year-round, and that is an absolutely incredible experience!
Winner of best snorkeling: the Big Island
Check out more manta ray resources and experiences:
Manta Ray Snorkel and Dive in Hawaii: Read Before You Book
Manta Ray Night Snorkeling Guide: What to Expect (a thrill)
Tried and Tested: The 5 Best Manta Ray Night Snorkel & Dive
Nightlife
If you're looking for a bit of fun and entertainment after the sun goes down, Oahu is the place to be. There are so many different bars, lounges, nightclubs, and live music venues to choose from, especially in Waikiki and downtown Honolulu.
The Big Island does have some nightlife, although it's far more laid-back compared to the upbeat and energetic atmosphere of Oahu. Kailua-Kona is probably the most popping place on the island, but bars and restaurants are rarely open later than 10 or 11 PM.
So, Oahu has a bustling nightlife scene that ranges from quiet cocktail lounges to rowdy nightclubs – and everything in between. On the other hand, the Big Island is better suited for visitors who prefer a calm and quiet evening out.
Winner of best nightlife: Oahu
Cost
While there are some good deals to be found, we wouldn't consider either island a budget destination. When you take flights, accommodations, and rental car prices into consideration, your Hawaii vacation costs add up quickly.
But the good news is – Oahu is the cheapest island in Hawaii to visit! We found that the average cost of a 6-night trip for two is around $3,000 (roundtrip flights from LAX, hotel, and rental car). If you're staying in a vacation rental property, this price drops to around $2,600.
Here's a breakdown of what you can expect to pay during your stay on Oahu:
Airfare: $836
Hotel: $1836 (or $1422 if staying in a vacation rental)
Rental Car: $343
A trip to the Big Island is only slightly more expensive than Oahu. From our research, this makes it the second cheapest island in Hawaii. Airfare here tends to be cheaper than on Oahu, but rental cars and accommodations can drive the price higher. We're looking at around $4,000 staying in a hotel or $2,775 in a vacation rental.
Airfare: $806
Hotel: $2658 (or $1482 if staying in a vacation rental)
Rental Car: $490
Of course, these are just average base costs. The exact price of your trip will depend on when you're traveling (avoid summer and the holiday season if you want to save money) and the type of lodging you're staying in. On top of that, you'll also need to budget for tours, excursions, and food, as these will impact the cost of your vacation and will vary the most depending on what kind of trip you take.
Winner of cheapest cost: Oahu
More savings here!
Book your rental car with Discount Hawaii Car Rental for the best prices.
Check out our coupon codes for good deals on our itineraries and things you already want to do!
We also share how we book our travel and getting a cheap ticket to Hawaii.
Weather
If you're planning a trip to Hawaii, we bet you're probably hoping for warm weather and lots of sunshine. And while the islands can be very hot and sunny, they can also surprise you with unexpected weather changes.
Oahu has fairly consistent temperatures throughout the year, with temperatures hovering in the high 70s to mid 80s. The rainy season spans from November until March, other months it remains relatively dry and calm if you're staying in Waikiki. Evenings are a little bit cooler – sometimes in the high 60s or low 70s. Depending on when you're traveling and where you're coming from, this could be t-shirt weather for you, while the locals will be bundled up.
The North Shore is more temperamental weather-wise. As it's on the windward side of the island, you can expect more rainfall during the winter.
However, the Big Island is one of the best Hawaiian islands if you're seeking nice weather. The entire leeward coast (namely around Kailua-Kona and Kohala) is a great place to base yourself, as it sees warm temperatures and also lower chances of rainfall.
But we can't say the same for the Hilo area, as it gets a lot of rain throughout the year. In fact, its one of the rainiest cities in the entire country! (Remember all those climate zones?) Even if you're not here during the wet season (November to March), rain is still common. Although this could impact your day at the beach, heavy rainfall is great for visiting waterfalls or going for a hike through the jungle.
Winner of best weather: the Big Island (if you are staying on the leeward coast)
Hiking
Don't forget to bring your hiking shoes on vacation, as Oahu and the Big Island have plenty of amazing trails for you to explore.
Generally speaking, Oahu is a good destination for hikers, regardless of your skill level. There are trails for families and beginners, as well as some more challenging options for advanced trekkers. For this reason, we consider Oahu the best option if hiking is important.
The Ehukai Pillbox (on the North Shore) is a short but steep journey. It took us about 90 minutes total with our young kids in tow and boasts amazing views over the ocean from the summit. We also recommend the Manoa Valley hike (a 30-minute drive north of Waikiki), which takes you to the beautiful cascading 150-foot Manoa Falls.
And if you're looking for something closer to Waikiki, you can't go wrong with a hike up to the scenic summit of Diamond Head! If you do plan to visit, just make sure you book a reservation online before, as there are a limited number of permits given per day.
The Big Island also has its fair share of trails. Hawaii Volcanoes National Park was practically made for hiking, as there are tons of different trailheads to choose from. Hiking to Kohala Waterfall is another good option (here's a full-day tour that includes transportation, guides, and a picnic lunch).
But overall, we would pick Oahu as the better island for hiking, as there are lots of great trailheads that are easy to reach.
Winner for best hiking: Oahu
A quick note on Diamond Head: the state parks site where you make your reservation says the trail is ADA accessible, but the summit trail is not, only trails around Diamond Head are. This is confusing for planning activities with mobility aids. Check our guide to a Handicap Accessible Hawaii if you're traveling with accessibility needs.
Adventure
Hawaii has a plethora of outdoor adventures. And while both islands have their own slew of exhilarating activities, we have to say that the Big Island is the clear winner.
The sheer number of activities here are seemingly endless. You can hike an active volcano and through a lava tube, snorkel with giant Manta rays, and even zipline through the lush green rainforest.
But the Big Island isn't just for thrill seekers. There are plenty of outdoor activities to suit all travelers and comfort levels. For example, there are some great coffee farms that you can tour around Kona, a ton of other unique farm tours, as well as tons of spectacular beaches where you can soak up the sun.
Oahu is a bit more developed than the Big Island, but that doesn't mean it's lacking in fun experiences. It's also a good place to surf and hike, and there are plenty of beaches for swimming, snorkeling, and sunbathing. Check out our lists of things to do in Waikiki, on the North Shore, and all of Oahu!
Plus, Oahu is a wonderful place for history buffs. You can visit Pearl Harbor, Iolani Palace, the Bishop Museum, and Queen Emma's Summer Palace, all of which are just a short drive from Waikiki. Plus, if you're looking for a luau experience that really goes in depth on the history of Polynesia, check out the Polynesian Cultural Center.
However, you'll have way more options and unique activities at your disposal on the Big Island, which is why it's our top pick for those craving some adventure!
Winner for best activities: The Big Island
In Summary: Oahu vs Big Island
Both islands have a unique charm that will make one island a dream vacation for some and less desirable for others. Since they are so different, neither comes out on top because it's all about what you're looking to get out of your vacation.
To review, here are the categories each island won:
Check out more in the vs series:
Oahu vs Kauai: This is the Best Island For Your Vacation
Oahu vs. Maui (from someone who has lived on both)
Maui vs Big Island: Beach Vacation or Adventure (you decide)
Maui vs Kauai: Pick the Right Island for Your Trip
Big Island vs Kauai: Which One Is Ideal For Your Vacation
The Itinerary for Your Winning Island
Whichever island suits you best, get everything you need for the perfect vacation all in one place. From full excursion days, to the best restaurants, the best beaches, can't miss activities, all the way down to where to find free parking, these itineraries have you covered.
Just wanted to reach out and thank you for your tips and your excellent travel guide. I recently returned from a week in Oahu and had a blast. Your videos and guide helped my trip to be super relaxing and stress free — easy to navigate the island when someone has already told you the best spots to go to! Already recommended your stuff to some friends of mine. Looking for award to my next trip to Hawaii already.

Bo G.