First Timers Guide to Hawaii: Plan Your Trip Like A Pro
Disclosure: This post may contain affiliate links, meaning if you decide to make a purchase through my links we may earn a commission at no additional cost to you. Read about our affiliate policies here.
You've made the excellent decision to take your first trip to Hawaii. Congratulations! Now it's time to figure out how to plan your trip. While it can feel daunting because there are so many options to choose from and it's a BIG vacation, we've got you covered. We cover all the need-to-know planning advice for your first trip. After reading this guide, you'll feel much more confident in planning your dream vacation.
FAQs About Planning Your First Trip to Hawaii
Have some quick questions about your trip? Get them answered here before we dive into the decisions you need to make.
What island is the best for first-time visitors?
All of the islands offer something a little different and special, so picking the right island for your first trip takes a little research to understand just what is unique to each island.
Our favorite Hawaiian island to suggest to first-time visitors is Maui. Maui has a bit of something for everyone: from beautiful beaches, excellent snorkeling, a wide range of accommodations, and the best whale watching. We give you our 9 reasons why Maui is the best for first time visitors.
But it's not the right island for everyone. Here are some reasons why you might want to pick another island:
Oahu: Head to Oahu if you're looking for more of a cosmopolitan feel. You'll find nightlife, museums, and plenty of history.
Kauai: Visit Kauai if you're looking for a quieter trip, a lush landscape (with a bit more rain), and amazing hiking.
Big Island: Plan a trip to the Big Island if you're a volcano enthusiast (Volcanoes National Park is amazing), you want a laid back vibe, or you want to snorkel or dive with manta rays.
Want to see a little more about what makes each island special for first time visitors? We've created a video to help you out:
How much will a trip to Hawaii cost?
Going to Hawaii is not a cheap vacation. While there are ways you can save, food, accommodations, rental cars, and activities are all very expensive. In fact, all four of the main Hawaiian islands rank in the top 10 for most expensive average hotel room cost in the world. Maui hotel rooms are the second most expensive in the world, after the Maldives.
So, a trip is going to be expensive.
To help you get started calculating your own vacation estimate, we went through the work of calculating the cost of a trip for a family of four. The total for 10 days? $12,000. You can check out the full Hawaii vacation cost calculation as well as places you can save and splurge.
How many days should you spend on your first trip to Hawaii?
We recommend not rushing any trip to Hawaii, so the more time you can spend, the better! Despite it seeming like an easy domestic trip, it still takes nearly six hours to fly there from the west coast. And you'll likely have a little jet lag to deal with, as Hawaii is two or three hours behind pacific time (they don't have daylight savings time so in the winter it's a 2 hour time difference and in the summer it's a 3 hour time difference).
If you plan on visiting one island, we recommend a trip of at least 7 days. This will give you time to get settled, explore, and do some amazing activities, and have downtime to relax. If you plan on visiting two islands, plan for at least 10 days.
We recommend this itinerary combo as part of our first-time to Hawaii itinerary.
If you know what island you want to visit, you can dive into more details about exactly how many days you should spend:
A good rule of thumb is if you start speaking Hawaiian Pidgin, you have stayed too long.
Do you need to rent a car in Hawaii?
You'll most likely want to rent a car in Hawaii to maximize how much you can see. If you're planning a trip to Oahu and you're staying in Waikiki, there may be days where your rental car is never used. There's a lot to do within that 2-mile strip! You can save on expensive hotel parking fees by just renting a car on days that you want to explore the rest of the island. Rental car companies have offices in Waikiki which makes it convenient to pick up a car and take it out for the day.
If you want to get out and explore Oahu without renting a car, you can join a group circle island tour or book your own private island tour.
There is also a car share company, Drive Hui, that is available in Waikiki.
On the other islands, it's a bit trickier to go without a car. To see and explore, you'll probably want to book one. Public transportation isn't easy and getting a cab or uber can add up and be inconvenient. We love using Discount Hawaii Car Rental to help us get the best price for a rental car on each island.
Is it easy to island hop?
If you're hoping to visit one or more Hawaiian island on your trip, you're in luck! Island hopping is easy. While there are no ferries between islands (aside from a ferry between Maui and Lanai), you can fly between the islands using Hawaiian Airlines, Southwest Airlines, or Mokulele Airlines.
While the islands in Hawaii are close together and just a quick 30-45 minute flight, your island hopping travel day will still cut into your vacation. Between packing up, the airport process, and checking into accommodations on your new island, this can easily take up half a day of your vacation.
Related read: Get all the details you need to know about island hopping in Hawaii.
What is the best time of year to go to Hawaii?
There is truly no bad time to visit Hawaii. With temperatures that are warm year-round, you'll be in tank tops and shorts 12 months out of the year. But while there is no bad time to visit, we think Hawaii is best experienced during the shoulder seasons: in April/May and September/October. That's when we find the optimal mix of good costs, good weather, and the smallest crowds.
Let's dive into that a bit more or see our Best Time to Visit Hawaii article for details.
Weather:
While we did say that the temperatures are warm year-round, Hawaii does still get rain. And while you are heading to a beach destination, you probably want to minimize your chances of rain. As you can see from the chart below, Hawaii experiences peak rain from November through March. Though to be fair, rain varies on different sides of each island — we are showing average rainfall for one popular visitor destination on each island.
Crowds:
Visiting when there are fewer crowds can make for a more enjoyable vacation. Boat tours aren't sold out days or weeks in advance and beach parking is much easier to come by. Trying to find a time when fewer people visit (or the off season) isn't difficult to do. The Hawaii Tourism Authority does a wonderful job of tracking visitor arrivals to Hawaii.
From their data, it's clear that the peak times for crowds are November – January, March, and June – August. So if you want to visit while there are fewer people on the islands, plan a trip in February, April , May, September, or October.
Cost:
Traveling during the shoulder period could mean the difference between getting a hotel room for $800 or getting that same room for $400. Costs fluctuate widely depending on when you're going. If you want your travel dollars to stretch as far as possible, avoid the summer, spring break period, and the holiday period (Thanksgiving, Christmas, and New Year).
Related read: This is the worst time to visit Hawaii (we really try to avoid this period if possible!)
Do you need a travel agent to help you plan your first trip to Hawaii?
We sometimes love enlisting the help of a travel agent for our adventures. But to be honest, we haven't found great travel agents for Hawaii vacations. Most travel agents don't specialize in Hawaii (but we do). They have some basic recommendations, but can't speak in depth about different accommodation options, activity operators, and restaurants. So we don't recommend using a travel agent and you definitely don't need one to book your dream vacation.
If you're not sure where to start, check out our island guides. They walk you through all the need to know information for each island:
Oahu Guide
Maui Guide
Big Island Guide
Kauai Guide
And if you want even more in-depth information on how to plan your days to sightsee, check out our itineraries:
"I purchased the Kauai itinerary and it is awesome! I had no idea how much work and information you guys really put into it and I am so excited for our trip now!!"
– Kayla R.
Are there any special entry requirements to enter Hawaii?
There are no special requirements to enter Hawaii. If you are coming from outside of the US, you will need to show your passport to enter the USA and Hawaii. If you are traveling from within the US (the mainland) you won't need to show a passport to enter Hawaii.
Currently, there are no COVID restrictions or entry requirements for Hawaii.
How far in advance should you plan your trip to Hawaii?
If you're planning a trip to Hawaii, the earlier you plan, the better. While there always might be last-minute deals that pop up, they are few and far between. Booking in advance means you can shop around for the best hotel or vacation rental price.
We suggest planning six months in advance for your trip. You can usually secure great accommodations at a great price and a good rental car price. And a tip: if you book with Discount Hawaii Car Rental, you can always cancel your reservation and rebook if prices drop.
When you're planning activities and restaurant reservations, try to make them a couple of months in advance, so you can book exactly what you want. Be sure to check out our favorite tours and activities to help you narrow down your search.
Is a trip to Hawaii worth it?
Whether a trip is worth it is certainly up to personal preference, but we think a trip to Hawaii is worth it! With year-round good weather and amazing sights, this isn't an ordinary trip. Whether you're coming to experience the year-round humpback whale migration, hike to the top of a volcano, snorkel with Manta Rays, or swim in a waterfall, there is truly so much to do here.
And learning about Hawaiian culture and history makes this so much more than a beautiful beach vacation.
First Time to Hawaii Planning Timeline
Now that you've gotten some first time to Hawaii FAQs answered, it's time to dive into booking your trip. Here are the steps to walk through as you're making your decision:
1. Decide when you'll go
We love the shoulder season of April/May and September/October for fewer clouds, crows, and cheaper costs. But remember that really anytime is great. So find a time when you can book a long enough chunk of time for your trip and move onto step 2!
2. Decide how long to go for
We meet travelers all the time who are on vacation and frantically trying to figure out how to extend their trip. So if you can swing a few extra days, do it! Plan to spend at least 7 days if you're visiting one island or at least 10 days if you want to visit two islands. There is so much to see and it's a long trip out.
3. Choose your island(s)
Now onto the biggest hurdle for most first time visitors: picking the right island for you. This is a big decision and while all of the islands offer something special you need to decide what type of vacation you really want to have. Going to Oahu is going to end up being a very different vacation than a trip to Kauai.
If you're struggling to choose an island, see our tips earlier on in the article.
4. Book your flights
Start your search for flights. All of the major airlines fly to Hawaii, so you should have plenty of options to choose from. The airports (and airport codes) on each island are:
Oahu: Honolulu Airport (HNL)
Maui: Kahului Airport (OGG) and Kapalua Airport (JHM), used for inter-island trips
Island of Hawai'i (Big Island: Hilo International Airport (ITO) and Kona International Airport (KOA)
Kauai: Lihue Airport (LIH)
If you're visiting more than one island, check out our inter-island travel article for tips on how to island hop seamlessly.
Consider being greeted upon arrival with a traditional Hawaii lei greeting. It is a fun way to start your Hawaii vacation.
5. Pick a place to stay
Once you've picked an island, there are so many options for accommodations. The first decision to make: do you want a vacation rental or a hotel? There are pros and cons to both options. If you're planning to eat in a lot, a vacation rental can save you money with a kitchen. But you're likely going to miss out on a great resort pool.
Check out all of our pros and cons with our Airbnb vs Hotel article.
6. Figure out whether you want to rent a car
For most vacations, you will probably want to rent a car. If you're hoping to see a lot of the island that you visit, a car is necessary. Public transportation options aren't usually very convenient and getting a cab or uber can add up to be quite expensive.
The exception to this is Oahu. If you're staying in Waikiki, there are plenty of things to keep you busy for days in a row so renting a car for your entire trip isn't necessary. And when you do want to head out and explore, there are car rental options available right from Waikiki.
When you're ready to book a car, we recommend Discount Hawaii Car Rental. We've saved thousands of dollars using them for our car rentals. They work with major carriers and don't require pre-payment, so it's a flexible and ideal way to save on your car rental.
7. Choose some of your can't-miss activities
There is truly so much to do on each island, and even if you were staying for a month, you wouldn't be able to do it all. So making a list is important.
Are you excited to hike a volcano? Snorkel from a boat? Zipline above a canopy of trees? Get an up-close view of humpback whales?
Our Tours & Activities section will help you find our favorite activities on each island.
To help you get started our cheat sheets will give you a few of the ca n't-miss experiences on each island.
Additional Hawaii resources:
8. Make some fun dinner reservations
If you're coming during the peak season, getting a few dinner reservations on the books is important. And even if you're not, if there's any place you feel like you need to eat, getting your reservation made early ensures you won't miss out. Our cheat sheets offer some dining recommendations and our itinerary has a Quick Hits section with all of our favorite restaurants.
9. Get packing
You don't need to bring much with you on your beach vacation. But make sure you have the essentials by using our packing list. Yes, you'll want to pack reef-safe sunscreen and a jacket!
Check out our full packing list here.
And our favorite item to pack? Our itineraries! They make your trip planning and experience so much easier. With excursion days to take you around the island and a list of our favorite restaurants and beaches, this is one thing you'll definitely want with you.
"I can't tell you how much we have appreciated your effort with the guidebook. We saw things this past week we would never have known to look for. These hidden gems were amazing from the black sand beach all the way up to Pololu lookout and all the small shops along the way. We leave tomorrow and I wanted to say how much we used and enjoyed your book. Thank you so much."
– Chris P.
First-Time Visitors Tips While in Hawaii
Once you've made it to Hawaii (hooray!) we have some tips to help make your time in the islands even more memorable.
Understand the geography
While getting to know the geography of the islands might seem a little ridiculous for your vacation, it's important because it will affect the weather you experience and what you do while on vacation.
The main thing to know is that each island has a windward and a leeward side. The windward side of each island faces the tradewinds. You'll get more rain and wind, but you'll also get lush landscapes (thanks to all of that rain!). On Maui, Hana is a famous spot on the windward side. The landscape is lush and the waterfalls are beautiful. But it also rains a lot and the ocean currents are very strong.
The leeward side of each island is more protected from the wind and rain and you will have drier, sunnier weather. Most of the famously beautiful beaches you plan on visiting are located on the leeward side of the island.
For example, on Maui, the leeward side of the island includes some great beaches, like Wailea Beach and Ka'anapali Beach.
When you understand the island's geography, you can better prepare for what to expect. If you're looking for a lush, jungle experience, with waterfalls and greenery head east to the windward side. If you're looking to beat the rain and get some sun, the west or leeward side is your best bet.
Get out and explore
The beaches in Hawaii are incredible. But there's a lot more to explore on each of the islands. Some things you might want to add to your list include:
This was just a taste, but there is so much more. If you want to view the highlights of each island, check out our cheat sheets.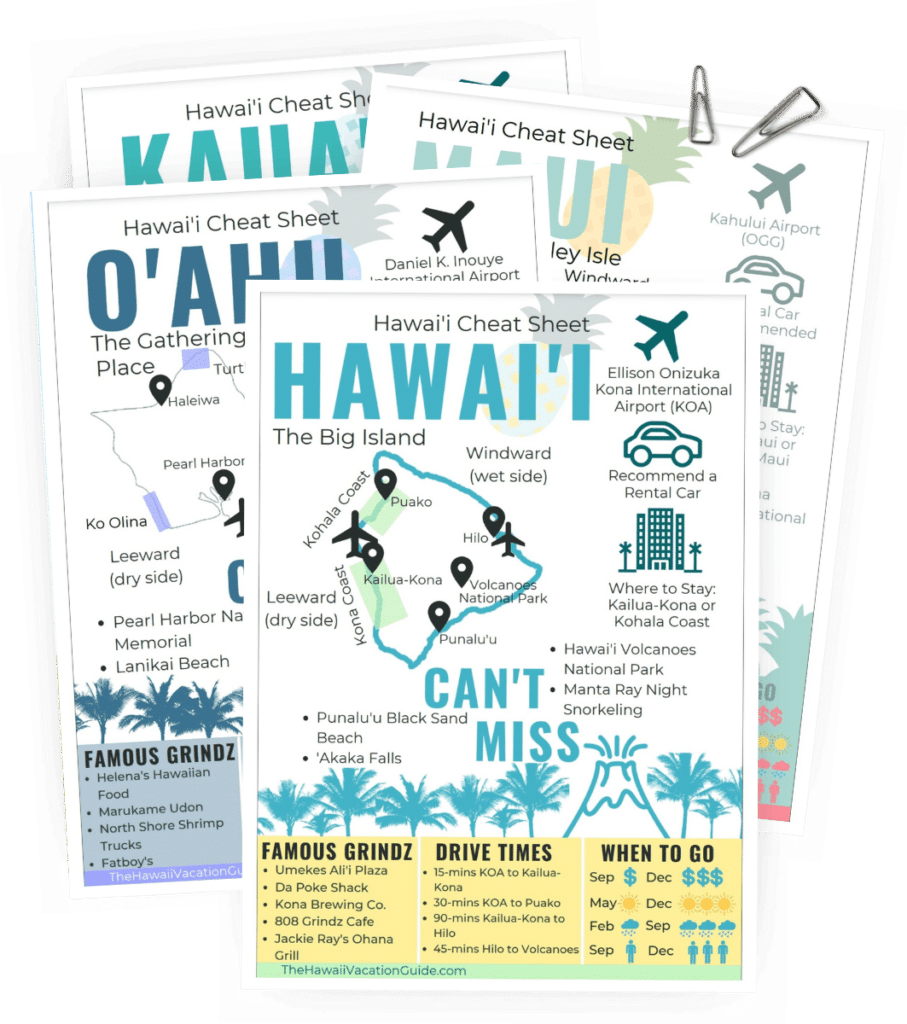 Free Download!
Hawaiian Island Cheat Sheets
Sign up & we'll send you our island cheat sheets so you can get to know the islands like the back of your hand!
We'll share 4 can't-miss activities on each island, a map with the main sights in town, & famous local grindz (eats)!
Not only do these island cheat sheets highlight the top 4 can't miss sights and activities on each island, you'll also get tips on where to stay, a map of the island with the main sights, towns, and airport locations, the top places for food on each island, and more.
They're designed to make kicking off your trip planning even easier. Grab them for free and start planning!
Try the local food
One of the treats about visiting a new place is the opportunity to try new, local foods that you might not eat back home. There are a few things you should consider trying while you're here:
Fresh, locally caught fish: If you're a seafood fan, don't miss out on the fresh fish. You can enjoy it at either a restaurant or from a fish market. You'll see options like Mahi Mahi, Ono, Opah, Ahi, and more.
Locally grown produce: Enjoy dragon fruit, coconut, lilikoi, pineapples, locally produced honey and more. We love doing farm tours, but if that's not part of your vacation itinerary, try a farm-to-table restaurant. You'll get to sample some island flavors while supporting the agriculture industry here.
Traditional Hawaiian food: You don't need to go to a luau to sample some traditional Hawaiian dishes. Look for dishes like poi (taro that has been pounded into a paste), laulau (meat wrapped and cooked in taro leaves), kalua pig (slow-roasted pork cooked in an underground oven), and poke (diced, raw fish that is wonderfully flavored). If you are looking to try traditional Hawaiian food at a luau, check out our list of the best luaus in Hawaii.
Shave ice: Not shaved ice. You may think that this is like a snowcone, but it couldn't be further from it. Soft fluffy ice shavings that are flavored with different syrups and creative flavor combinations. You might also have the add-on of fruit and ice cream. It's so, so good. Don't forget to check out our five favorite shave ice spots on Kauai.
Snorkel (safely!)
Living here, we love spending our days in the ocean. There is nothing like diving into the warm, tropical waters and being greeted by colorful fish, turtles, octopi, and more. But if it's your first time snorkeling in Hawaii, there are some essential details you should know.
Understand safety risks
Snorkeling may look easy, but water conditions, physical conditions, and more come into play. It's not always as safe as it looks — drowning is the number one cause of visitor death in Hawaii. Before you go out, review the safety tips to make sure you're doing what you can to keep yourself safe.
There are a couple ways to check the ocean conditions daily. You can check Hawaii Beach Safety for daily ocean conditions for select beaches on all four main islands.
If you're headed to Maui, we love the daily Snorkel Reports from the Snorkel Store. It helps us to see what areas have the best snorkeling conditions for the day and also gives us warnings about large swells that are coming in and affecting safety and visibility.
Use good gear
Hear me out on this one. You'll find a number of blogs telling you to pick up a cheap set of fins and a mask from an ABC store or Target once you arrive. There are a few reasons we don't suggest that.
First, safety. Well fitting gear (fins that stay on and a mask that doesn't leak) is important to keep you safe.
Second, it's a significantly more enjoyable experience to snorkel in gear that fits well and is easy to use. This was apparent when we were trying to teach our preschooler to snorkel. The cheap gear didn't cut it but once we got him in a good mask, he was off!
Third, buying cheap gear just adds to the already full landfill here.
That's not to say you need to shell out and buy expensive gear. If you plan to snorkel many times, even after this trip to Hawaii, it's worth it to buy good snorkeling gear. We have sets listed on our recommendations page.
Otherwise, renting snorkeling gear is a great option. The shop staff can help you find gear that is the right fit for you. And if you find that it doesn't work right, pop in and switch it out for a different rental set.
Go to the best places
All snorkeling spots are not created equal. Some spots on the island naturally have a more vibrant reef and are home to more fish and sea life. Other spots may be more affected by ocean swells at various times of the year.
On our guide pages we list out the best snorkeling spots on each island. You'll want to check these pages out before hopping in the water:
Oahu Travel Guide
Maui Travel Guide
Big Island Travel Guide
Kauai Travel Guide
And if you're looking for the best snorkeling spots in Hawaii by month, we have you covered.
Take a snorkeling tour
While we love snorkeling from the beach and we do it often, going on a snorkeling tour is a really special experience. On a good snorkeling tour, you'll learn about the ocean, the sea life, and be taken to some cool spots that aren't easily accessible from the beach. Plus, you'll be able to see the islands from the water, giving you a different perspective and appreciation for their beauty.
We have a full list of our favorite activity providers and tours on each island, but here are a few that are incredibly special:
Only use reef-safe sunscreen
Before you throw your favorite brand of sunscreen into your bag, stop. Hawaii has rules in place to help protect the reef and sea life that are so important. One of those rules is around the type of sunscreen you can use. Sunscreens containing chemicals oxybenzone and octinoxate are no longer sold in Hawaii. These chemicals have been found to contribute to coral reef bleaching.
You can check out a full list of our favorite reef-safe sunscreens and make sure you're only using legal sunscreen in Hawaii.
Understand the rules protecting sea life
When you're snorkeling and enjoying the crystal clear water, it's important to keep in mind that you want to make as little impact on sea life as possible. Stay at least 10 feet away from turtles while snorkeling. You're required to stay at least 50 feet away from Monk Seals. And if you see spinner dolphins, you'll need to give them 50 yards of space.
Learn about the culture
Hawaii is a unique US state for many reasons but one thing that is important to understand is that Hawaii had a long and rich history before becoming part of the US. Learning a little about the culture and the history will enhance your stay and give you new appreciation for these amazing islands.
There are plenty of ways to learn more about Hawai'i while you're here. Consider visiting museums. On Oahu we love visiting the Bishop Museum and Iolani Palace.
You can also visit heritage sites like Pu'uhonua o Honaunau National Historical Park on the Big Island. You can find a list of heritage sites to visit on the Hawaii Tourism Authority website.
Let us Help you Visit Hawaii for the First Time
We've helped thousands of people plan and experience their best vacation to Hawaii. Make your trip planning that much easier and let us help you have the trip you've been dreaming about.
"My husband and I recently took our very first trip to Hawaii (and first trip without our 3 young children) to celebrate our 10 year anniversary. We stayed in Maui and used your Maui Classic Itinerary. It made planning our trip so easy! We never had to worry about driving directions, finding bathrooms or parking lots, where we were going to eat a meal, the best spots to spend our day, or even details like when to leave to make the Haleakala sunrise and what trails to hit afterwards. Every single day of our trip was just about perfect, and your guide was a big determining factor for that. We even used it up until the last hour of our trip to find a good beach and great food in Paia Town before we had to be at the airport! So we just wanted to say THANK YOU for helping make this a very special trip that we will remember for the rest of our lives!"
– Adam and Alyssa