How to Honeymoon in Hawaii on a Budget
Disclosure: This post may contain affiliate links, meaning if you decide to make a purchase through my links we may earn a commission at no additional cost to you. Read about our affiliate policies here.
You've made the (excellent) decision to head to Hawaii for your honeymoon. But sticker shock has now set in — that luxurious visit to the islands is turning out to be more expensive than you thought.
Don't panic. You can have a honeymoon in Hawaii on a budget. But you have to be strategic and know where to cut back, without cutting back on the quality of the trip. We're here to help you do just that.
For more tips, see our How to Plan the ULTIMATE Hawaii Romantic Vacation.
9 Ways to Honeymoon in Hawaii on a Budget
Looking for a honeymoon in Hawaii on a budget? We have you covered with nine ways to save.
While this is an extra honeymoon expense, a lei greeting at the airport is a wonderful way to start your honeymoon. Learn about the tradition of Hawaii lei and the best lei greeters across Hawaii.
1. Consider a vacation rental
Your single biggest cost on a trip to Hawaii is going to be the lodging. Luckily, there's a large range in prices for what you can expect to pay per night on the island. You may be an adventurous couple who likes to camp. You may want to step it up a little and glamp (read our guide to glamping on Maui). But if you want nice, traditional accommodations without a high price tag, you may want to ditch the resort in favor of a vacation rental.
According to data from the Hawaii Tourism Authority, rates per night for a vacation rental are on average 10% cheaper than rates per night for a hotel. That's before you add in the extra costs you'll incur from a hotel for a resort fee and parking, which can add up to an extra $70 per night.
And with a vacation rental, you have access to a kitchen so you're able to eat in and save money on food.
Don't get me wrong, I love a good resort. But vacation rentals can be just as luxurious and stretch your dollars that much further. When you're doing a honeymoon on a budget, a vacation rental can be a fantastic option.
2. Get the lunch special
Eating out in Hawaii is expensive. It makes sense. You're on an island in the middle of the Pacific and getting enough food here to feed everyone is no small feat. But just because you're on a budget doesn't mean you need to skip all nice meals out. We've found the best way to eat out on a budget at some of the nicest restaurants is to go during lunch.
Many of the nice restaurants have a cheaper food menu available during lunchtime.
Plus, if you head to an ocean-view restaurant during lunch you'll actually get to enjoy the entire meal in the daylight. A dinner seating may be romantic, but you'll be enjoying the ocean view in the dark.
3. Opt for free activities
While airfare, food, and lodging in Hawaii are extremely expensive, so many of the best experiences you can have here are free or cheap. If you're eager to snorkel and explore underwater, skip the boat experience. You'll save money by renting a snorkel set yourself and visiting the beaches.
Instead of a sunset sail, enjoy the sunset from a quiet beach. Head out hiking. Rent kayaks or SUPs on your own, rather than taking a group tour. You can even save money on a whale-watching trip by taking the first boat of the day.
There may be some expensive activities that you want to do, but save those for a special splurge and look for less expensive alternatives for everything else.
See our Hawaii Vacation Guide Coupon Codes to save on the best activities in Hawaii.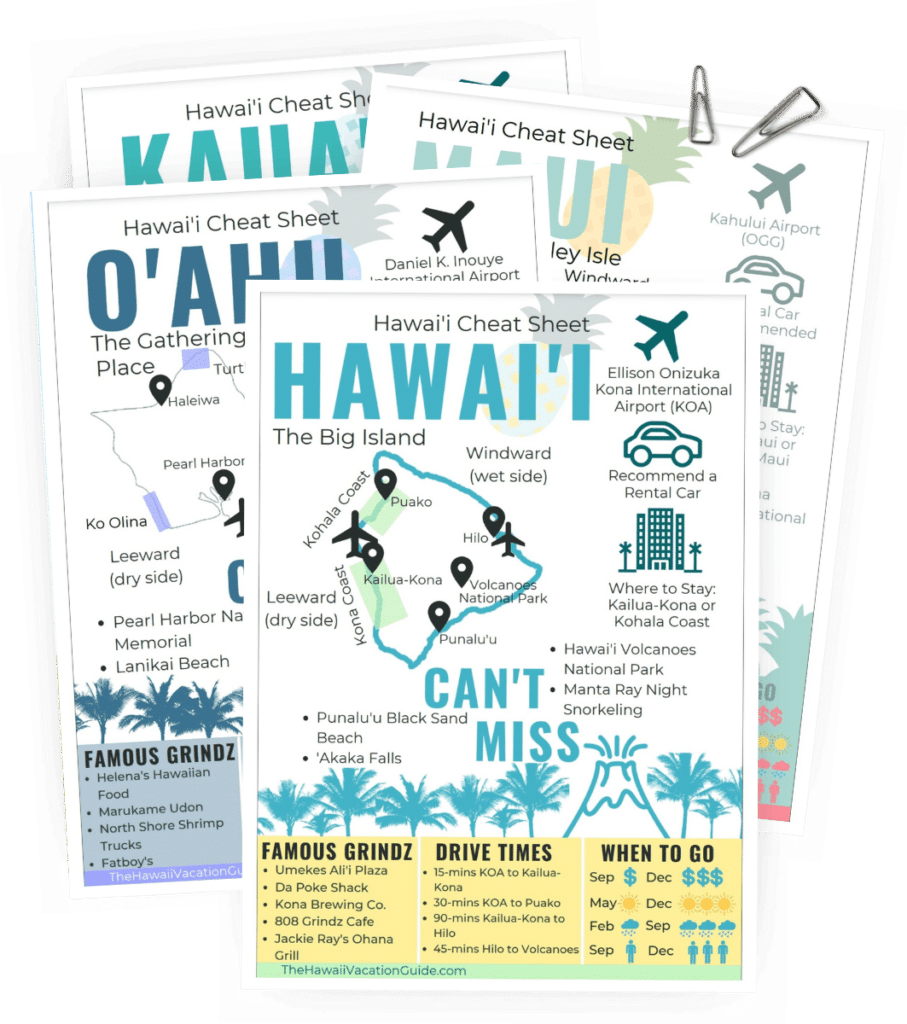 Free Download!
Hawaiian Island Cheat Sheets
Sign up & we'll send you our island cheat sheets so you can get to know the islands like the back of your hand!
We'll share 4 can't-miss activities on each island, a map with the main sights in town, & famous local grindz (eats)!
4. Don't island hop
Hopping from one island to the next adds significantly to the cost of your honeymoon. Yes, the flight alone may be only $39 on Southwest (what a deal!), but there are other costs that will add up.
You'll need to consider your transportation to and from the airport if you haven't rented a car. Also, rental car deals are better when you rent for a full week, so if your island-hop cuts into that, you could be spending more on a rental car. And if you were in a vacation rental there's the added cost of re-purchasing food when you get to your new location.
These aren't crazy costs individually, but in aggregate they do add up. Learn more about island hopping in our Island Hopping in Hawaii: How To Do It Right.
5. Get your rental car cheaper
You can absolutely visit Hawaii without getting a rental car if your plan is to not explore too much. But if you plan to spend time out seeing the sights on the island you're visiting, a rental car is necessary.
Rental car prices in Hawaii (and everywhere, really) are always surprisingly expensive. Our favorite way to score the cheapest deal possible is with Discount Hawaii Car Rental. With this booking portal, you can book a rental car from the major rental car agencies (Hertz, Enterprise, etc). And you don't have to pre-pay your reservation to get the same rate.
Every time we travel, this has always been cheaper. We saved $60 on our rental during a recent 1-week trip to Kauai. And over New Year we saved $300 on our rental car on the Big Island. It's now our go-to spot for booking rental cars.
6. Travel in the shoulder period
Prices in Hawaii can be drastically different, depending on the time of year you decide to travel. The most expensive time to travel is during the winter months, December through March and again in the summer.
If you're trying to make your honeymoon dollars stretch, visit during the shoulder period — in May or during September and October.
Source: Hawaii Tourism Authority Infrastructure Research
7. Food trucks and grocery store poke
Food costs on a trip can really add up, even if you're staying in a vacation rental. We have some absolutely amazing restaurants on these islands that are expensive, but worth it if you're looking for a special meal.
However, not every meal out needs to be a four-star luxury experience.
If you're looking for great food without the high price tag, head to one of Hawaii's great food trucks. We have two ultimate guides to help you pick the best food trucks on Maui and the best food trucks on Kauai. You can get great, restaurant-quality food for a fraction of the price. And when the outdoors is so pretty on these islands, there's really no need to sit inside a restaurant to enjoy your food.
Plus, if you love poke (and really, who doesn't?), skip the expensive restaurant appetizer and head to the food counter at the grocery store. We love Foodland in particular for the poke.
8. Hit up happy hour
We love a good deal. And if you're doing a honeymoon in Hawaii on a budget, you should love a deal too. Hawaii has great happy hours, which you need to take advantage of if you want cheaper drinks and appetizers. Our favorite spot on Maui serves $4 Mai Tais during happy hour.
After enjoying happy hour at a nice restaurant, head to a food truck park for your dinner. That's a perfect evening filled with great food and drink but for a fraction of the cost.
Related reads:
9. Embrace DIY activities
Hawaii activities, like snorkeling boats and surf lessons, are great experiences, but they add to the cost of the trip. If you're honeymooning in Hawaii on a budget, try embracing some of the DIY or lower-cost activities, rather than paying top dollar.
For example, rent your own snorkel gear for the week and hit up some of the best snorkeling spots on Maui. Strap on your hiking shoes and hike up the mountains or to waterfalls for a free experience you'll never forget.
You can opt for a professional Hawaii photographer but we also share how to take that perfect Hawaii photo and the best Hawaii beaches for photos here.
Or watch a local hula show instead of paying for a luau. Yes, the local hula show likely won't showcase professionals, but it'll be a great experience nonetheless.
We know that Hawaii isn't exactly a cheap destination to visit. But with some strategy, you can enjoy a Hawaiian honeymoon on a budget.
For more resources to help you plan your trip, use our free Hawaii cheat sheets or read all of our affordable Hawaii articles.