Can You Travel to Maui Right Now? It's a complicated answer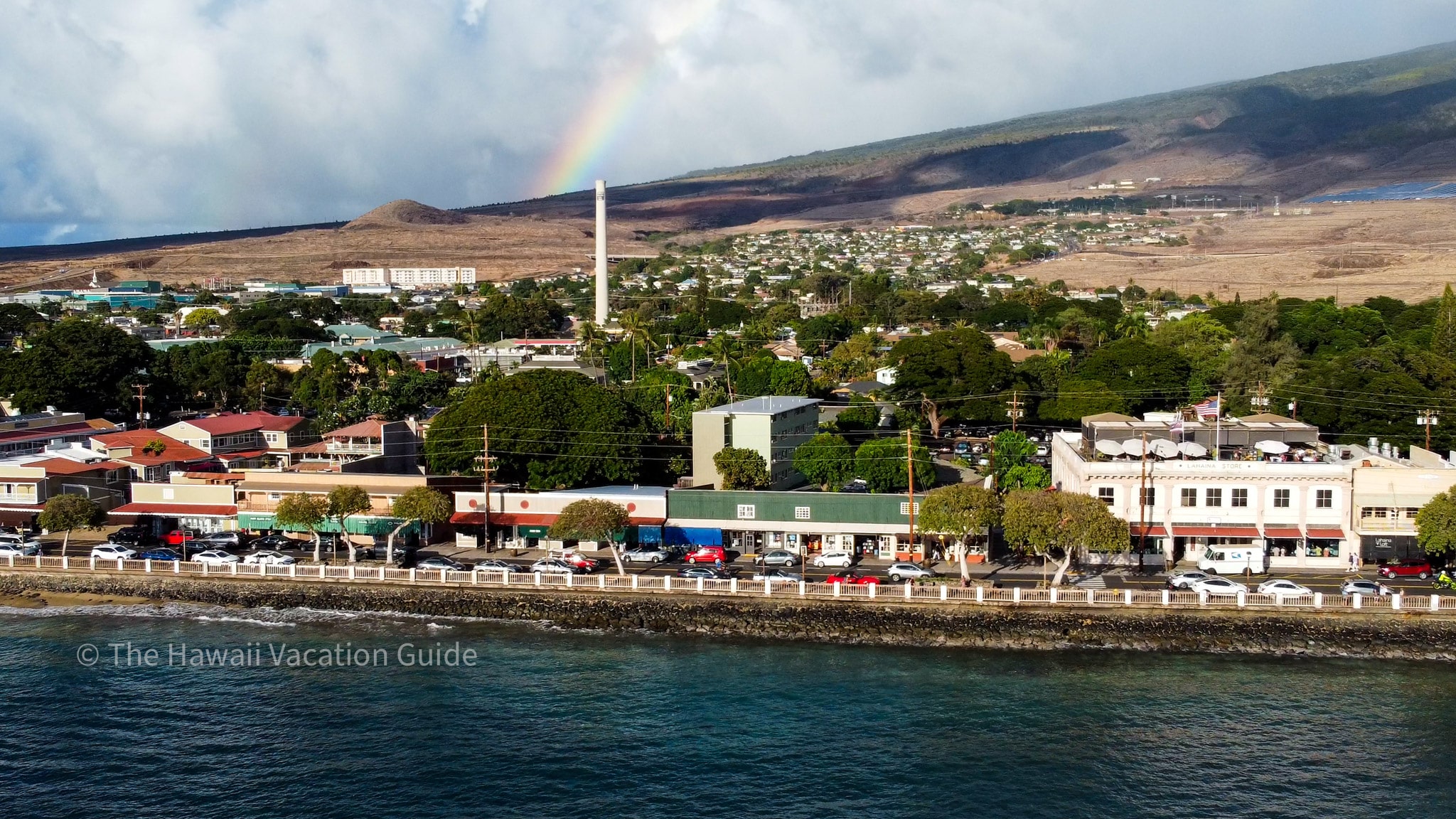 Disclosure: This post may contain affiliate links, meaning if you decide to make a purchase through my links we may earn a commission at no additional cost to you. Read about our affiliate policies here.
The Lahaina Fire that started on August 8, 2023, devastated the culturally significant and close community of Lahaina. It has also left questions for visitors as to whether they should keep their plans to visit Maui, reschedule their trip, or cancel it completely.
This is an extremely complicated and difficult situation but we're laying out what you need to know to help you answer: Can you travel to Maui?
Can You Travel to Maui Right Now?
The short answer is yes, you can travel to Maui right now and Maui is still open for tourists but West Maui is closed until October 8th, 2023.
We traveled to Maui in mid-September and here are our 8 Takeaways on Visiting Maui After the Fires.
Trips to Lahaina, Napili, Kapalua, Honokowai, and Kahana should not be taken at this time. Other areas of the island like Wailea, Kihei, Paia, Hana, and parts of upcountry Maui are open for visitors. But there are nuances to that answer which we'll cover below.
If you're not sure where West Maui is on a map, we've included one below:
Right after the fire, the current messaging from the Hawaii Governor was that all non-essential travel to Maui should be postponed for the near future. This was necessary for them to close down West Maui and pour resources into helping those who were affected by the fire. And this was important — every beach rescue or medical emergency not related to the fire was straining the already limited rescue personnel.
In addition, they were focused on getting thousands of people out of West Maui, whether that was getting them home and off the island or getting them into temporary housing. It was and continues to be a big undertaking.
Now, the official messaging is that West Maui is closed to tourism but the rest of Maui is still open and operating. This change comes as arrivals to Maui have plummeted and concern for the Maui economy. While the entire island of Maui is grieving the loss of Lahaina and trying to help with whatever resources they have available to them, tourism is the main economic driver of the island and many are worried about their ability to earn a living.
Maui's reliance on tourism accounts for an estimated four out of every five dollars made there, according to the Maui Economic Development Board.
The Effects of Travel to Maui Stopping
A tour operator that we have used and consistently recommend is Valley Isle Excursions. The owner, Nichole, gave us a glimpse of how this fire is impacting her employees:
"Today, I had to put 30 staff members on Unemployment. They were not directly impacted by the fire, but are now being indirectly impacted by it. These same employees who one week ago did not hesitate when we called upon them to drive into Lahaina and evacuate visitors, bring supplies to the door of local families who were stranded in West Maui and had no means of transportation to get to supply drop locations. Those who worked 12-14 hours to service the needs of our West Maui community who lost EVERYTHING, will now not know if they themselves can stay here."

Nichole from Valley Isle Excursions
Nichole isn't the only person to raise concerns about the impact this will have on the economy and the people trying to earn a living on Maui. Chef Kyle from Maui Fresh Streatery shared his thoughts as well as Daniel from food truck owner LikePoke.
Is Travel to the Rest of Hawaii Impacted?
We've had a number of people ask about travel to the other islands and wonder if they should cancel their trip to Hawaii. There is no impact on the other islands and travel to the other islands is open.
The island of Hawaii (the Big Island) did experience some fires but it was contained quickly and travel there is currently safe.
We have seen a number of people re-book their travel to other islands and go without issue. If you do choose to travel to another island, our free island travel guides for Kauai, Oahu, and the Big Island can help.
If You Do Travel to Maui
If you do decide you can travel to Maui (continue with your trip), we have some tips that Nichole from Valley Isle Excursions graciously shared:
Kokua (to help)
If you are planning to come to Maui, please give at least one day out of your itinerary to volunteer in assisting efforts to get supplies out to those in need. Look for organizations that have supplies but need hands to organize and sort through the supply inventory to help make the delivery of supplies more efficient and get to the ones who need CERTAIN THINGS.
Editor's Note: Here is a list of Maui Volunteer organizations that have opportunities for those on vacation.
Consider "adopting a family" who lost everything and connect with them to assist in their specific needs.
​Donate directly to families impacted​
(A note from Erica and Jordan: We can't vouch for the authenticity of the campaigns on the list. As this list is being circulated by many local Maui residents we feel comfortable sharing it but donors should do their own due diligence.)
Reverence
Although most visitors will be coming to "vacation", please understand that this Island community is experiencing devastation and grief ISLAND WIDE. Everyone here has to some degree a connection to a dear friend or family that has experienced loss. And our history in Lahaina town is leveled. Please be patient with our people and show them ALOHA too.
Education
One thing that is not at the forefront of our community right now because of the grief and devastation that we are still trying to understand and come to terms with, is the trickle-down effect of not having visitors come. If our Island economy which is largely reliant on the visitor industry spirals, it will leave our Island more vulnerable to the displacement of local families, and the "land grabs" will happen more swiftly and easily. If local families who lost everything, also lose their jobs because the visitor industry collapses, they will not be able to stay and rebuild. They will be forced to leave.
No matter how beautiful the landscape of Hawaii is, what makes Hawaii so special is ITS PEOPLE. If our people leave, it will not be the same Hawaii.
Donate/Support Local
If you are traveling here, maybe pack an extra suitcase with items that you would like to donate. Then fill that same suitcase with products that you purchased from LOCAL Businesses. Bring all your travel essentials so that you don't have to visit Walmart, Target, or Costco and buy things that you don't want to pack. Save those resources in our store for our community. Instead of shopping for groceries at Costco, EAT OUT. Support other local restaurants, food trucks, and eateries. These are the companies that pump economic support directly back into the local economy and keep our locals employed so that they have the financial resources to stay here and REBUILD.
I would recommend Hawaii Community Foundation-Specifically the "Maui Strong" fund.
They are giving immediate disbursements to smaller nonprofit organizations to help the impacted community, but they are also one of the organizations that have been working on keeping local families here in the Islands by supporting loan programs and land/home purchase education for local families. Long term, this is what we are going to need to rebuild our Lahaina community and keep Lahaina lands in the Lahaina community's hands.
If You Choose to Postpone Your Trip
Consider postponing your trip rather than canceling outright. See if you can reschedule for a later date rather than asking for a refund. Maui will need visitors to return and hundreds of local businesses are struggling to survive while processing thousands of dollars worth of cancellations.
There is no clear-cut answer as to whether you should be visiting Maui right now or in the near future. We hope this was helpful in making your decision as it's highly personal. We love the Maui community and want to see them survive economically but we also know there is a lot of grief around the entire island.
We are traveling there in September to both support our local partners as well as give you a look at what a vacation on Maui looks like now.
Related articles: