UTV Tour Into Scenic Jurassic Valley – Kualoa Ranch
Hop into an open-air UTV (Ultra Terrain Vehicle) to explore the depths of Kualoa Ranch's iconic Ka'a'awa "Jurassic' Valley.
Summary: You will drive a 5-6 passenger vehicle along a saddle trail that traverses remote areas and stunning scenery in this lush 1,000-acre valley.
Kualoa Ranch UTV Tour Highlights
2-hour duration, book early to pick your preferred time
Kualoa Ranch is located on Windward, Oahu, 45-minutes from Waikiki
Drive the Jurassic Valley in an open-air 4WD utility vehicle
Tour guide gives insights and facts about the valley
Stop for photos, to walk around, and learn the area and Hawaiian history
5-6 passengers per vehicle
Children 5 and older are welcomed!
Click the Book Here button for even more tour details!
Kualoa Ranch UTV Tour Details
This exceptional opportunity to tour Kualoa Ranch's iconic Jurassic Valley is a sure way to make incredible memories to last your lifetime. The lush jungle landscapes and towering mountains overhead have been featured in many films and this tour will take you to see many recognizable sites along the way.
Get the opportunity to drive your own open-air UTV (Ultra Terrain Vehicle) and bring your whole group along for the adventure. Drivers must be at least 21 years of age and may swap out mid-tour. Our state-of-the-art UTV's can accommodate groups from 2-5 people per vehicle, and 6 if smaller children are aboard. Operating in rain or shine, you will drive along the saddle road that leads into remote areas through stunning landscapes of 1,000 acre Ka'a'awa "Jurassic" Valley. After a good rain, you may have to cross rivers and peer up at mystical waterfalls that pour over the cliff tops overhead. This offroad adventure may get muddy, so dress accordingly! We would suggest wearing comfortable clothing, sunglasses, and a hat, bringing sunscreen and a camera.
There are multiple options for this tour. Choose from a 1-hour or 2-hour 4WD UTV adventure, or the Exclusive UTV Tour option that includes lunch and lasts 2.5 hours.
An advantage of the UTV versus a traditional ATV adventure is that younger passengers can ride along, you'll have opportunities to stop and take photos at will, and it is easy to converse with each other in the vehicle. Friendly guides will show you all of the exciting features along the way and make sure to keep a low guide-to-guest ratio of one guide per 5 UTV's so that they can focus on creating the best experience for your group.
The Jurassic Valley UTV Ride is a very popular tour and can book out 1-2 weeks in advance, so make your reservations early!
Transportation to and from Waikiki hotels is available for $15 per person. There are early morning and mid-morning departure times to Kualoa Ranch that return throughout the afternoon to Waikiki.
This is a popular tour so click the Book Here button to learn more and, if you like the sound of the tour, book it!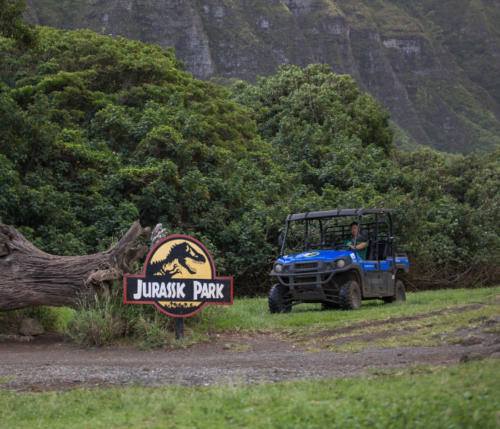 About Hawaii Tours
Erica and I are very much DIY Hawaii travel people but sometimes a guided tour is the best and easiest way to experience the islands. A guided tour supports local tour guides, reduces the number of cars on the roads, and they can take care of permits and reservations that are hard to acquire. We have developed a relationship with one of the owners of Hawaii Tours, Daniel Logtenberg, and trust him with our Hawaii vacation planning.
Here is what Dan has to say about his company and tours:
We've been offering high-quality cultural and sightseeing tours throughout the Hawaiian islands for 20+ years – and we love what we do! So expect to be greeted with a friendly "Aloha" when you contact us by phone or when we pick you up at your hotel. Also, we'll always do our very best to make your Hawaiʻi dream vacation a reality because we know you have worked hard, and your holiday time is important. You see, it's not just our pleasure; it's our honor to be of service to our guests.
We take great pride in showing you the natural, historical, and cultural splendors of our beautiful tropical paradise. Hawaiʻi has a special place in our hearts, which is why respecting and caring for these precious islands is of utmost importance to us. We care for the land or "Malama the aina" by showing you the best of Hawaiʻi so that you can fall in love with this incredible destination too… just as we did so many years ago.
Book online directly with Hawaii Tours by using this link.
We are affiliate partners with Hawaii Tours which means we receive a small commission for each completed booking made through this site. This is done without any additional cost to you. You can read more about our affiliate policies here. Know that we only recommend tour operators that we know and trust. Your positive experience and your trust in us mean more than any affiliate commission. By booking tours through our website you help us to provide free information and videos to help you and other readers plan their perfect Hawaii vacation. Thank you so much for your support — you are amazing!